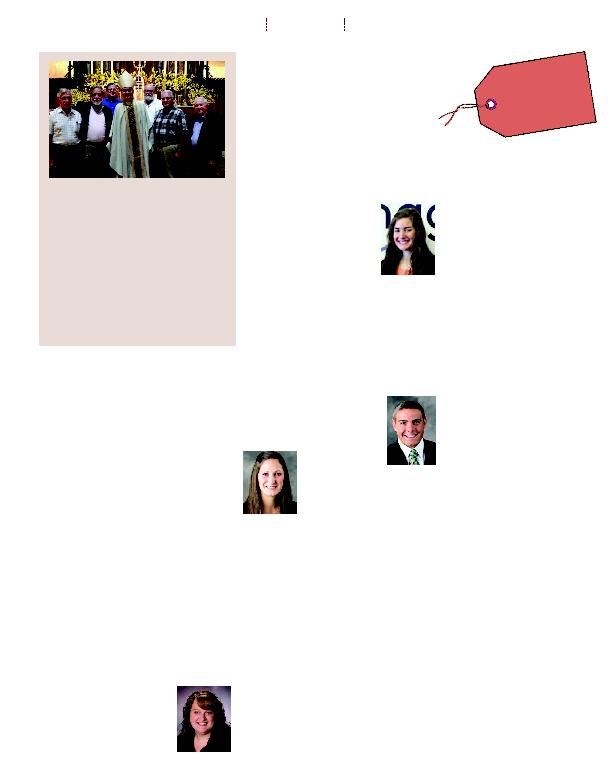 Symposium Editor. She was also the director of the
Pro Bono Society's Street Law Program through
which law students traveled to Philadelphia public
schools and taught high schoolers about practical
law. She was the recipient of the Villanova Univer-
sity School of Law Dorothy Day Award for her pro
bono service. Additionally, Tucker was a student
attorney in the Farmworker Legal Aid Clinic focus-
ing on family law and immigration issues. Follow-
ing her graduation from St. Bonaventure, Tucker
was a corporate public relations coordinator at
Condé Nast Publications and later worked at lead-
ing international real estate merchant bank Island
Capital Group, LLC.
2008 -- Charles Bender earned the Chartered Fi-
nancial Analyst designation. Eboni Preston-Lau-
rent, senior manager of diversity and inclusion at
US Lacrosse, was featured as one of 50 Women to
Watch 2014 in the Baltimore Sun Magazine. Pre-
ston-Laurent is helping establish a grant program to
promote lacrosse and partnering with Coaches
Across America to target underserved communities.
2009 -- Rahsanica Howard was named director
of admissions for Erie Community College. Howard
has served in a variety of roles in a 14-year career at
ECC, including 12 years as an admissions coun-
selor. Katelyn Murray graduated from Temple
Dental School in May 2014 and is a general dentist
in Camp Hill, Pa. Amanda Sears
became licensed to practice as a
Certified Public Accountant in the
state of New York. In addition,
Sears was promoted to the position
of supervisor at Buffamante Whip-
ple Buttafaro, P.C. Dan Quirk was
promoted to manager at Ernst & Young in Pitts-
burgh.
2011 -- Kari Buchinger is a fourth-grade
teacher and assistant principal at Our Lady of Sor-
rows Catholic School in Memphis, Tenn. She has
begun work on her second master's degree (edu-
cational administration) at the University of Notre
Dame as part of the Remick Leadership Program.
This program was designed to inspire, educate,
and support individuals looking to become admin-
istrators in Catholic schools and spread the good
news of God. Erin Lowry joined
MagnifyMoney.com, a financial
product comparison website dedi-
cated to raising consumer aware-
ness of banks' fine print. As the
firm's first employee, Lowry works
directly with the co-founders to
create content for the site's blog,
build a social media presence, and
write contributor content for out-
lets such as DailyFinance and U.S. News & World
Report. She leveraged the success of her personal
finance website, BrokeMillennial.com, to transition
from a job in public relations into her role with
MagnifyMoney.com.
2013 -- Kelley Burke was promoted to partner
services representative for WME/IMG Collegiate Li-
censing Company, covering the midwest region.
Burke lives in Atlanta, Ga., where
she is an avid Braves, Falcons and
Irish fan and is proud to be a Bonnie
in the Southeast. Julian Cenzi
earned his MBA at St. Bonaventure
in May and is a staff
accountant at Lums-
den McCormick in
Buffalo. Jenna Torella is a staff ac-
countant at Lumsden McCormick
in Buffalo. Torella completed her
MBA at St. Bonaventure in May.
2014 -- Sinead Coleman was promoted to an
energy consultant with SolarCity, America's
largest solar power provider. Started by Elon
Musk of Tesla Motors, SolarCity provides clean
energy to homeowners, businesses, schools, non-
profits, and government organizations at a lower
cost than they pay for energy generated by burn-
ing fossil fuels such as coal, oil, and natural gas.
In June, SolarCity announced plans to build a
new manufacturing facility in Buffalo. Rebecca
Gunning is a reporter and paginator for the
weekly North and South Cheektowaga Source
papers, part of Community Papers of Western
New York, LLC. Three men's basketball players
from the Class of 2014 have signed professional
contracts: Charlon Kloof signed a professional
contract to play basketball for Istanbul DSI in
Turkey; Marquis Simmons signed with Leeuwar-
den of the Dutch League; and Matthew Wright
signed a professional contract to play for Quim-
per in France's NM1 League.
Carl R. Falletta, '55
Raymond M. McLaughlin, '55
John W. Schenk, '55
Robert E. Cronin, '60
Donald W. Fornes, '60
C. Norman Stowell, '60
Richard J. Taylor, '60
Herbert J. Lamberton, '65
Marie-Celeste Sullivan, '65
Thomas G. Sendlakowski, '70
John L. Rothengast, '75
Joseph V. Brown, '80
Thomas F. Burger, '80
Joan P. Ducey-Munde, '80
Louis R. Joachim, '80
Judith M. Kelley, '80
John S. Kelly, '80
Robert P. Marks, '80
Kevin G. McLean, '80
Donald F. Penepent, '80
Kathleen G. Ryan, '80
Maryann E. (Fowler)
Kevin J. Daly, '85
John P. Enright, '85
Joel D. Minsker, '85
Heidi A. Cabral, '90
Garvin W. Ferguson, '90
Maureen L. Lynd, '90
John P. Reynolds, '90
Erik E. Swartz, '95
Diana Tadic, '95
Brad J. Teemley, '95
Megan A. Uscinski, '00
Elizabeth E. Bengston, '05
Kimberly A. Carlevatti, '05
Louis J. Hart, '05
Ian P. McBride, '05
Daniel W. Oleyourryk, '05
Mary L. Town, '05
Shane T. Abrams, '10
Allison M. Bobinski, '10
Patrick J. Boquard, '10
Terence C. Cretekos, '10
Brent G. Stewart, '10
We've lost touch with a number
of alums and need your help! Of
the many missing alumni, our
hope is to start finding lost alumni
who will be celebrating their re-
union in 2015. If you know the
whereabouts of the following
alumni, please let us know at
www.sbu.edu/foundalumni.
I
N

2
-
2
SEVERAL ST. BONAVENTURE/CHRIST THE
KING SEMINARY classmates (Class of 1968,
ordination Class of 1972) got together in
June. Following a visit to the 9/11 Memorial
Museum in New York City, the group gath-
ered for the celebration of the Eucharist at
Queen of Martyrs Church in Forest Hills, N.Y.,
and then dinner. Pictured from left are Larry
Fenlon, Ron Russo, Esq., Bob Ponton, Auxil-
iary Bishop Paul Sanchez (Diocese of Brook-
lyn), Pete O'Malley, John Reemmer, and John
Moore, Esq. This class has continued a tradi-
tion of reunions at varied locations, includ-
ing Hartford, Conn., Washington, D.C., and
the St. Bonaventure campus.