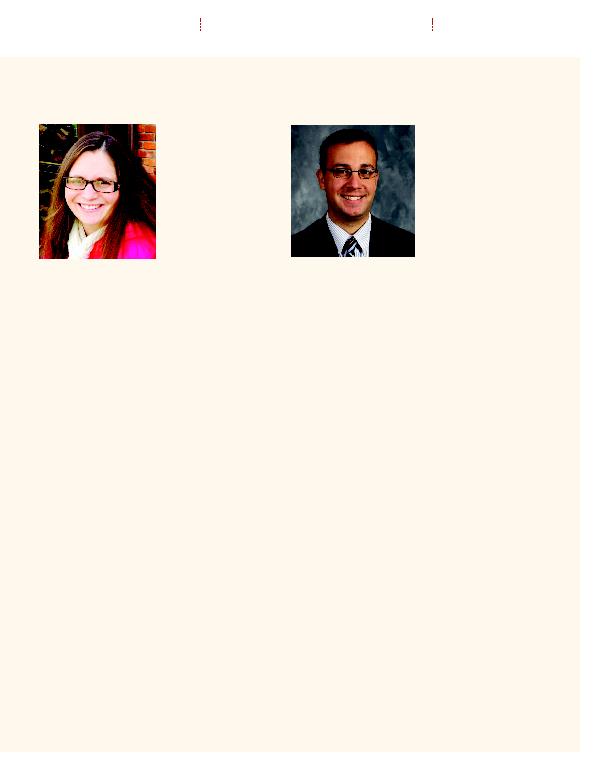 I
N

2
-
2
What are you doing in your
field that you never thought
you'd be doing?
When I left St. Bonaventure in
2001, I was hoping my class-
room would have a portable
projector connected to a laptop
to use for instruction. Now I
have a SmartBoard mounted
on the wall for everyone in the
classroom to use. Many of the
resources that we use are also
available online. The students have their own accounts and they can ac-
cess texts, educational games and review material from home. With the
use of laptops and iPads, my students are provided with many opportu-
nities to use technology in our classroom on a daily basis.
What is the most valuable or distinguishing thing you learned at
SBU?
One of the most valuable lessons I learned from my courses at SBU
was how to thoroughly assess students' reading abilities and then use
those results to plan for further instruction. I also learned the impor-
tance of helping children develop a true love for reading. During ELA
instruction, the students are actively involved during readers and writ-
ers workshop rotations. When students ask me, "Why do we have to
stop reading now?" or "Why do you always stop reading right before
the best part?" I respond by telling them, "I stop right before the best
part so all of you will look forward to coming back to read together
again." Eventually, I hope even the most reluctant readers will look
forward to reading.
What are the desired dispositions/qualities of someone entering
your field today?
With all of the recent changes that have been taking place, it is impor-
tant to stay positive and remember that hard work pays off in the
end. Recently, I read a story that came home with our daughter from
kindergarten. The story by her teacher, Michelle (Kuty) White ­ SBU
class of '98 ­ focused on the values of perseverance and believing in
yourself. It is important for all of us to remember that we can and we
do make a difference in the lives we teach each day. I have been
teaching since 2001 and I still reflect back daily to critique the les-
sons I taught and then plan for further instruction based on the out-
comes in the classroom. At the same time, it is also important to be a
team player.
What gives you hope for your profession?
The children give me hope! There is nothing more rewarding than
watching children become active learners and watching their faces
light up when they feel successful. Our own children also give me
hope when they come home each day excited about what they have
The Changing Landscape ~ School of Education
Shandra Gallegos, '01
Fourth-grade teacher at Cloverbank Elementary School,
Hamburg, N.Y.
What are you doing in your field that
you never thought you'd be doing?
When I left college to be a fifth-grade
classroom teacher I thought I would re-
tire as a fifth-grade classroom teacher.
Never did I expect at that time to go
back to SBU for graduate degrees in lit-
eracy and administration. I didn't expect
to ever work as a staff developer, cur-
riculum coordinator and principal at that
time in my life. I consider myself very
fortunate to have met some truly incred-
ible colleagues, mentors and friends on
my journey. They pushed my thinking, ex-
posed me to new opportunities, and
helped me reflect and choose those
paths that led me to some great oppor-
tunities. People ask me from time to time
if I miss teaching. Honestly, I do. There
isn't a more difficult and noble profes-
sion. However, I love my job as principal
of East View Elementary. I'm grateful to
work with some truly wonderful staff and
together we share a passion for teaching
and learning.
What is the most valuable or distin-
guishing thing you learned at SBU?
The focus on social justice at SBU makes
the program and its graduates unique.
SBU imparts a profound belief that all
students can learn, and we must be
committed to educating the whole child.
ZIP codes don't equate destiny. Yes,
there are correlations between achieve-
ment and poverty, but those statistics
are worthless without understanding and
action planning. We have to have an un-
derstanding of poverty and social justice
as well as the ability to question the sta-
tus quo as educators looking to make a
lasting impact. SBU really does a great
job of imparting that belief system and
world view on its graduates.
What are the desired
dispositions/qualities of someone en-
tering your field today?
A new teacher needs to understand that
the imperative is to always get better.
They have to understand that the adage
"Practice makes perfect" is not true.
Perfect doesn't happen in education be-
cause we have new students each year.
When something new comes out or
change happens in the field, the best of
the best understand that with the new
changes, whether that be standards,
evaluations or any type of change, the
constant question has to be, "how can I
use this to get better?"
What gives you hope for your pro-
fession?
Public education is about community,
coming together for a common good,
and teamwork to better the lives of our
students. We talk about this sense of
community a lot in moments of crisis, but
in education we are doing it every day.
Each day we understand what coming
together is and what helping one an-
other is all about; in schools we do it all
the time. And you can't do it alone. You
can't just be a good teacher in a school.
Somebody has to help you. The needs of
your students are too great. Teaching is
a community activity. Teaching is a team
sport. You need everybody helping one
another. And in the end, education is
about sacrifice. Every day we see staff
members giving themselves up ­ their
time, their money, their talents ­ for the
good of the whole. This idea is not new.
This idea is in the Old Testament in Jere-
miah and in thousands of years of wis-
dom: that you find your own good in the
good of the whole. To find your own indi-
vidual fulfillment in the success of the
community; in education we are doing
this every day. This gives me great hope
Brian Crawford, '02
Principal at East View Elementary School,
Olean, N.Y.