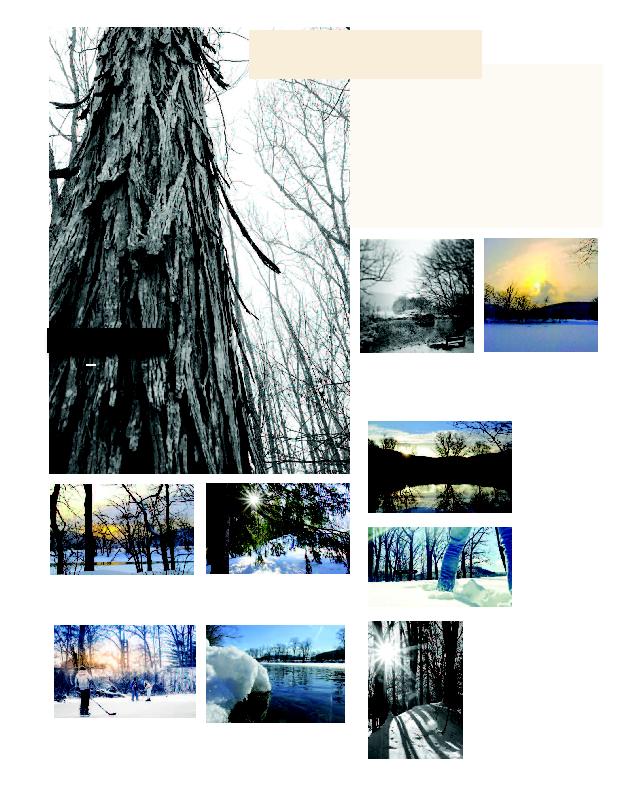 The old that is strong does not
wither, Deep roots are not reached
by the frost. ~ J.R.R. Tolkien
A photo contest created by the Franciscan Center for So-
cial Concern and the SBU Land Use Subcommittee show-
cased the school's snowy woodlands and encouraged
students to get outside and enjoy the beauty of our natural
campus in winter. Submissions were posted on social media
with the hashtag #bonabeauty.
The contest was a way to show the campus community
that natural areas of campus can be enjoyed in all four sea-
sons in addition to celebrating both the 100th birthday of
Thomas Merton and St. Francis being named the patron
saint of ecology. These 10 images received the most votes.
See more at
www.sbu.edu/BonaBeauty
St. Bonaventure
is beautiful, even
in the winter.
Take a hike
By Laura
Zakrzewski
And the light shines in dark-
ness; and the darkness com-
prehended it not: John 1:5
Snowy sunset walk along the
Allegheny River Trail
We are living in a world [where] the
divine is shining through it all the
time. ~ Merton
The groves were
God's first temples.
~ W.C. Bryant
By Brianna Roberts
A cold greater than can be thought,
Allegheny River.
The deer have
made their own
pathway in the
forest - Behind
Francis Hall.
By Sameer
Singhal
In the depth of winter I
finally learned that there was
in me an invincible summer.
1st place