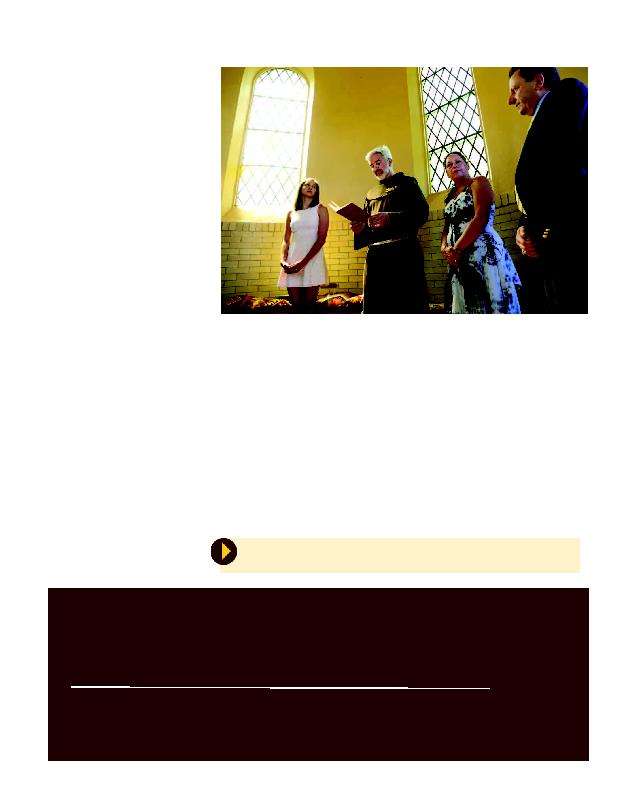 Pittsburgh attorney Jack McGinley honors his family and his faith with his major gift for
University Ministries. Read more about his family legacy at www.sbu.edu/McGinley.
Many alumni seek out the university's sacred spaces to celebrate the sacraments of mar-
riage and baptism. Rebecca and Peter Mantilia, '80 (right), renewed their wedding vows in
the university oratory on their 28th wedding anniversary while on campus Reunion Week-
end. Also pictured are the Mantilias' daughter Alyssa, SBU Class of 2012 (left), and Fr. Fran-
cis Di Spigno, O.F.M., who officiated the ceremony.
to be conversational -- sharing life
with brothers and sisters in this con-
versational manner rebuilds the
house of God."
The Franciscan spirit of welcome,
generosity and respect does not ex-
pect perfection.
No, as Franciscans we begin our
conversation with who we are. We
recognize that we are people who
are broken (sinners), and in need of
rebuilding (forgiveness), and be-
cause of who we believe God is for
us, we know that we are redeemed
(made whole). We are forgiven. We
are loved.
Franciscans throughout the ages
have continued to rebuild the Lord's
house by sharing the good news
that all people and all of creation, in
our own uniqueness, are good, holy
and blessed.
After all these years, from the
basement of a gym to a mainte-
nance building to what will be a
solid foundation of our Franciscan
heritage, this new ministry center
will be an outward sign of what the
friars and sisters have been doing for
centuries.
It will become a sacramental place
where we can continue to build up
one another, recognize our own dig-
nity and that of each other, so to re-
alize God's kingdom is among us.
The new ministry center, besides
housing the offices within University
Ministries, will contain a state-of-
the-art conference room, meeting
rooms, a full kitchen, a great room
for larger assemblies, and an Inter-
faith Tower. The tower will stand tall
within the Plassmann quad. Rightly
so. A great vision of Sr. Margaret
was to have a place for people of all faiths to come for private or communal prayer. There
will be no iconography specific to any faith tradition within the tower so that everyone
knows that it is their space. There will be the possibility to bring forth our own symbols
and images, but always, without ownership and with great respect for the other.
Ultimately, it is our hope that we can follow Jesus' great prayer that we "may all be
We anticipate construction to begin in the spring of 2016 with completion and occu-
pancy by the middle of fall semester 2016. Typically we would say, "Let the building com-
mence," but in this case it is only appropriate to say, "Let the rebuilding continue!"
(Fr. Francis is executive director of University Ministries and guardian of St. Bonaventure
Friary.)
Did you know Bona's offers fully
master's degree programs in:
Integrated Marketing Communications
Photo by Danny Bush