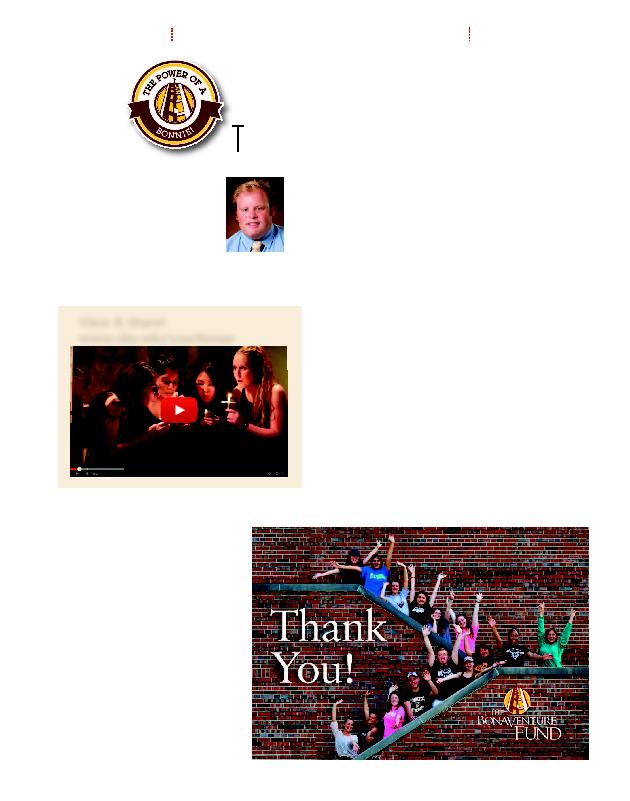 Partnering with you today. Making a difference for tomorrow.
THE POWER OF A BONNIE:
THE BONAVENTURE FUND
A
year ago we introduced The
Power of a Bonnie. Since then,
you and your fellow alumni
and supporters have proved The
Power of a Bonnie time and again --
by donating to the University, particu-
larly to The Bonaventure Fund; sharing
your experience and expertise with
our students; and spreading the good word and acts Bon-
MAKING A GIFT IS EASY
www.sbu.edu/donate
Call us at (800) 664-1273,
option 6
Use your credit card or
bank account to make
automatic monthly, weekly
or quarterly donations
Matching Gift: Your employer may match
your gift -- ask your
HR office
Drop a check in the mail to:
St. Bonaventure University
P.O. Box 2519
St. Bonaventure, NY 14778
Stop by Francis Hall to talk
with us the next time
you're on campus
View & Share!
www.sbu.edu/yourbonas
nies are known for to your community and beyond.
The Power of a Bonnie is exponential. Goodness abounds
at Bona's, and every day our alumni spread that goodness to
every corner of the globe. By taking the values espoused by
the friars, faculty and community at St. Bonaventure and
spreading it to the people you interact with, you prove The
Power of a Bonnie on a daily basis.
As both director of annual giving and head coach of men's
rugby, I'm fortunate to see firsthand the generosity of our
alumni and subsequently how that resonates with the young
people studying on our campus. I firmly believe the experi-
ence we offer students today is more impactful than it has
ever been, and that is in large part due to your support,
which is the foundation of our success. Your gifts to The
Bonaventure Fund and other areas of need help students
better afford Bona's unique brand of higher education, allow
our faculty to remain leaders in their fields, and provide a ro-
bust experience -- academically, socially and spiritually.
This spring we asked three of our outgoing seniors to share
their stories at www.sbu.edu/yourbonas. Take a moment
to watch their videos and think back on how St. Bonaven-
ture helped you write your story.
This is what's possible.
This is the Power of a Bonnie.
Clarence Picard, '05
Director of Annual Giving