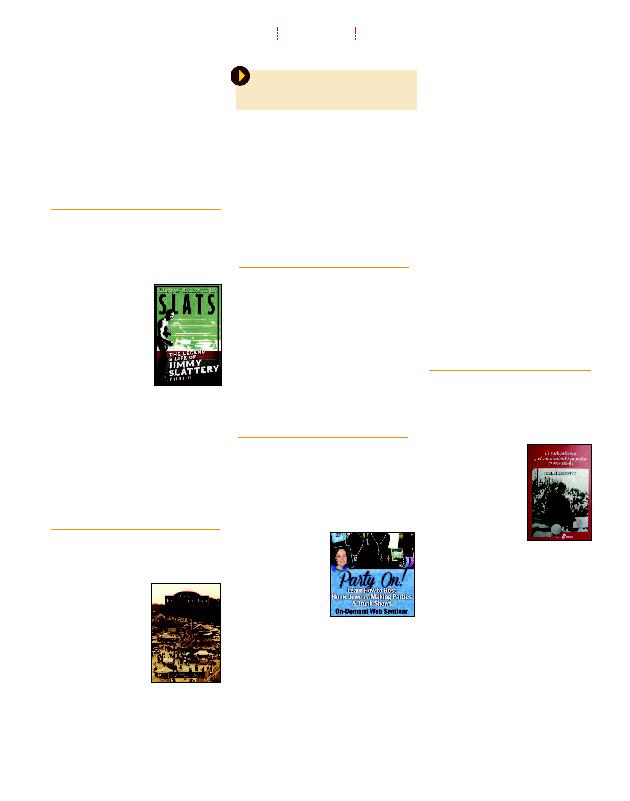 2
Dr. Robert P. Amico's
Teaching," available from Paradigm Pub-
lishers, addresses the difficulties of teach-
ing students about antiracism. Amico
discusses how, over the course of 14
years, he has learned to teach students
about antiracism, a subject that students
sometimes find difficult to discuss.
"The book offers some suggestions
about how to broach the topic of race in
the classroom. It's a subject that raises a
lot of emotion in people, and a lot of
students, especially white students, are
not accustomed to talking about issues
of race and privilege," said Amico, pro-
fessor of philosophy at SBU. To help
teachers discuss race in the classroom,
"Antiracist Teaching" also comes with
access to a website that includes details
about Amico's courses and documents
he uses in his classes to help his students
address the issue of race. The book is
available in hardcover on Amazon.com.
Amico is chair of the university's Diversity
Action Committee and the Council on
Discrimination and Harassment.
Dr. Joel Horowitz
in Argentina "El radicalismo y la movi-
lización popular (1916-1930)," a book
that explores the manner in which the
then-largest political party, the Radical
Party, mobilized popu-
lar support in the city
of Buenos Aires.
Horowitz is a longtime
professor of history at
St. Bonaventure. Pub-
lished by Edhasa, a
major commercial press
in Argentina, the book
is a translation of the
English language book "Argentina's Rad-
ical Party and Popular Mobilization,
1916-1930," which was published in
2008 by Pennsylvania State University
Press.
In this book, Horowitz examines
democracy's first appearance in a country
that seemed to satisfy all of the criteria
that political developmental specialists of
the 1950s and 1960s identified as cru-
cial. This experiment lasted in Argentina
from 1916 to 1930, when it ended in a
military coup that left a troubled legacy
for decades to come. What explains the
initial success but ultimate failure of
democracy during this period? According
to Horowitz, a crucial element is the re-
action to the way the governing party
mobilized popular backing.
Buffalo to celebrate agriculture, showcase
time-honored traditions, keep the spirit of
competition alive, and, most importantly,
come together as a community.
Through vintage photographs, "Erie
County Fair" presents a visual narrative of
the fair's history and stimulates cherished
memories rooted in decades of excitement
found at this annual summer gathering.
A native of Buffalo, Biniasz has extensive
experience in marketing, public relations,
event management, crisis communication
and promotions.
Sarah-Christian Carlson, '01
her first e-book, "A Whole New U: The 5-
Day Whole Foods Detox from Gluten and
Sugar," with cowriter and holistic health
coach Laura Maxey. The book stresses
whole, real foods over processed foods, as
well as cutting out sugar and gluten. Food
isn't the only focus of the book: Carlson dis-
cusses how stress can be just as toxic to the
body as unhealthy food. The proceeds of
Carlson's book sales will go to the Juvenile
Diabetes Research Foundation and the Pan-
creatic Cancer Association of Western New
York.
Sara (Graham) Richardson, '02,
maille jewelry artist and a contributing edi-
tor for Step by Step Wire Jewelry magazine,
published two hour-long informative web
seminars catering to the jewelry-making
community, through Interweave/F+W Media.
The first, released in November 2014, is ti-
tled Party On! Learn
How to Host Home
Jewelry-Making Par-
ties and Trunk Shows.
This seminar focuses
on the popular trend
of home parties, and
provides valuable tips
and tricks for hand-
made jewelry artists who want to expand
their business into the party circuit.
The second, released in February, is An Edi-
tor's Guide to Getting Published: Best Prac-
tices for Submitting Your Jewelry Designs.
Richardson provides an insider's perspective
as both a jewelry magazine editor and a
published jewelry artist, helping other artists
learn the proper ways to submit their jewelry
projects to craft magazines.
Both seminars are now available on de-
mand at www.interweavestore.com.
sending bomb-laden remote aircraft into
the skies, hoping to knock out Germany's
dangerous V2 rocket sites. Flying alongside
him was John F. Kennedy's older brother,
Joseph Jr.
A third veteran, Frank Krause, found him-
self on the beaches of Normandy and the
craggy mountains of the Italian Apennines,
fighting a desperate and ruthless enemy.
"Crosshairs" is available in print and
ebook formats. Berry lives with his wife and
five children in New Jersey.
No Frills Buffalo has published "Slats: The
Legend & Life of Jimmy Slattery" by
Rich
Blake, '90.
Researched for more than a
decade, "Slats" is the true story of the
charismatic, volatile Irish boy wonder who
streaked across the na-
tional scene like a comet
during the Roaring
Twenties -- then
crashed into oblivion.
garnered some high
praise, such as that from
Ty Wenger, deputy editor
of ESPN The Magazine:
"Rich Blake's fondness
for boxing phenom Jimmy Slattery infuses
every page of this spellbinding tale.
Through a spectacular work of journalism,
Blake has reclaimed the forgotten history of
a life that is both uniquely American and
singularly astonishing. I kept asking myself,
`Why have I never heard of Jimmy Slattery
before?' What a truly remarkable tale ...
delightfully told."
To arrange for a signed copy, email the
author at richblake@hotmail.com.
Martin Biniasz, '94,
Erie County Fair in his new addition to the
Images of America series, "Images of
America: Erie County
Fair." The book boasts
200 vintage images,
many of which have
never been published,
and chronicles the his-
tory of the nation's
largest independent
county fair.
neer beginnings to its
current incarnation as the largest inde-
pendent county fair in the United States,
the Erie County Fair in Hamburg, N.Y., is a
beloved Western New York institution. An-
nually, more than 1 million people flock to
its historic fairgrounds located just south of
Submit news about your new book, CD or
bonalumnus@sbu.edu