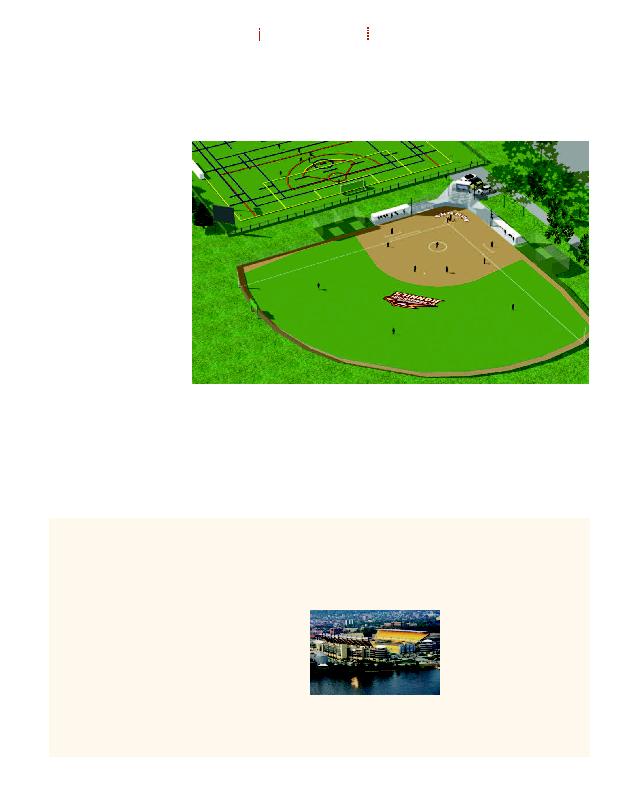 2
THE POWER OF A BONNIE: ALUMNI
Join us this fall as we gather in the hometown of Sr. Mar-
garet Carney, O.S.F. We'll celebrate her 10th anniversary as
university president and visit several interesting Pittsburgh
Listed as one of the "Top 15
Places to Visit in 2015" by
Condé Nast Traveler, Pitts-
burgh has transformed from
a steel town to a beautiful
city of green spaces and an
Get ready to experience dinner at Heinz Field and enjoy the
must-see architecture. Spend an SBU Weekend in Pittsburgh,
October 9-11! Interested? Please email
alumni@sbu.edu
Alumni Picnic, Ithaca, N.Y.
Alumni Picnic, Rochester, N.Y.
Timothy "Arch" Manning Memorial Golf Outing
and Cookout at Ivy Ridge, Akron, N.Y.
Family Weekend, St. Bonaventure
Alumni Destination Weekend 2015
THE POWER OF A BONNIE: ATHLETICS
Phase Two of fields project nearing completion
Phase Two of St. Bonaven-
ture's athletics fields project is
well under way, with a reno-
vation to the softball field
scheduled for the fall.
the project is installation of ar-
tificial playing surfaces on the
softball field, similar to what
was done on the multi-pur-
pose field last summer.
In addition, the field will
also get a new scoreboard,
backstop and fencing. Contin-
gent on additional funds
being raised, new dugouts
could be added to the project.
The switch from a natural
grass and dirt playing field is
necessary due to the often in-
clement weather in the Bon-
nies' home softball season,
which starts in March and
runs through early May. St.
Bonaventure regularly has to
postpone or cancel games
due to unplayable field condi-
The renovation is scheduled to be completed
by November so that the field will be ready for
competition in the spring of 2016.
Tom Marra, '80, and his wife, Michelle, gave
the lead gift of $1 million to the first phase,
and the Marra Athletics Fields Complex was
dedicated in September 2014.
Naming opportunities connected to gifts to
the fields project are still available; contact the
Advancement Office at (800) 664-1273 to
speak with a gift officer.
Alumni Events