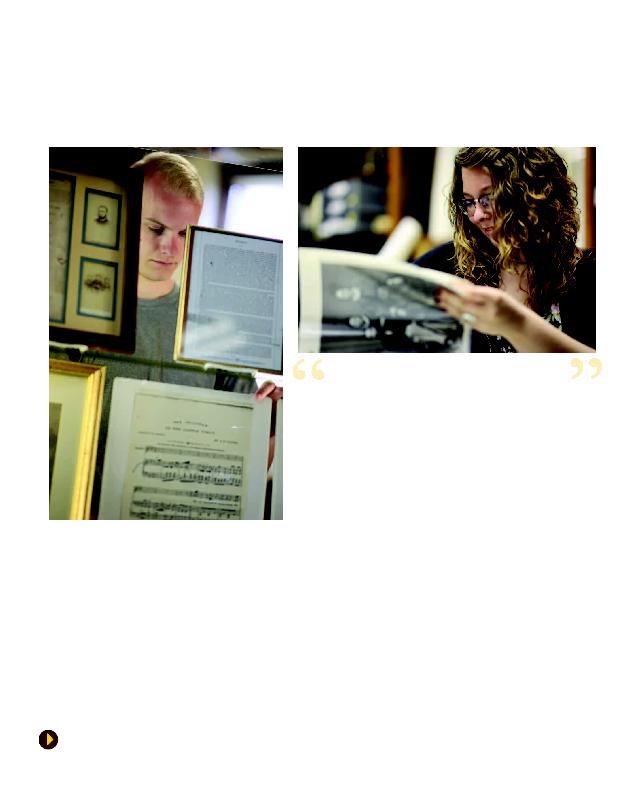 S
tudents in the university's Introduc-
tion to Public History class this fall
are going to be able to dive deep
into the lives of the men from the 154th
New York Volunteer Infantry.
The students will explore the collection
of photographs, letters and research about
the Civil War regiment and then design a
Civil War-themed game based on the ma-
terials, explained professor of history Dr.
Phillip Payne, who teaches the class.
"Having these papers will be a strong
opportunity for a learning experience for
our students," Payne said.
For an independent study project, senior
Leah Brownstein pored through the 154th
regiment research materials donated to
the university by Mark Dunkelman and
the late Michael Winey and offered rec-
ommendations on how to proceed with
the gamification of the Civil War collec-
tion.
"Historically themed and educational
games aren't new, but the popularity and
success of video gaming is transform-
ing the way people learn," Brownstein
noted in her research.
"How do you translate this into a
game that would teach kids about the
154th experience? That's where we're
headed with this," Payne said.
Many education technology companies,
museums and schools are using game
techniques to capture the attention of
schoolchildren. But regardless of whether
a game's end result is physical or elec-
tronic, the initial building blocks and plan-
ning often start on paper.
"On a fundamental level, we're giving
them real 21st century skills. This is what
historians do. When I'm functioning as a
historian, I'm going into the Archives,
sorting through material and research,"
added Payne.
Learn more about what's happening in the
Department of History via its blog at
bonashistorydept.blogspot.com.
History majors Daniel Leopold (left), '16, and Caitlin Goodwill, '16, dove headfirst into their spring internships in
University Archives, where their main focus was cataloguing photos and letters from the Civil War collection
Archival Internships
~ CAITLIN GOODWILL of OLEAN, N.Y.

2
I DECIDED
to take the internship in the Archives because I was inter-
ested in a master's program in archiving. I was almost sure that it would be
the right career move for me -- and now I'm positive. I'm excited to keep
studying and hopefully one day I'll be in charge of my own projects.
(Archivist) Dennis Frank makes the job look fun, and as stressful as it
might be, it's the good kind of stress. Archiving is what I imagine a career
should be: fulfilling, entertaining and challenging.
Working with the 154th collection gave me my first real experience
working with archival material. I knew that this information was some-
one's life work and that made it all the more important to me. I wanted to
do justice for the soldiers as well as the researchers and families who
worked to compile the photos I was working with. Knowing that, for many
of the men, I was looking at the only known photo of them was possibly the
Perhaps history is all fun and games