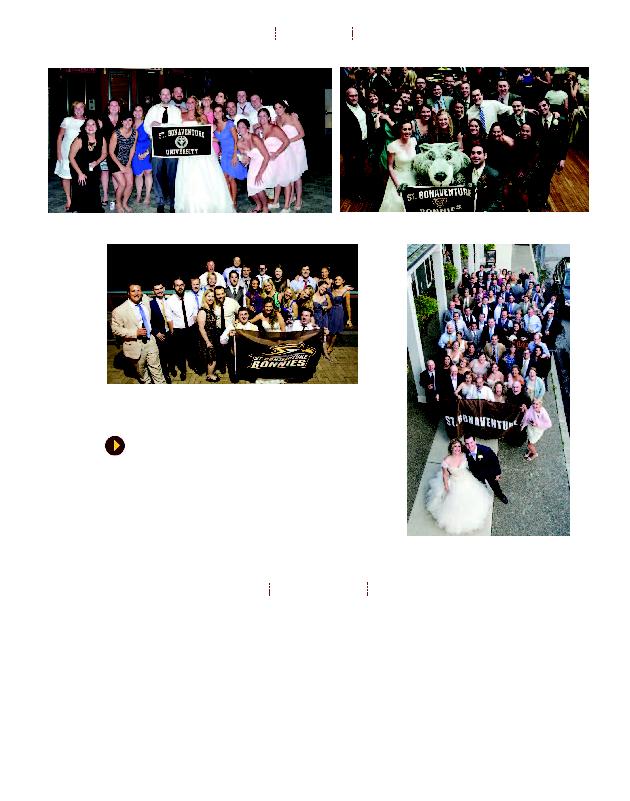 To submit your announcement for
· use the enclosed envelope
· email bonalumnus@sbu.edu
· use the online form at
www.sbu.edu/BonaMag
All photos must be of good reproductive
quality. Pictures submitted electroni-
cally must have a resolution of at
least 300 dpi. The university is prohib-
ited from publishing copyrighted photo-
graphs, unless accompanied by written
permission from the photographer. Pho-
Wedding Guidelines
Welcome, Baby Bonnies!
tos are published at the discretion of the ed-
itor.
Don't forget to notify us of your new name
or address! Update your information at
Bona's Online at www.sbu.edu/bonason-
line
St. Bonaventure University takes pride in its
alumni and joyfully shares the news of their
lives and achievements. Supportive of our
Catholic Church's teachings, publication of
announcements provided to us by our
alumni does not necessarily imply an en-
dorsement by St. Bonaventure University.
Katie Pazda, '09, '10, and Michael Avillo, '09
Melissa Emerling, '08, and Michael Sullivan Jr.
Deandra Danch, '09, and Pat Henahan, '09, '10
Ashley Borrelli, '06, and Greg Biryla, '06
Savannah Rae to Deirdra (Ross), '93, and Sydney Moshette III
Kaelyn Lauraine to Heather and Patrick McCarthy, '95
Lainey Brielle to Mindy (Stallard), '95, '98, and Kerry John
Samuel Kingsley to Maureen (Langton), '01, and Charlie Henderson
Brayden Robert to Lynn (Monteleone), '01, and Branigan Mincey
Peyton William to Casey (Weishan), '01, and Patrick Welch
Dylan Michael and Layla Grace to Shanna and Greg Anderson, '02
Charles Edward to Shannon (Franklin), '03, and Edward Corbett, '02
Stella Grace to Carla (Grosso), '02, and Aaron Bartz
Ripton Thomas to Meg (Lush), '02, and Ryan Camire
May Elizabeth to Beth (Dunn), '02, and Barry Weiss
Ruby Mae to Kathryn (Dickinson), '03, and Robert Charboneau
Elijah Christopher to Grace Dudek, '04, and Paul N. Macakanja
Mary Kathleen to Kathleen (Christy), '04, and Eric Miller
Conor Joseph to Siobhan (Kane), '04, '06, and Joseph Rolfes, '05
Liam Townsend to Lyndsay (Jones), '05, '06, and Matthew Niemiec
Erin Elizabeth (2013) and Honora Martha (2014) to Elizabeth
(Starkey), '05, and Kristopher Gearhart
Camilla Marie to Kendra (Chimera), '05, and William Kistner, `05
Arya Grace to Danielle (Frownfelter), '08, '10, and Christopher
Michel, '08, '10
Jack Edward to Svetlana and Jeffrey Salzer, '11