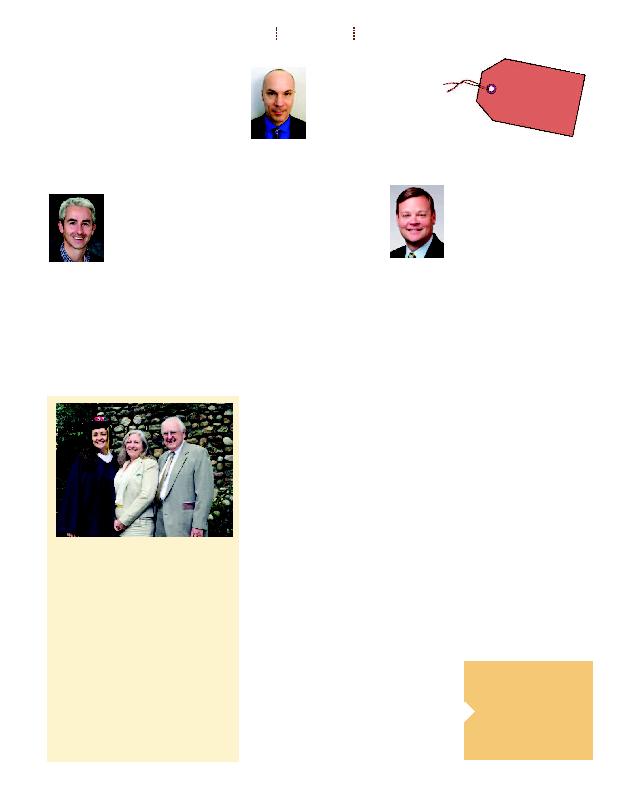 vocacy for women in a Yellow Rose Ceremony by
Zonta Club of Olean in 2014. She is also the
owner and moderator of Olean Area Hiking.
1994 -- John Stahley
Jamestown Community College Board of
Trustees. Stahley is general manager of Dresser-
Rand's Olean operation.
William Tehan
moted to chief operating officer at The Pike
Company, a construction firm founded in 1873.
He started his career at Pike in 2001 as treasurer
and corporate secretary after
working at KPMG as a senior
manager. He comes from a family
of construction, with both his
grandfather and uncle working in
the business for decades. In his
nearly 15 years with Pike, Tehan
has held multiple leadership posi-
tions, including executive vice president and chief
financial officer, the latter title he will continue to
hold with the company. He also will continue to
provide oversight of Pike Development. In the
community, Tehan serves on the Finance and
Audit Committee for the Catholic Family Center
and has served on the Memorial Art Gallery Advi-
sory Board and the Finance Committee of Mon-
roe Golf Club. He lives in Victor, N.Y., with his
wife and three children.
1995 -- Andres Calderon
joined the foreign service as a
consular officer in January.
After completing training in
Washington, D.C., the U.S. De-
partment of State sent Calderon
to the U.S. consulate in Ciudad
Juarez, Chihuahua, Mexico, in
May, where he will spend his first two-year tour
adjudicating immigrant and non-immigrant visas.
1997 -- Brendan Chambers
named commercial banking and
middle market sales director for
First Citizens Bank in the Triangle
and Charlotte Metro areas of
North Carolina and South Carolina
Metro areas.
1998 --
After more than 15 years in various mar-
Rachael Colacino
own marketing communications agency, Colacino
Communications. The agency specializes in public
relations, strategic marketing, business writing
and marketing communications. She credits
everything she has learned as a journalism major
at St. Bonaventure with preparing her to write,
especially under deadlines and heavy pressure.
She welcomes contact at www.colacinocommu-
nications.com.
Michael Mead
intendent of schools at Jasper-Troupsburg Central
School District.
Rychelle Weseman
sive case manager serving children in Allegany
County. She lives in Olean with her husband,
Brian, and their two children.
1999 -- Peter Donnelly
manent deacon by Bishop Richard J. Malone of
the Diocese of Buffalo. While studying at the Pas-
toral Ministry at Christ the King Seminary from
2011-2015, he was serving his home parish, St.
Gregory the Great Church in Williamsville, in min-
istry assignments as a team member for the Rite
of Christian Initiation of Adults Program. Donnelly
also became a student chaplain at Millard Fill-
more Suburban Hospital in Williamsville, and he
served as an English instructor at The Vive la Casa
Refugee Center in Buffalo. Donnelly also served
in the U.S. Navy.
Maureen E. Kinney
the Indiana University-Purdue University Indi-
anapolis (IUPUI) Academic Advising Administrator
of the Year Award for the 2014­2015 academic
year. Former goalkeeper
Rob Vartughian
assistant coach for the New York City Football
Club, a new franchise in the Major League Soc-
cer. Vartughian has also been the goalkeeping
coach and scout for United States U15 to U23
national teams and he spent five seasons with
the Philadelphia Union of the MLS as an assistant
coach and technical director.
2000 -- Maj. Mark P. Frank
Army National Guard is the executive officer for
the Office of the Adjutant General Joint Force
John J. Lacey, '56
Jack J. St. John, '56
Robert G. Bubbs, '61
William J. Driscoll, '61
Richard R. Landwehrle, '61
John W. Rockovits, '61
James R Ross, '61
Jerome P. Best, '66
Anthony A. Euk, '66
Martin L. Frezza, '66
Richard K. Wright, '66
James L. Boyce, '71
William R. Jackson, '76
Katharine L. Bevins-Peachey, '81
Michael P. Cashman, '81
John F. Kramer, '81
Steven C. Lockwood, '81
Mark C. McCarthy, '81
John M. Roche, '81
Nancy (Iyoob) Russo, '81
Lori J. (Danielson) Tritt, '81
Mary B. McAvoy, '86
Daniel D. Wright, '86
Tony Anderson, '91
Kristin J. Balcerzak, '91
Thomas F. Weaver, '91
Carla E. Strong, '96
Stacey L. Venezia, '96
Christine B. Beichner, '01
George A. Buell, '01
Jeffery G. Kostusiak, '01
Timothy J. Sahd, '01
Kathryn T. Steadman, '01
Michael J. Bracci, '06
Christopher J. Capaldi, '06
Michele S. Flint, '06
Timothy J. White, '06
Nicholas A. Sylor, '11
We've lost touch with a number
of alums and need your help! Of
the many missing alumni, our
hope is to start finding lost alumni
who will be celebrating their re-
union in 2016. If you know the
whereabouts of the following
alumni, please let us know at
www.sbu.edu/foundalumni.

2
Maranda Louise Fleet of Stafford Springs,
Conn., a member of SBU's Class of 2015, was
the third generation of the Brancaccio family
to walk across the St. Bonaventure stage for
graduation. She's pictured in the Grotto fol-
lowing Commencement May 17 with her
mother, Maria Brancaccio Fleet, '81, and
Ralph Francis Brancaccio, '54, of Vernon
Rockville, Conn. Family members say Ralph is
one of Bona's proudest alums, always finding
a way to make family road trips include a stop
at his alma mater. And if the men's basketball
team was playing within driving distance, he
would make sure his grandchildren were there
to support the Bonnies. Maria feels so blessed
that her father was able to see his grand-
daughter cross the stage to receive her
diploma from a place so dear to him.
SEND US NEWS OF YOUR
ACCOMPLISHMENTS
To submit information for
the next issue of Bonaven-
ture magazine, use the en-
closed envelope or fill out
an online form at
www.sbu.edu/BonaMag.