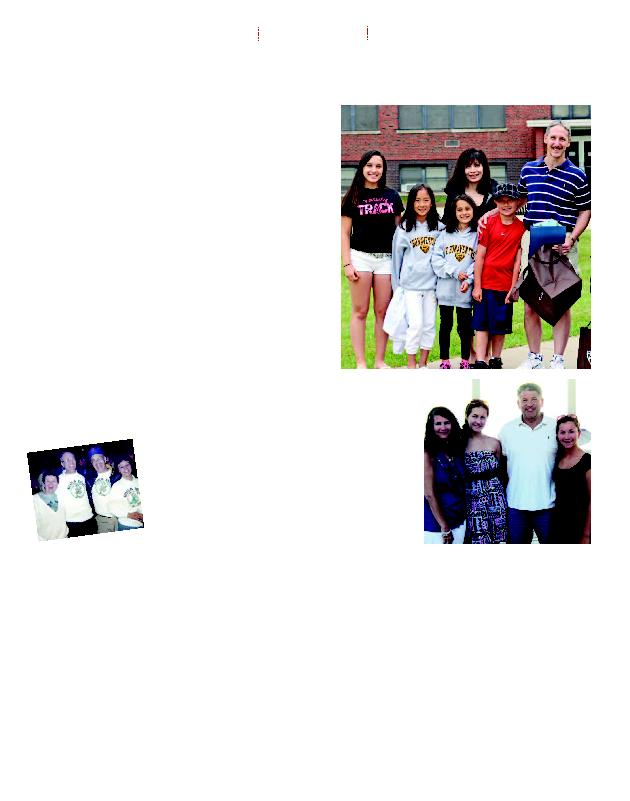 A
s a partner at KPMG, LLP, in the Washington, D.C., area,
and as North America Region Head for Citi in Manhat-
tan, Steven Barry and Michael Fossaceca, respectively,
work for two large corporations hundreds of miles apart. How-
ever, both attribute much of their success to one small place: St.
Bonaventure University.
And it was at that small place where Barry and Fossaceca
formed a friendship that would come to include three generations
of each family.
Barry and Fossaceca, members of the Class of 1988, met during
their freshman year at St. Bonaventure in an economics class.
"We started to talk and became fast friends and ultimately be-
came roommates with a couple of other friends senior year," Fos-
saceca said.
The two quickly learned they had a lot in common. Both students
in the School of Business, Barry and Fossaceca admired business
professors Carol and Michael Fischer, from whom they both learned
a lot. They enjoyed working out and cele-
brating in the Rathskeller and The Burton,
"We have many fond memories such as
attending basketball games, raiding the
food in the media hospitality suite, sliding
down the roof of a tent late at night dur-
ing senior week, and Spring Weekend
softball tournaments and concerts," Barry
At the beginning of their sophomore
year, their parents met and another
Barry-Fossaceca friendship developed.
Barry said the parents even bought
matching "Bona Mom" and "Bona Dad"
T-shirts to wear during future parents weekends and gradua-
Both Fossaceca and Barry credited the pleasant St. Bonaventure
atmosphere for the strong bond between their families.
Barry, who grew up in nearby Olean, said before he became a col-
lege student he had already spent time on campus attending bas-
ketball games and studying in the library.
"When it came time to choose a college, St. Bonaventure offered
the educational reputation, environment and class size I was looking
for and was competitive in cost," Barry said.
Likewise, Fossaceca grew to admire the community feel of St.
"St. Bonaventure has always been a very special place for me,"
Fossaceca said. "The small-school atmosphere, personal attention
THE POWER OF A BONNIE: SCHOLARSHIPS
from the professors and the Franciscan tradition are all things
I hold dear."
Both Fossaceca and Barry explained the values they learned
during college continue to guide their life choices every day.
Fossaceca, among other things, serves on the Board of
Trustees at Mt. Irenaeus, while Barry is a regular blood donor
and coaches his son's football and baseball teams.
"St. Bonaventure not only gave me a great education, but
the Franciscan spirit and ideals also taught me to be humble
and to give back," Fossaceca said.
It's this sense of humility that inspired Barry and Fossaceca
to create endowed scholarships for future Bonnies.
Barry said his scholarship, which he named the Barry Family
Endowed Scholarship, honors his parents' hard work and
commitment to education. Similarly, Fossaceca's scholarship,
The Fossaceca Family Scholarship in Memory of Anthony Fos-
FAMILY: Parents
Shirley and Steve
are pictured with
Stephanie (from
left), Michelle,
Lauren and Sean.
SACECA FAMILY:
Christine (from
left), Abigail,
Mike and Mary.