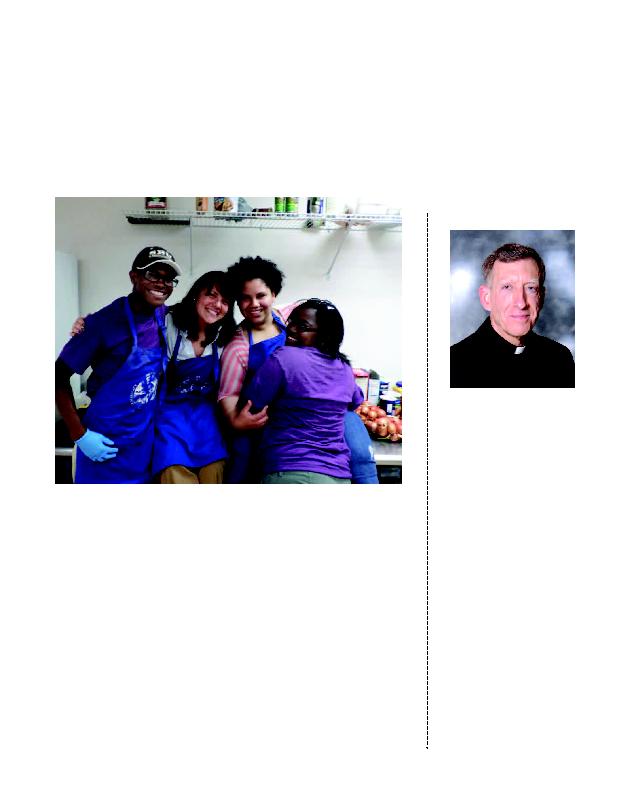 2
Fr. Louis Iasiello, O.F.M., has
dedicated his life to serving others
in and through ministry. Now pro-
fessor and director of Pastoral and
Apostolic Formation at Pontifical
College Josephinum in Columbus,
Ohio, Fr. Iasiello graduated with a
bachelor's in history from Bona's
in 1972 and served as a Trustee
from 2001 to 2010.
Growing up with a close Fran-
ciscan presence influenced Fr.
Iasiello's decision to attend SBU
and later join the Franciscans in
1973.
"I knew them most of my life,"
Fr. Iasiello said. "My mother and
sister were brought into the
Church by Franciscans."
After his ordination, Fr. Iasiello
was assigned to Bishop Timon St.
Jude High School in Buffalo, N.Y.,
where he stayed until 1983 when
he entered the chaplaincy for the
United States Navy.
Profiles ministry
From a college campus to the front line, St. Bonaventure
alumni are privileged to share their gift of faith
Maggie Morris (second from left), director of the Warming House and Bona Buddies
at the university, is pictured with Warming House interns David Bryant, Ana Alonzo
and Chernice Miller.
In February 2013, Maggie Morris returned to her alma mater as director of the Warm-
ing House and Bona Buddies outreach ministries.
"Returning to work at Bonaventure has been like coming home. Each day that I
spend working collaboratively with students to serve the poor and marginalized in our
community is truly a gift," said Morris. "The Warming House and Bona Buddies work to
meet very basic needs, but they also continuously subvert mainstream cultural values of
consumerism, individualism and waste. By welcoming the stranger with open hearts and
sharing our gifts without fear, we discover the abundance of creation."
Student volunteers serve more than 9,000 meals annually at the Warming House and
the Bona Buddies youth mentoring program pairs about 70 local children with a college
student each year.
Before returning to St. Bonaventure, Morris worked as a certified naturally grown fruit
and vegetable farm worker at Licking Creek Bend Farm in Needmore, Pa.
She spent three years, from 2006-09, in Itaugua, Paraguay, as an international volun-
teer with Good Shepherd Volunteers. Morris worked as a communications liaison, con-
sultant, marketer, PR specialist and teacher while she was with Good Shepherd.
:: MAGGIE MORRIS
Class of 2005
:: Rear Admiral Fr. Louis
Iasiello (Ret), O.F.M.
Class of 1972