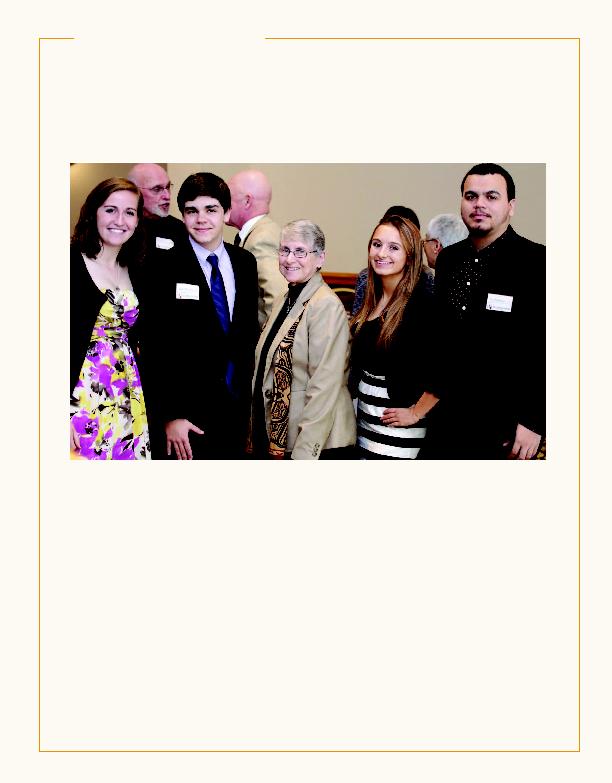 St. Bonaventure University is rooted in a tradition that values unity. No one stands alone. We are always in rela-
tionship.
Tradition is embedded in each name listed on our distinguished Honor Roll of Donors.
To the many whose names appear here, thank you for making St. Bonaventure a top priority among your phil-
anthropic intentions. Your generosity creates opportunity for our students to prepare for lives of leadership
and service. With every gift, you help to:
· Promote inquiry and innovation;
· Provide a rich academic environment; and
· Pave the way to professional excellence and a readiness for life's challenges.
Our students stand stronger because of you.
Pax et bonum,
Sr. Margaret Carney, O.S.F., S.T.D.
University President
University President Sr. Margaret Carney, O.S.F., (center) is joined by students (from left) Rachel Barry, '17; Adam Talmadge, '18; Haylei
John, '18; and Luis Rodriguez, '17.
2014-2015
A partial list of Fiscal Year 2015 donors
was included in the print version of
Bonaventure magazine. To view the
complete Honor Roll of Donors, please
click anywhere on this page or visit
www.sbu.edu/donorhonorroll
>>> Exclusive web content for St. Bonaventure alumni and friends