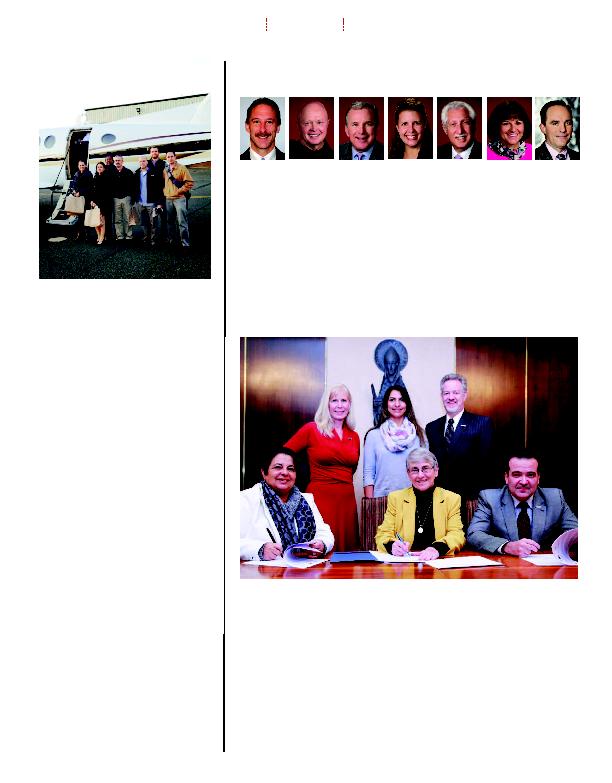 I
N

2
-
1
BOARD OF TRUSTEES
University welcomes alumni to BOT
NEW CONNECTIONS
SBU signs deal with educational organizations
BRAZILIAN PARTNERS
High school guidance
counselor outreach
expansion takes flight
St. Bonaventure has welcomed seven
alumni to the Board of Trustees in re-
cent months. Pictured above from left
are:
· Steven G. Barry, '88, of Ashburn,
Va., a partner at KPMG LLP;
· Fr. Kevin Downey, O.F.M., '73, pas-
tor of St. Francis of Assisi Parish in Trian-
gle, Va.;
· William Lawley Jr., '85, of Amherst,
N.Y., managing partner of Lawley in
Buffalo;
· Kristan McMahon, Esq., '97, of An-
nadale, Va., Counsel-Antitrust for Veri-
zon;
· Richard Penna, Esq., '68, of Silver
Spring, Md., a partner at Van Ness Feld-
man LLP law firm in Washington, D.C.;
· Carol Schumacher, '78, of Rogers,
Ark., head of corporate affairs at Inter-
continental Exchange, parent company
of the New York Stock Exchange;
· John Sheehan, '82, chief financial
officer and executive vice president at
Mylan, NV, of Canonsburg, Pa., a sub-
urb of Pittsburgh.
St. Bonaventure President Sr. Margaret Carney, O.S.F., (above, center) signed a coop-
eration agreement with L'Hermitage, an educational foundation with headquarters in
Belo Horizonte, Brazil, and Liaison America, an international education company.
The agreement establishes the organizations' intent to work together to advance
their common educational goals, including professional development for educators and
school leaders and international student exchange and enrollment.
Pictured are (front row, from left): Angela Christina Souza Alves, chair of the L'Her-
mitage Foundation Board of Trustees; Sr. Carney; Márcio Sigaud Ferreira Filho, L'Her-
mitage Foundation CEO. Back row (from left): Dr. Kathryn Baugher, SBU executive
director of International Partnerships; Sandra Lima Argo, director of programs, and
Trent Argo, international education consultant of Liaison America.
The Offices of Admissions and Financial
Aid, under the direction of Vice President
for Enrollment Bernie Valento, hosted
several events and programs this fall for
high school counselors from Western
New York and beyond.
Both on-campus visits and off-campus
events have focused on sharing the story
of SBU as well as sharing information
about our new academic programs,
scholarship levels, and application
process. Pictured above are guidance
counselors from the New York City and
New Jersey areas who were one of two
groups that were able to visit the campus
for a day courtesy of Leslie and Eileen
Quick, who donated the use of their pri-
vate airplane to make the trip possible.
Following his visit, counselor Joseph Ko-
rfmacher from Xavier High School said, "I
cannot express this enough, I love every-
thing St. Bonaventure is about.
"This is a strong, supportive community
of administrators, faculty and students
who are there to prepare for a successful
future, but are there for each other as
well. Students hold doors for each other,
they smile and ask how your day is going,
but at the same time, they are focused
on their academics, and work hard to do
well in the classroom."
You can read his entire blog from the
http://goo.gl/gK4kj2