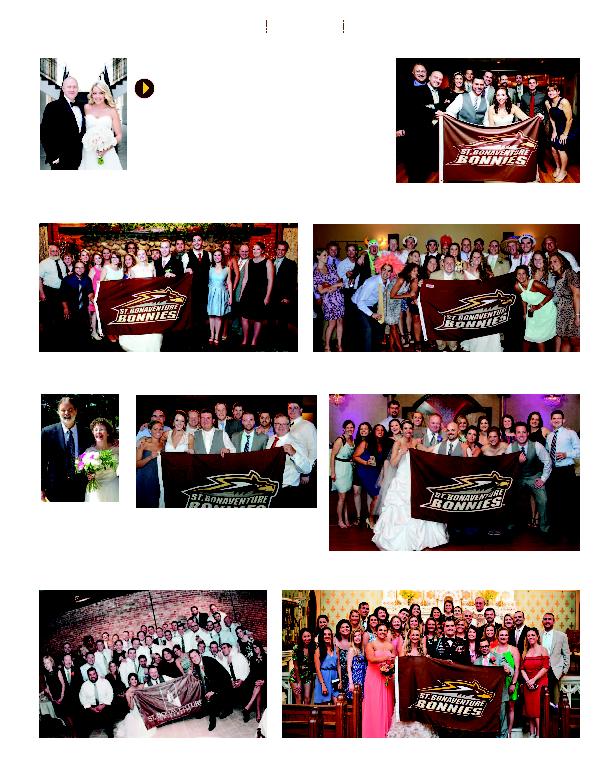 I
N

2
-
1
Katie Lagonegro and Christopher Coletta, '08
Amanda Klein, '12, and Tyler Diedrich, '12
Vanessa Pillmore, '11, '12, and Ryan Marquette
Jennifer Dollard, '06, and Brian Martin
Jennifer Geneovese and David Rust, '01 and '03
Kathryne Valentine, '11, '13, and Michael Dansa, '12, '13
Christina Shannon, '11, and
Joshua Inzana, '10
Marianne Comfort,
'84, and Ted Conwell
Allison Caffrey, '07,
and Jeff Berndt, '05
Additional Wedding Announcement
Jessica Hulshoff, '05, and Kevin Mohr
To submit your announcement for
· use the enclosed envelope
· email bonalumnus@sbu.edu
· use the online form at
All photos must be of good reproductive
quality. Pictures submitted electroni-
cally must have a resolution of at
least 300 dpi. The university is prohib-
ited from publishing copyrighted photo-
graphs, unless accompanied by written
Wedding Guidelines
permission from the photographer. Photos
are published at the discretion of the editor.
Don't forget to notify us of your new name
or address! Update your information at
Bona's Online at www.sbu.edu/bonason-
line.
St. Bonaventure University takes pride in its
alumni and joyfully shares the news of their
lives and achievements. Supportive of our
Catholic Church's teachings, publication of
announcements provided to us by our
alumni does not necessarily imply an en-
dorsement by St. Bonaventure University.