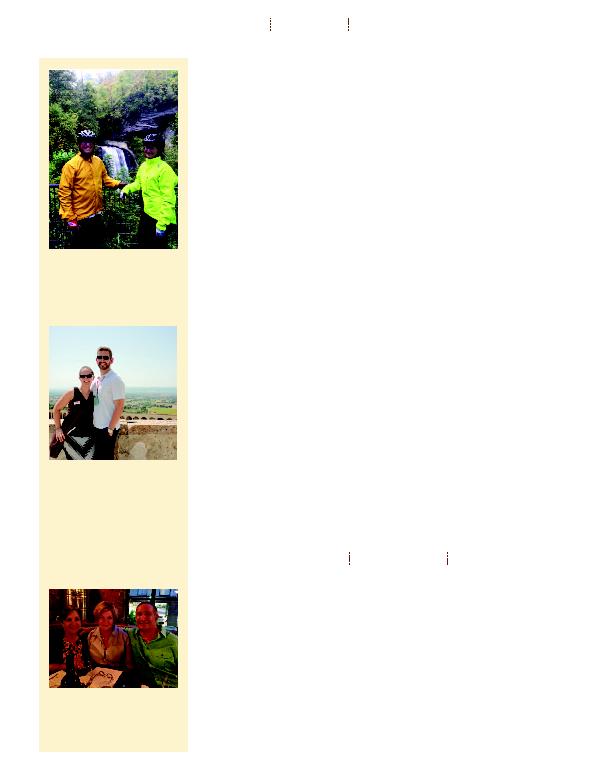 ginia. To date, Bigley has raised more than
$37,000 for the foundation and set up valuable
infrastructure enhancements to the organiza-
tion.
Michelle Edwards
velopment for Mastery Charter Schools.
Mastery is a top performing charter network
serving more than 12,000 children in 21
schools in the most poverty-stricken areas of
Philadelphia and Camden.
Mark Frank
eran of the wars in Afghanistan and Iraq, was
promoted to lieutenant colonel in the New
York Army National Guard. Frank, a full-time
member of the Army National Guard, has been
serving as the executive officer for Maj. Gen.
Patrick Murphy, the adjutant general of New
York. He moved into a new job as the legisla-
tive liaison officer for the New York National
Guard and is also serving as the commander of
the Headquarters Battalion of the 42nd Infantry
Division in Troy.
Shareef Rabaa
own law firm, The Rabaa Law Firm, PLLC, in
New York City. Rabaa focuses on representing
victims of neurological injuries, especially trau-
matic brain injuries. He is the national president
of "40 under 40" for the National Trial Lawyers
Association and was named a NYC "Super-
lawyer ­ Rising Star" in 2013, 2014 and 2015.
2001 -- Kate (Felschow) McLaughlin
promoted to communications director at the
Health Foundation for Western and Central
New York, where she previously served as com-
munications manager. The Health Foundation is
an independent, private foundation based in
Buffalo with a second office in Syracuse.
Patrick Opitz
, a veteran of the Garret Theater
Players, will be appearing in episodes two and
three of the webseries "Swords of Insurgency,"
and joining the caste of "Dirt Old Supersti-
tion," premiering Jan. 31.
2002 ­ Brendan Morrissey
rector in Walmart's Responsible Sourcing de-
partment and is based in the retailer's home
office in Bentonville, Ark.
2004 -- Brendan H. Little, Esq.,
partner at Lippes Mathias Wexler Friedman LLP
in Buffalo. Little's practice focuses on commer-
cial and business litigation.
2006 -- Jessica (Manocchio) Christensen
was named Communications & Global Giving
manager for Praxair, Inc. Christensen, who pre-
viously served as internal communications man-
ager within Praxair's Global Procurement
department, is now responsible for assisting in
the development of Praxair's annual Global Giv-
ing strategy as well as the day-to-day manage-
ment, coordination and financial administration
of the program.
2007 -- Melinda Zook
dren's picture book titled "L-E-T-T-E-R-S." It is
designed to give early readers a new way to
look at letters and words.
2008 -- Katelyn Dieffenderfer
with Neighborhood Legal Services, Inc., a not-
for-profit agency located in Buffalo that pro-
vides free legal services to people with low
income and people with disabilities.
Scott
Eddy
was honored by CoSIDA (College Sports
Information Directors of America) for having the
top student-athlete profile (feature story) in Dis-
trict 2 (Delaware, New Jersey, Pennsylvania,
Maryland, West Virginia, D.C.) during the 2014-
15 academic year. Eddy, who previously worked
at Bloomsburg University, joined the St.
Bonaventure community this fall as assistant
sports information director.
Kathryn (D'Am-
ato) Turton
is a payroll manager with Real-
tyUSA & 1st Priority Mortgage. She became a
certified payroll professional in April and was
named secretary of the Buffalo-Niagara Payroll
Association in January. She has held prior posi-
tions at Fisher Price, Citigroup, ITT Tech and
Columbus McKinnon.
Luke Alessandro to Kristine and
Bryan Di Lella, '86
Luke Anthony to Christina and
Mike Magulick, '93
Silas James to Catherine Waiti-
nas, '96, and Brad Campbell
Oliver Everett to Pamela
(Mullin) '97, and Gregory Hor-
vath
Emily Mae to Kristin (Miller)
'00, '01, and Eric Hall
Avery Noelle to Holly and
Michael Bogart, '02
Zoey Mackenzie to Brigid
(Mullen), '02, and Justin
Richards
Nolan Kelley to Kate Mannion
O'Reilly, '03, and Rich O'Reilly
Evelyn Maria to Christie (Men-
dola), '05, and Richard Lagowski
Ryan James to Lauren (Davey),
'06, and Jason Millican
Nicholas Jeffrey (2013) and An-
thony Samuel (2015) to Lori and
Brad Kovalovsky, '06
Edward Joseph to Susan
(Minchin), '06, and Geoff Roark
Grace Fiona to Caroline
(Keenan), '07, and Brian Kelly,
'07
Charles Steven to Kate (Moul-
ton), '07, '08, and Matthew
Chmielewski
Mackenzie Anne to Julianne
(Kane), '07, '08, and Andrew
Reid
Elliot William to Chelsea (Eggle-
ston), '08, and Charlie Bender,
'08
Rose Isabella to Megan (Man-
jerovic), '08, and Timothy Con-
dello, '09
Steve Buchanan, '66, and his
daughter Chris take a break dur-
ing a weeklong, 480-mile Moun-
tains to Coast bike ride across
North Carolina.
Joe and Aimee (Koehler) Lepsch,
'06, traveled to Assisi on July 6 as
part of a two-week Italian vaca-
tion. Amid the stunning views,
the highlight of the visit was
touring St. Francis' Basilica, from
Giotto's stunning frescoes to
praying together before the
Tomb of St. Francis. Pax et
bonum!
Pictured at a mini Bona reunion
in Portland, Maine, are Beverly
(Smith) Collins, '77, Pat (Ryan)
Lampl, '77, and Ron Esposito, '75.