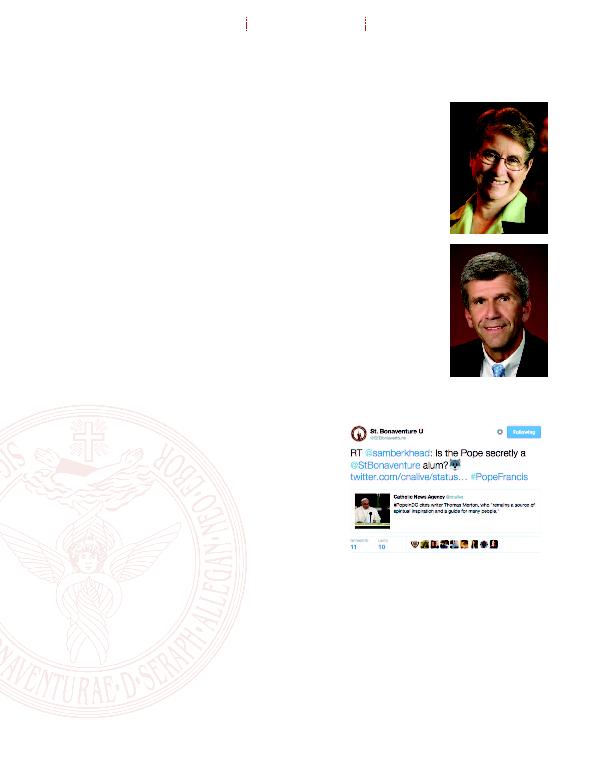 The mantra of Merton's happiness
I
N

2
-
1
Board Chair
Board Vice Chair
Board Vice Chair
Board Secretary
St. Bonaventure University Board of Trustees
Steven G. Barry, '88
Lana D. Benatovich
Janet I. Bodnar, '71
James E. Canty, '84
Sr. Margaret Carney, O.S.F., '86
Scott P. Cielewich, '72
Fr. Thomas E. Conway, O.F.M.
Joseph A. DeMaria, '79
Colette C. Dow, '88
Fr. Kevin Downey, O.F.M., '73
Timothy J. Finan
Thomas M. Garvey, '74
Michael E. Hill, '96
Albert C. Horton, '66
Bharat Kohli
William J. Lawley Jr., '85
Cindy Abbott Letro
Paul C. McDonald, '80
Kristan K. McMahon, '97
James E. Meyer, '76
Yvonne Minor-Ragan
Very Rev. Kevin Mullen, O.F.M.
Les Palm
Fr. Kenneth P. Paulli, O.F.M.
Richard Penna, Esq., '68
Very Rev. John Puodziunas, O.F.M.
Bill Purcell
Carol Schumacher, '78
John Sheehan, '82
James E. Stitt
Marvin W. Stocker, '65
Lynda M. Wilhelm, '86
Trustees Emeriti
Raymond C. Dee, '64
Robert R. Jones, D.C.S., '58
John R. "Jack" McGinley,
Charles Osgood, L.H.D.
Leslie C. Quick III, L.H.D., '75
A
s we followed the historic visit of Pope Francis to the United States in September, we
couldn't help but catch the spirit of optimism and hope that prevailed. If that wasn't
enough to put gale-force winds in our sails, Pope Francis called out former Bonaventure
faculty member Thomas Merton as one of four Americans whose life exemplifies the aspirations
and qualities that are needed in a great nation.
In the hours, days and weeks to follow, the campus and our alumni-populated social media
channels rumbled with excitement as we celebrated yet another important connection with Pope
Francis and his infectious character and vision. Merton was a member of the university's faculty
for two years (1940-1941) before becoming a Trappist monk. His friendship with his colleagues
and mentors here endured throughout his life.
There's a deeper connection here that did not emerge in the wake of the Pope's visit and the
subsequent commentary and analysis, one that we believe has special significance for this univer-
sity and its future promise.
Thomas Merton once said that his days at St. Bonaventure were
among the happiest of his life. We have an alumni body more than
28,000 strong that echoes that sentiment each day.
In the shadow of national and international tragedy and unrest, the sting of which seems to
recur with each passing day, the significance of a place that promulgates happiness emerges as
something singular -- dare we say -- extraordinary.
We've been sharing information with our alumni and friends about the challenges and opportu-
nities facing St. Bonaventure University. In this magazine and through email updates, presenta-
tions at alumni events, and phone conference conversations, we've outlined what the Board of
Trustees, administration, faculty, staff, and alumni are being asked to do to support necessary
change and innovation here. We're focused on growing enrollments by increasing our competi-
tive academic standing and program relevance in the market.
While we will continue to reach out through a variety of channels to
keep your attention, encourage your involvement in this agenda, and so-
licit your volunteer and philanthropic support, we pause here to ac-
knowledge the role this university plays in creating happiness. It's
difficult to imagine a more compelling, optimistic calling.
Fr. David Couturier's Franciscan Minute on the next page describes
how the Franciscan mission of St. Bonaventure University is not only
framing but also forming our strategic planning process and vision. As
he explains, even the sometimes painful process of change can be ac-
complished in a joyous and bountiful Franciscan context -- the same
context that Pope Francis has chosen to change the world's view of our
faith.
Please accept our warmest wishes for a blessed, joyful holiday season.
Sr. Margaret Carney, O.S.F., President
Robert Daugherty, Chairman, Board of Trustees