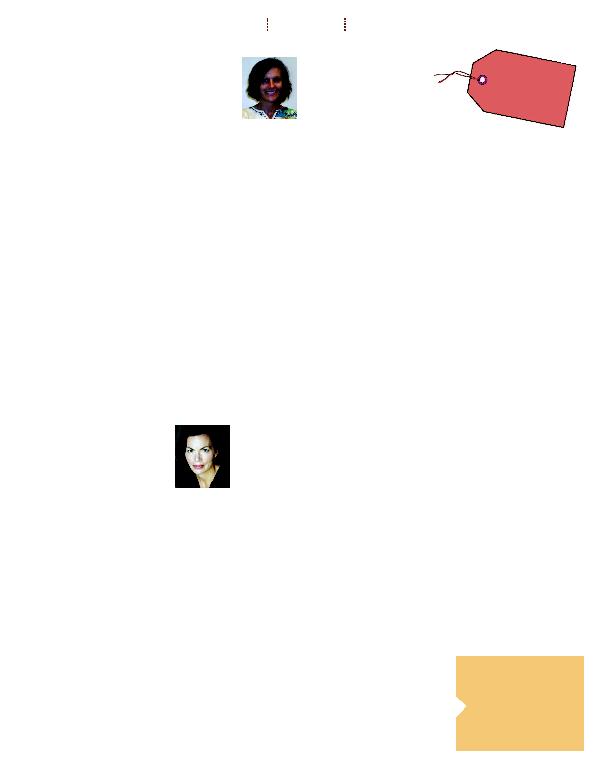 Authority [FINRA] Dispute Resolution ­ Board of Ar-
bitrators. He and his wife, Kristine, live in Tucson,
Ariz., with their son.
1989 -- Jeff Gulbin,
chief financial officer at Fi-
nacity Corporation, was named the 2015 CFO of
the Year (mid-size business category) by the Fair-
field County Business Journal. The awards were de-
termined by a distinguished panel of business and
academic leaders from the state of Connecticut.
With resources in the USA, Europe and Latin Amer-
ica, Finacity Corporation facilitates the financing
and administration of approximately $100 billion
of receivables annually.
1992 -- Paul Hartwick,
communication and public affairs at J.P. Morgan
Chase & Co., is now responsible for communica-
tions for Chase's credit card, consumer banking,
digital banking and payments businesses. Hartwick
oversees communication strategy, planning,
budget, day-to-day execution and measurement of
external communication, media relations, issues
and crisis management, employee communication,
executive communication and public affairs activi-
ties for those businesses. Chase is the nation's lead-
ing credit card issuer, and the bank serves nearly
half of America's households with a broad range of
financial services, including more than 5,500
branches and 18,000 ATMs.
1993 -- Alicia Regan-Kuranda
Chicago and recently finished a run of "Streetcar
Named Desire" playing Blanche
Dubois. She will appear in the
much anticipated film "Batman v.
Superman: Dawn of Justice," due
out in March 2016. Regan-Ku-
randa has appeared in more than
20 Off-Broadway productions, in-
cluding "Antigone," "The Battle,"
and "Brilliant Traces and Spike Heels." Other film
and television credits include "Come On," "Night
& Day," "Sex and the City," "The Sopranos," "Law
& Order SVU," "All My Children," and "The New
Addams Family." She received her MFA from The
Actors Studio Drama School and is a member of
the Actors Studio.
Diana Sorokes Maguire
earned a doctorate (Ed.D.) from Creighton Univer-
sity in Omaha, Neb. She defended her dissertation
in December 2014 and graduated in May 2015.
1994 -- Annette Burns
vice president at NBT Bank. Burns is responsible for
managing the company's accounting and finance
function and ensuring its compliance with corpo-
rate policies, accounting and regulatory require-
ments. She also provides support for strategic
planning, corporate governance, and merger and
acquisition analysis. She is based at NBT's Norwich
headquarters.
Marla Gressley
Services administrator at Autism Services, Inc.,
where she oversees daily operation of the agency's
two Day Habilitation Programs as well as its Sup-
plemental Day Habilitation Pro-
gram. She is a member of the
Rollin' Athletic Club Inclusion
Network, an organization whose
volunteers assist individuals who
utilize wheelchairs as they com-
pete in local 5K races. A nature
enthusiast, Gressley lives in North Tonawanda,
where she enjoys hiking, biking, kayaking and
camping throughout the Niagara Frontier.
1996 -- Catherine Waitinas
fessor of English at Cal Poly in San Luis Obispo,
Calif., where she teaches early American literature
and specializes in Walt Whitman.
1997 -- Kelly (Doherty) Fernald
teacher at St. John the Evangelist School in Beverly,
Mass. She also has the extra responsibility of being
the assistant to the principal while working on a
certificate of advanced graduate study in leader-
ship at Salem State University.
Mary Jo Campbell
Sorensen
completed her MBA in August. She is
employed by Duke University Health System in
Durham, N.C., and works as a human resources
administrator in healthcare.
1999 -- Brian Moritz, Ph.D.,
of digital media production and digital journalism
at SUNY-Oswego, published "The story vs. The
stream: Digital media's influence on newspaper
sports journalism" in the International Journal of
Sport Communication. The December 2015 article
included in-depth interviews with sports journalists
and suggests that the primary divergence in sports
journalism is not "print vs. online," but rather the
idea of "the story vs. the stream" -- that is, re-
porters doing the traditional journalism story
alongside the more fragmented, stream-like work
they do online and on social media. At Oswego,
Moritz teaches upper-division and graduate-level
courses in online journalism, media economics,
sports journalism and integrated media. He is the
recipient of many honors and awards. In 2014, he
received an Early Start Grant from SUNY Oswego
and in 2013 he was awarded a Feinberg Disserta-
tion Support Award from Syracuse University. In
2011, he received a Syracuse University Graduate
Fellowship, the Catherine L. Covert Award for best
student research paper, and a Graduate School
Masters Award. Moritz holds a Ph.D. in mass com-
munication and a master's degree in media studies
from the S.I. Newhouse School of Public Commu-
nication at Syracuse University.
2000 -- Michael Bigley
Future Executive Director Fellowship with the Non-
profit Roundtable in Washington, D.C. The cohort
of 25 leaders participated in workshops on topics
such as nonprofit governance, board development
and financial management. As part of the fellow-
ship, Bigley became a fundraising consultant for
the Chance Foundation, an all-breed dog rescue
and rehabilitation organization in Northern Vir-
John J. Lacey, '56
Roman Chwaliszewski, '56
Robert G. Bubbs, '61
John W. Rockovits, '61
John F. Wallace, '66
Mary G. Li, '66
Thomas J. Galia, '66
William R. Jackson, '76
Susan D. (Deevy) Nadeau, '76
Margaret M. (Welsh) Bousson, '81
John F. Kramer, '81
Mark C. McCarthy, '81
Nancy I. (Iyoob) Russo, '81
Jay Ryan, '81
Michael R. Stokes, '81
Antoinette T. Villani, '81
Ann H. (Wende) Whiting, '81
Elizabeth J. (Boulos) Capants, '86
Andrew R. Cassidy, '86
Mary B. McAvoy, '86
Daniel D. Wright, '86
Tony Anderson, '91
Stephanie M. (Litz) Chase, '91
Christina M. Dalto, '91
Barry J. Sharp, '91
Roxann L. (Hurlburt) Vaneekhoven, '91
Frederick A. Virga, '91
Mia M. (O'Brien) Warner, '91
Denise D. Haraszko, '96
Bridgette M. McAleer, '96
Thomas Shellenbarger, '96
Carla E. Strong, '96
Stacey L. Venezia, '96
Wendy A. Whitney, '96
Frank J. Guzzetta, '01
Karin A. Helmbrecht, '01
Victoria A. Vyborny, '06
Timothy J. White, '06
Emily A. Flaherty, '11
Kirsten N. Norrell, '11
Marissa L. Sangiacomo, '11
Scott W. Shelters, '11
We've lost touch with a number
of alums and need your help! Of
the many missing alumni, our
hope is to start finding lost alumni
who will be celebrating their re-
union in 2016. If you know the
whereabouts of the following
alumni, please let us know at
www.sbu.edu/foundalumni.
I
N

2
-
1
SEND US NEWS OF YOUR
ACCOMPLISHMENTS
To submit information for
the next issue of Bonaven-
ture magazine, use the en-
closed envelope or fill out
an online form at
www.sbu.edu/BonaMag.