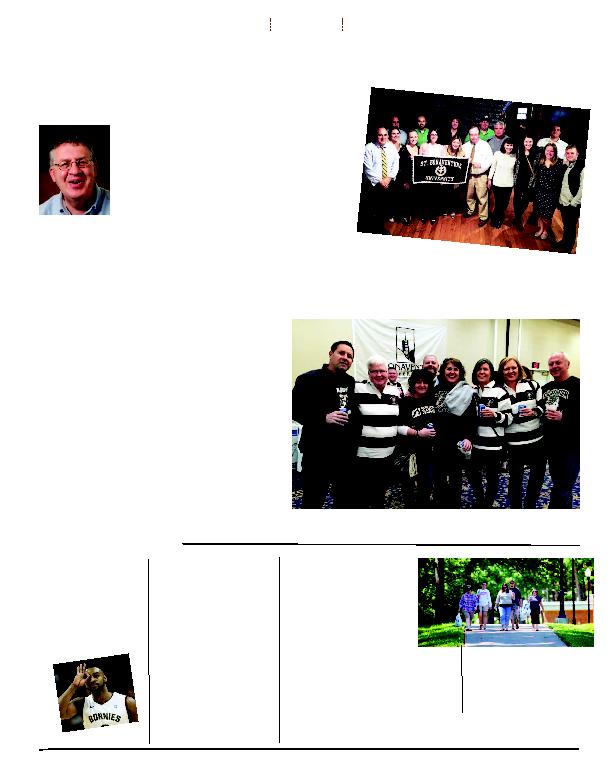 The Gaudete Awards, The Hyatt,
Buffalo; recognizing the service of
John and Suzanne Berger; Fr. Joseph
Bayne, O.F.M. Conv.; and Jack
Reception at St. Joseph's
I
N

2
-
1
T
he first organized Bona alumni event (more than
120 years ago) did not happen on campus but in
Atlantic City, N.J. (I think they thought the casinos
A look at the 1940 St. Bonaventure College alumni di-
rectory lists seven alumni chapters.
In the early days, the chapters revolved around the
men who were on campus as seminarians. They re-
turned to their home dioceses and gathered as diocesan
priests/Bona alums. These get-togethers were particu-
larly strong in the Buffalo, Scranton and Erie dioceses.
As the number of lay alums began to outpace the reli-
gious, they joined the chapters already formed, organizing their own
groups.
In the 1950s and '60s, undergrad students started regional campus
clubs that mirrored the alumni chapters in place. A look through the
yearbooks from that time finds the Metropolitan, Connecti-
cut, Rochester and Buffalo clubs -- just to name a few.
The Triple Cities alumni chapter started a sports dinner
that at its zenith attracted more than 1,000 attendees
and featured sports stars such as our own Ted Marchi-
broda, along with Billy Martin, Mickey Mantle and
Johnny Unitas.
Over the past 15 years, there have been more than
800 alumni events held in 25 states. We have seen
tremendous growth in North Carolina, Florida and
Chicago. The 1980 alumni directory listed 10 alumni liv-
ing in Charlotte and today some 400 alumni call Greater
Charlotte home.
So the tradition continues. We have more than 30 ac-
tive alumni chapters. I encourage you to get involved and
attend an alumni gathering in your area. You will receive
a warm welcome. More information can be found on the
alumni website at www.sbu.edu/alumnievents.
Bona faithful have long history of gathering
for fellowship, networking
Joe Flanagan
Director of
Alumni Services
2016 Alumni Events
Above, Binghamton-area alums gathered for an Octo-
ber social at Burger Mondays. Below, these are some of
the 400 Syracuse-area alumni who turned out to cheer
on the Bonnies as they took on the Orange Nov. 17.
For more information about upcoming events, visitwww.sbu.edu/Alumni
or email alumni@sbu.edu.