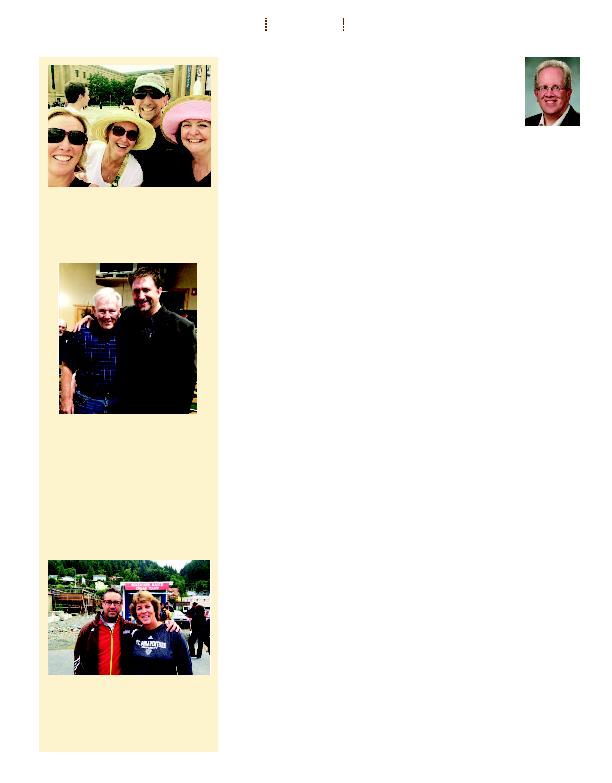 ucators from across the United States on
board a modified Boeing 747SP. Grzybowski
and her colleague were the only teachers
from Oklahoma selected for 2015. Grzy-
bowski was free to interact with the scien-
tists, telescope operators, weather operator,
flight manager, German participants, journal-
ists and the mission director, who were all
aboard the flight.
Spence Servoss
with Coldwell Banker Residential Real Estate
in Melbourne, Fla. With 30 years in the real
estate business, Servoss serves all of Brevard
County, Fla. He also just welcomed a new
grandson.
1974 -- Walter Brasch
was elected president-elect of the New Jersey
Society of Certified Public Accountants for a
one-year term beginning June 1. Brasch is a
partner and chief business development offi-
cer at O'Connor Davies, LLP, and joined the
New Jersey Society of CPAs in 1977. He has
served on the organization's Board of
Trustees as a trustee, treasurer and secretary.
In his community, Brasch serves on the Board
of Trustees of Christian Brothers Academy, as
an associate member of the Audit Commit-
tee of Monmouth University, and as a
fundraising committee member for the Rari-
tan Bay Healthcare Foundation. He and his
wife, Ann, have a son, a daughter and three
grandchildren.
Jeanne Annunziato-
Simanek
just retired from her own PR com-
pany, but is still doing public relations for
Soroptimist International of Austin, Texas.
She invites alumni who are soroptimists to
contact her at simanek1@msn.com. She
writes, "Hope to see my Class of '71 at our
45th reunion in June!"
1975 -- Col. (Ret.) Frank G. Romano
tinues to serve as a Department of the Army
civilian at U.S. Army Support Activity, Fort
Dix, N.J. In 2012, he received the Superior
Civilian Service Award for his actions in sup-
port of civil authorities who were assisting in
recovery operations following Superstorm
Sandy. In 2014, he received the Achievement
Medal for Civilian Service for his work in
planning and coordinating support to the
Joint Base McGuire-Dix-Lakehurst Open
House and Air Show that was attended by
approximately 300,000 people during a two-
day period; and in 2015, for his work as the
garrison employee of the quarter, he received
the Commander's Award for Civilian Service.
Fellow alumni or military personnel that re-
quire information about Joint Base McGuire-
Dix-Lakehurst can contact him at
frank.g.romano.civ@mail.mil.
1977 -- Joe Marren
cellor's Award for Excellence in Faculty Serv-
ice, was promoted to full professor, and was
re-elected to a three-year
term as chair of the Com-
munication Department at
SUNY Buffalo State. The de-
partment is the largest com-
munications department in
the SUNY system and the
first in the system to be accredited by the in-
ternational Accrediting Council on Education
in Journalism and Mass Communications.
Madonna Wojtaszek-Healy
by the Ministry of Education and the ADHD
Foundation of Trinidad and Tobago to travel
to Trinidad and Tobago to give teacher in-ser-
vice presentations on creating better educa-
tional outcomes for students with ADHD.
Wojtaszek-Healy is the special needs consult-
ant for Religious Education for the Diocese of
Joliet, Ill., and facilitates courses on special
needs catechesis for the University of Day-
ton's Virtual Learning Community for Faith
Formation.
1979 -- Dr. Maura Ryan
vice president and associate provost for fac-
ulty affairs at the University of Notre Dame.
She previously served as associate dean for
the humanities and faculty affairs in the Col-
lege of Arts and Letters at the university. A
member of the theology faculty since 1993,
Ryan is the John Cardinal O'Hara, C.S.C., As-
sociate Professor of Christian Ethics. She pre-
viously served from 2001 to 2004 as an
associate provost at Notre Dame. Ryan's pri-
mary scholarly interests are in the areas of
bioethics and health policy, feminist ethics
and fundamental moral theology. She is the
co-author of "The Voice of the Voiceless: The
Role of the Church in the Sudanese Civil War
1983-2005" and the author of "Ethics and
Economics of Assisted Reproduction: The
Cost of Longing." She and fellow Notre
Dame theologian Todd Whitmore were the
co-editors of "The Challenge of Global Stew-
ardship: Roman Catholic Responses" and she
also co-edited "A Just and True Love: Femi-
nism at the Frontiers of Theological Ethics."
1982 -- David Snyder
for five weeks last summer. A marketing pro-
fessor at Canisius College, Snyder taught
coursework for an MBA program and mas-
ter's degree in international trade and finance
in Hanoi and Ho Chi Minh City. Snyder's wife,
Kit (Housted), '86
, is a Methodist minister
serving the Oakfield and West Barre churches
in New York.
1983 -- Timothy Long
chemistry in the College of Science at Vir-
ginia Tech, was selected as one of three Vir-
ginia Outstanding Scientists for 2015. He was
honored in March by Virginia Gov. Terry
McAuliffe and the Science Museum of Vir-
Professor Chris Mackowski, Ph.D., is
bringing the Civil War to alumni one
Bonnie at a time. Above, the journal-
ism school professor is pictured with
Larry Laughlin, '60, who attended
Mackowski's Sept. 15 talk at the Lin-
coln-Davis Civil War Roundtable in
suburban Chicago. Mackowski also
met Heather, '88, and Don Blersch,
'86, following a talk he did at the
Bull Run Civil War Roundtable in
Centreville, Va.
Maureen Reuther, Kathy Major, Jane
Squillace and Frank Squillace enjoy a mini-
reunion together in Philadelphia in July
2015. Maureen, Kathy and Frank are 1986
Bona grads.
Denise Dee, '89, and Rob Buckla, '84, ran
into each other on an Alaska cruise in the
summer of 2015. They spotted each other
among the other 2,000 passengers be-
cause they were smartly sporting their
Bonnies gear.