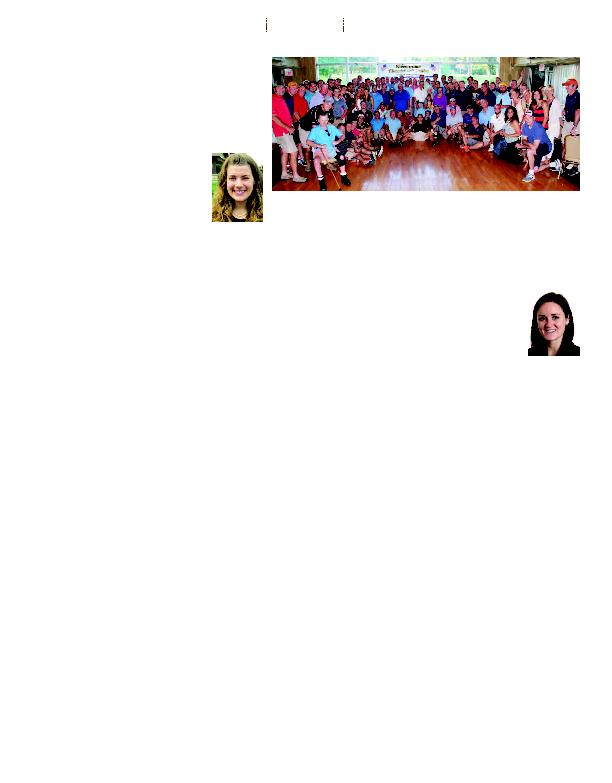 provides services that enable its mem-
ber schools to sustain their Ignatian vi-
sion and Jesuit mission of educational
excellence in the formation of young
men and women of competence, con-
science and compassion. Andretta or-
ganizes program logistics for
conferences, seminars and other
events, as well as assisting with publi-
cations and coordinating social media.
Andell Cumberbatch
sional contract to play for MMCITE
Brno of the Kooperative National Bas-
ketball League in the Czech Republic.
Grace Rooney
lected by Citizens Bank for its Com-
mercial Banker
Development Program.
The 12-month, com-
petitive program com-
bines intensive
classroom instruction
with credit analysis
writing and two in-
depth business line rotations. Rooney
interned with Citizens Commercial
Banking Middle Markets team last
summer.
2010 -- Peter A. Bucci
is manager of Sports Marketing
Sales at Steiner Sports Marketing, Inc., in New Rochelle, N.Y.
2011 -- Emily Ann Bullock, Esq.
North Carolina Bar Association in July of 2015. She received
her Juris Doctor from The Charlotte school of Law in Char-
lotte, N.C.
Chris Freeman
was named assistant general
manager of sales with the Jackson Generals, a minor league
baseball team headquartered in Jackson,
Tenn.
Kristy Kibler
cations specialist at Trocaire College. She is
responsible for generating content about Tro-
caire and its students, faculty, alumni and
programs, disseminating that content to the
media and across various communication
platforms and supporting advertising, com-
munity relations and marketing efforts. Previously, she was
managing editor of the East Aurora Advertiser.
2012 -- Elizabeth Demara
mouth College's newest varsity sport ­ women's lacrosse.
Demara served the past two seasons as the assistant coach
for the fledgling women's lacrosse program at Division II
Alderson Broaddus University.
Tony Lee
Relations as the senior social media manager to lead all
things social media for 5W's 200 clients.
Amanda (Klein)
Diedrich
Tyler Diedrich, '12,
Rochester. Amanda is a public relations specialist at Edge
Advertising Group in Fairport; Tyler is a producer at
13WHAM-TV in Rochester.
2015 -- Julia Andretta
is an administrative associate with
the Jesuit Schools Network, which initiates programs and
Marion Weis Horey, '41, Orchard Park, N.Y.
John C. Fee III, '43, Rochester, N.Y.
Dr. Francis A. Fote, M.D., '48, Sun City West,
Ariz.
John W. Stetz, '48, Waterloo, N.Y.
Charles R. McArdell, '49, Henderson Harbor,
N.Y.
John J. Griffin, '50, Wysox, Pa.
Vincent D. Hayes, '50, Canandaigua, N.Y.
Albert V. Songer, '50, Muncie, Ind.
John J. Trevisan, '50, Arlington, Va.
William T. Comisky, '51, Framingham, Mass.
Rev. Gilio L. Dipre, '51, Erie, Pa. *
Paul A. Jones, '51, Oneida, N.Y.
Robert E. Myrtle, '51, Plymouth, Mich.
A. William Westbrook, '51, Binghamton, N.Y.
Harold R. Golden, '52, Springlake, N.C.
Dr. Edwin S. McIntyre, '52, Sun City West, Ariz.
Francis F. Roach, '52, Rochester, N.Y.
Valmore A. Tanguay, '52, Somersworth, N.H.
Rev. Rayner Williams, O.F.M., '52, New York,
N.Y.
Joseph D. Kane, '53, Binghamton, N.Y.
Robert R. Ellis, '54, Yardley, Pa.
George H. Pierce II, '55, Allegany, N.Y.
Fr. Roy M. Gasnick, O.F.M., '56, St. Petersburg,
Fla.
John K. Meyer, '56, Tucson, Ariz.
Patrick Moloney, '56, Commack, N.Y.
Robert E. Collins, '57, Hilton Head Island, S.C.
I
N

2
-
1
A directory of deceased alumni is available on Bona's Online. Not a member of Bona's Online? Register at www.sbu.edu/alumni.
More than 100 alumni, friends and family gathered June 26, 2015, at the
14th annual Gringo Open golf outing to celebrate the life of Robert D. Per-
aza, '94, '96, and raise nearly $40,000 for the St. Bonaventure scholarships in
his name. To learn more about the Peraza scholarships and how to give,
please contact Kathleen Ryan at kryan@sbu.edu or (716) 375-2308.
Michael J. Eskra Sr., '57, Coral Gables, Fla.
Henry S. Miller, '57, Shirley, Mass.
E. Thomas Morrison, '57, Philadelphia, Pa.
Kay (Hirsch) Screen, '58, Tinton Falls, N.J.
William A. Burtch, '59, Columbus, Ohio
Col. Raymond A. Kolin, '59,
Harker Heights, Texas
Dr. John F. Biter, '60, Biddeford, Maine *
1st Lt. William H. Lambertson, '61,
Naperville, Ill.
Richard L. Mayer, '61, Tonasket, Wash.
Dr. James J. Kinney, '64, Midlothian, Va.
Sr. Maureen Dorr, '66, Cranston, R.I.
James H. Burton, '67, Hackettstown, N.J.
Sr. Madeleine Martel, '69, Tampa, Fla.
Laurence McQuillan, '69, Silver Spring, Md.
Carl E. Shively, Ph.D., '69, Alfred Station,
N.Y.
Kevin O. Beiter, '71, Los Angeles, Calif.
Maribel W. Printup, '71, Salamanca, N.Y.
Alfred R. Rauh, '72, Orchard Park, N.Y.
Michael J. Keenan, '74, Olean, N.Y.
Lt. Col. (Ret.) Edwin A. O'Neill, '74,
Fort Myers, Fla.
Patrick M. Ryan, '74, Fairfield, Conn.
Thomas V. Rigoli, '75, Leesburg, Fla.
David J. McFarland, '77, Northford, Conn.
Kresten M. Bjornsson, '79, Freehold, N.Y.
David A. Jones, '87, Bradford, Pa.
Michael E. Oyler, '89, Kill Buck, N.Y.
Dr. John Biter,* a 1960 graduate of Bona's who worked
at the university for 25 years, died Sept. 5. Biter was an as-
sociate professor of sociology from 1974 until his retire-
ment in spring 1999. He previously served as chair of St.
Bonaventure's sociology and social sciences department
and was the university's first director of institutional re-
search.
Dr. Robert Harlan, longtime professor of computer sci-
ence at SBU, died Aug. 30. Harlan came to St. Bonaven-
ture in 1979 and served as an assistant and associate
professor of philosophy through 1986. He became an as-
sociate professor of computer science in 1987 and chaired
the department from 1988 to 2003. He retired in Decem-
ber 2013 after 34 years of service.
Marion Weis Horey, one of St. Bonaventure's first woman
students, died Sept. 14. She graduated from St. Bonaven-
ture College with a bachelor's degree in ancient languages
in 1941. She taught in high schools in Limestone, Allegany,
and Olean between 1942 and 1956. The Loughlen resi-
dence hall is named after members of her family.
Dr. Robert J. Wickenheiser,* who served as president of
St. Bonaventure University from 1994 to 2003, died Nov.
25. The university learned of his passing as the magazine
was going to press. A more complete profile of the uni-
vesity's 19th president will appear in the summer edition of
Bonaventure magazine.
* Member of St. Bonaventure's Seraphim Legacy Society