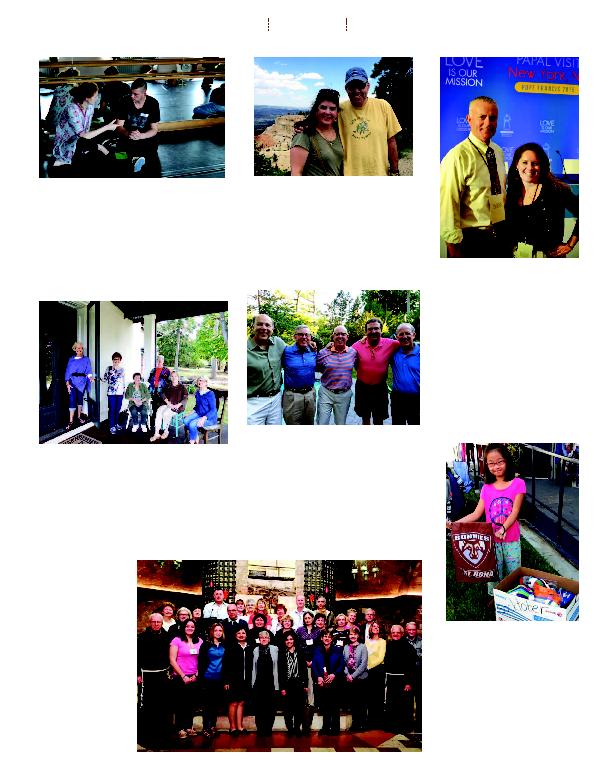 Kevin Keenan, '82, and Maureen
Madden, '94, are pictured at the
Marriott Marquis in New York City.
They volunteered to assist the
United States Conference of
Catholic Bishops and the Archdio-
cese of New York with media rela-
tions while Pope Francis was in New
York City (Sept. 24-25). Madden
worked in the Media Filing Center.
Keenan assisted at St. Patrick's
Cathedral during evening prayer
and at the September 11 Memorial
at the multi-religious gathering.
At the invitation of the State Department, Re-
becca Campana, '03 (at left), returned to Croatia
as part of a team of teaching artists from Arena
Stage. There, she worked with young people
from Albania, Bosnia & Herzegovina, Croatia,
Macedonia and Slovenia to write, rehearse and
perform an original, autobiographical play. The
play explored prejudice and the artists' desire for
more understanding between groups in South-
east Europe.
Charla Stevens Kucko and Mike
Maguire, members of the Class of 1986,
had a chance meeting in June while on
vacation with their families at Bryce
Canyon National Park in Utah. Kucko
and Maguire are looking forward to cel-
ebrating with classmates in June at their
30-year reunion.
After their 50th reunion last year, these alumnae
from the Class of 1964 decided to get together
annually. In September, they headed to the Fin-
ger Lakes Region of New York. Pictured from left
are Carol Voltz LaDuca, Paula Cusano Panik,
Phyllis Gostomski McMahon, Amanda Rasinski
Poor, Joyce Nazzitto Steward and Alida Dou-
glass Frey on the porch of a historic inn near
Keuka Lake.
Bill Collins, '76, (center) shared this photo
from a get-together with a number of
alums, including (from left) Phil Carbone,
'76, Sean Keating, '76, Bob McCarthy, '76,
and Bill Mabee, '77. Alumnae in attendance
included Donna Rucci Collins, '79, Jody Mc-
Govern Mabee, '77, Tena Skrobacz Mc-
Carthy, '78, and Ann Flynn McCarthy, '74.
Betsy Pyskaty Hale, '77, '81, and
her second grade "Little Bonnies"
at Collegewood Elementary School
in Walnut, Calif., collected socks
for the homeless as part of their
Socktober service project. "Teach-
ing them to care at a young age is
so important," said Hale. Hale has
also decked out her classroom in
SBU colors as each second-grade
class adopts and celebrates a col-
lege throughout the year.
Alumni and trustees
across generations
were immersed in
Franciscan pax et
bonum as they toured
holy places in Rome
and around Assisi,
Italy. Highlights in-
cluded Magliano di
Marsi, home of St.
Bonaventure's found-
ing friar, Fr. Panfilo da
Magliano, and Bag-
noregio, the birth-
place of Saint
Bonaventure.