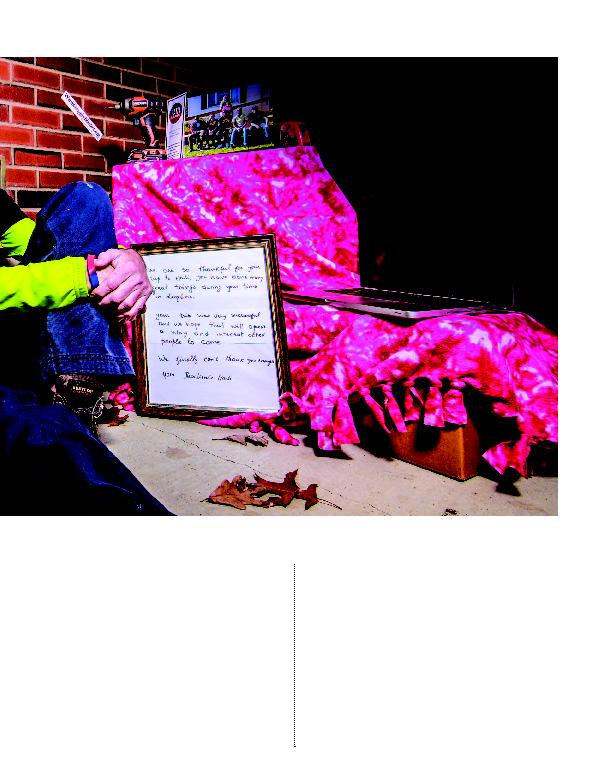 student from Leogane, a seaside community heavily dam-
aged in the 2010 quake. Presuma works with a non-
government organization in Haiti that combats
deforestation and pollution by finding alternatives to clear-
cutting forests to produce charcoal, the daily cooking fuel
across Haiti.
It was earlier this year that Presuma, while attending a
three-day conference at the University of Notre Dame in
the U.S. and wishing other young Haitians were at his side,
thought of his friend from St. Bonaventure.
"The idea hit him that this was something that could be
done for a longer period of time -- if only there were a
school to host it," said Mahar. "And then he remembered:
Hey, Jim teaches finance. He asked me if we'd be interested
and I said let's try it."
Nine months later, the St. Bonaventure community wel-
comed Presuma and 12 other Haitians to campus. Most
knew only a smattering of English and only two had ever
traveled to the U.S. before. All were hungry for what St.
Bonaventure would teach them.
"Finance, marketing, political science, accounting. It was
fantastic. I learned a lot of things I didn't know before and
will use them for the future of Haiti," said program partici-
pant Jean Kendy Estimphil, an undergraduate management
student in Haiti who runs his own business to help pay for
his schooling.
Bona's and Beyond picks up where BonaResponds leaves
"BonaResponds is more of the immediate-care disaster
response, while Bona's and Beyond is more of a teaching,
educational component," he said, drawing a parallel with
the proverb: Give a man a fish and you feed him for a day,
teach a man to fish and he eats for a lifetime.
"This is a teaching-them-to-fish type thing," said Mahar.
I
N

2
-
1
Photo by Danny Bush, '13, '15
ABOVE: From a BonaResponds workday to delivery of a new batch of Warm Snuggly
Blankets for cancer patients, Jim Mahar is always open to a world of possibilities.