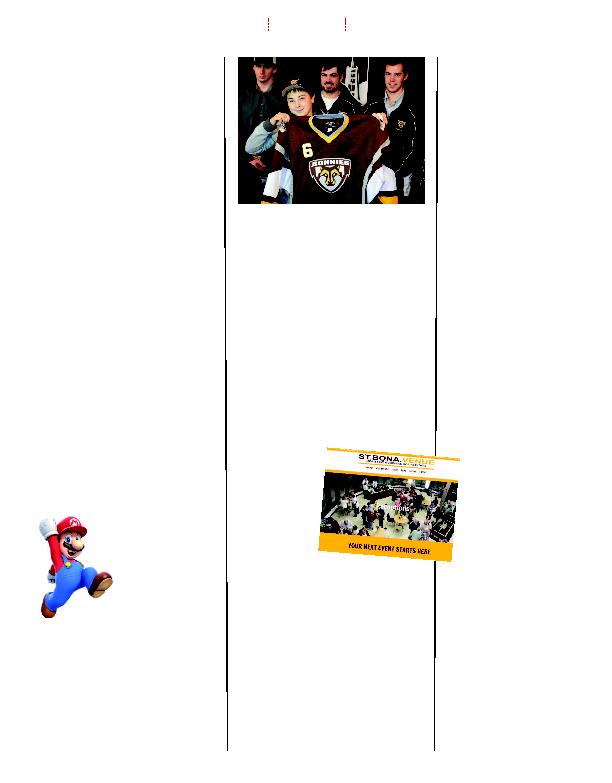 New certificate
program in strategic
management
Searching for some Bonnies gear for this
basketball season or the holidays? There is
now a new option -- St. Bonaventure's on-
line store,
Bonniesgear.com
The new store features hundreds of offi-
cially licensed Bonnies items from T-shirts,
golf shirts, sweats and hats to office acces-
sories, drinkware, bags and backpacks. Mer-
chandise suppliers include Under Armour,
Adidas and Columbia.
The site is the result of a partnership be-
tween St. Bonaventure and Advanced-On-
line, which is one of the leading suppliers of
online collegiate athletics stores. St. Bona-
venture partnered with Advanced-Online be-
cause of its high standard of quality products
and superior customer service balanced with
a focus on cost effectiveness.
Bonniesgear.com is a part of the re-
GoBonnies.com
PLAYLIST
Music major works
Mario Bros. into
concert arrangement
ACCOUNTING NEWS
St.Bona.Venue launched
to maximize facilities
Athletics introduces
Bonniesgear.com
SHOW YOUR BONNIE PRIDE
Super Mario made a guest appearance at
the Chamber Choir and Soloists Concert in
November. He didn't arrive by cart or bike,
but through a piano arrangement created
by junior Jory Olson from Rochester.
Olson, who grew up playing Super Nin-
tendo along with a keyboard, learned one
professor Laura Peter-
son overheard him play-
ing it one day, she loved
it and encouraged him
to build onto the song.
songs from Super Mario Bros. 2, Super
Mario Bros. 3, and Super Mario World.
A music major and business minor con-
sidering a career in music production,
Olson plays the drums, base, guitar and
viola in addition to the piano.
And although the Super Mario project
was fun, you're much more likely to hear
him playing Chopin or Mozart on the
piano -- or jamming with his band mates
from Love, Peace and Chicken Grease.
St. Bonaventure has announced a new ini-
tiative that welcomes people to experience
the campus in a new way.
Dubbed "St.Bona.Venue," business and
community cus-
tomers are invited
to utilize campus
facilities, faculty
expertise and
leadership for
events, meetings,
workshops and
conferences.
the university's
Office of Events and Confer-
ences is leading the charge to develop a se-
ries of innovative programs that will enhance
entertainment and thought leadership in the
region.
Plans are in progress to feature the univer-
sity campus as a magnet for visitors to attend
concerts and lectures, take part in leadership
development workshops, or enroll their child
in any number of camps. The focus areas in
development include a speaker series, con-
certs, leadership and talent development
workshops, conferences, venue rentals and
camps.
For more information, visit
www.StBonaVenue.com
Jennifer Pulver at 716-375-2045.
Dr. Charles J. "Joe" Coate
McQuade Faculty Fellow in
the Department of Account-
lows are funded through the
counting Excellence, estab-
lished in 2011 by Gene, '71,
and Peggy McQuade's $2 million
gift.
Dr. Carol Fischer, dean of the
School of Business, said the
money allows the accounting de-
partment to fund initiatives to
support faculty and students. The
goal is to enhance the program
that already received accolades in
the spring of 2015 when Master-
of-Finance.org ranked the univer-
sity's accounting program as ninth
out of more than 500 small col-
leges in the U.S. Coate is chair of
the accounting department at the
university.
A Bonnie for life: A Franklinville teen with a
rare kidney disease became a lifetime member
of the St. Bonaventure club hockey team Nov.
7. Thanks to the efforts of Team IMPACT, a na-
tional organization that improves the quality
of life for children facing life-threatening and
chronic illnesses, Matthew McGuinness, 14,
signed a National Letter of Intent to join the
Bonnies. Matthew has daily dialysis and doc-
tors and family members are trying to get him
placed on the transplant list.
Through a partnership with LBL
Strategies, the university is now
offering a certificate program in
strategic management. This pro-
fessional education experience is
designed to deliver a "process
driven" understanding and pro-
vide practical tools to those man-
aging or leading strategic
planning, along with those desir-
ing to develop their skills to take
on more responsibilities tied to
strategy management.
Approved by the Association
for Strategic Planning (ASP) and
aligned with the "Lead-Think-
Plan-Act" Body of Knowledge,
participants will establish a path
to ASP certification. For details
and to register for the cohort
that starts in January, visit
www.sbu.edu/StrategicMan-
agement
Coate named
first McQuade
Faculty Fellow