St. Bonaventure University
Student

Voices

"I am blessed by the sea of opportunity that surrounds me at St. Bonaventure."

Cassidey Kavathas, Class of 2024

Enjoy Cassidey's Bona story
Ayushi Jain and Caroline Rozanski named Ideal Bonaventure Students for the Class of 2023
May 14, 2023, 17:51 PM by Beth Eberth
Two aspiring physicians – Ayushi Jain and Caroline Rozanski – have been named Ideal Bonaventure Students for the Class of 2023.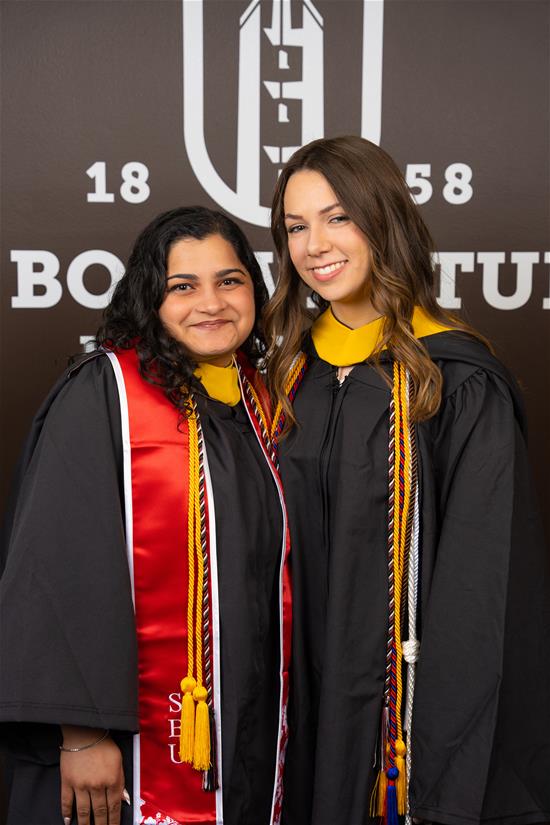 Two aspiring physicians – Ayushi Jain and Caroline Rozanski – have been named Ideal Bonaventure Students for the Class of 2023.
Jain, of Princeton, New Jersey, is a public health major with minors in biology and philosophy, and Rozanski is a health science major from Washington, Michigan.
Deandre Allen of Jamaica, New York, and Nikolas Figueroa of Bronx, New York, were selected as honorable mention Ideal Students. Allen is a strategic communication major with a marketing minor.
Figueroa is a music major and computer science minor.
All four students graduated Sunday, May 14, at St. Bonaventure's 163nd annual Commencement exercises at the Reilly Center Arena.
Jain graduated magna cum laude and with an honor's degree. Her honors project research was about the medical discrimination and stigma faced by transgender patients of color. She has also researched nausea and vomiting in pregnancy.
Following graduation, Jain will seek a medical degree at George Washington University School of Medicine and Health Sciences in Washington, D.C.
She has been a supplemental instructor for the BIO 105 course and an undergraduate student representative for the School of Health Professions Committee for Diversity, Equity and Inclusion.
"Ayushi is a dedicated, conscientious student who displays humility in class and when receiving feedback. She makes a genuine effort to improve her health care knowledge and drive to serve others in the health care arena," said Dr. Jeffrey Allen, assistant professor of public health.
Jain's academic ambitions are mirrored in her extracurricular activities, where she became involved in clubs during her freshman year including Active Minds. Since then she has grown into a leader in her role as president of the organization that has offered myriad activities to improve mental health for fellow students. The club offered self-care events through journaling, movies, SPCA animal visits, painting, yoga, meditation and nature walks as well as discussions on music, athletics, race and LGTBQIA+ connections.
Jain is also the treasurer of Asian Students in Action (ASIA), former president of SPECTRUM, and a member of the Dance Team.
Del Rey Honeycutt, director of counseling services at the university, praised Jain for her leadership and advocacy in Active Minds and other campus organizations.
"Ayushi is a student who would likely 'fly under the radar' because she doesn't bring attention to herself and gives back to the community from a place of compassion and humility," said Honeycutt. "She is a student who chose quality over quantity and identified the areas of true passion, which aligned with her values, and put her efforts toward developing and sustaining the clubs."
Caroline Rozanski graduated magna cum laude with an honor's degree. She will continue her studies in medical school at Lake Erie College of Osteopathic Medicine (LECOM) in Bradenton, Florida, and is considering specialties in anesthesiology, dermatology or obstetrics.
During her senior year, Rozanski conducted research on birth order and its associated mental health qualities.
"Caroline has always wanted to become a physician and I'm extremely fortunate to have been part of her journey. Her enthusiasm and quest for knowledge are admirable as she is a wonderful learner and a pleasure to teach," said Dr. Claire Watson, founding director of the university's public health, health science and Master of Public Health programs.
When she's not studying, Rozanski can be found in a variety of campus activities: statistics tutor, ASIA dancer, and always carrying the MERT bag. As the assistant chief of the campus Medical Emergency Response Team, Rozanski has initiated new programming and skills training for the MERT crew, all while logging more than 100 hours per month being on call for campus EMS. Off campus, she has volunteered 14 hours a week for Allegany Rescue & EMS.
She has volunteered with the SPCA in Cattaraugus County since 2020 and is active in the campus-based Ladies in Faith Together group, which helps lead other women in faith-related activities and discussion to further self-reflection and spiritual growth.
As part of her honors project, Rozanski raised money for leukemia research through the Leukemia & Lymphoma Society in memory of a childhood friend.
Watson, who describes Rozanski as kind, calm and humble, said it is easy to see her as a physician.
"She is well on her way to becoming an incredible medical professional. As special as she is, Caroline is very humble. I can't think of anything more Franciscan than a young person who gives back to those through medicine with humility, not expecting anything in return. And Caroline always does this with a reassuring smile," she said.
Ideal Bonaventure Students are graduating students who most exemplify the spirit of St. Bonaventure and the ideals of St. Francis through their demonstrated commitment to community service and academic excellence throughout their undergraduate time at Bona's. This highest honor and treasured tradition celebrates the wonderful character of the St. Bonaventure graduate.
______________
About the University: The nation's first Franciscan university, St. Bonaventure University is a community committed to transforming the lives of our students inside and outside the classroom, inspiring in them a lifelong commitment to service and citizenship. St. Bonaventure was named the #5 regional university value in the North in U.S. News and World Report's 2022 college rankings edition.
See All News
Attend a Master's Entry to Practice (MSEP) nursing info session.

Learn more about the Master's Entry to Practice program in this virtual information session.

Zoom instructions will be sent to virtual program registrants.

---

Attend a virtual info session for our Master of Science in Occupational Therapy program. Next session:

Choose a session that fits your schedule:

A Zoom link will be sent to info session registrants.

---

2023 Alumni Reunion Weekend

We're proud of St. Bonaventure University's more than 31,000 alumni and each year we welcome back to campus members of celebrated classes for a chance to reconnect with friends and relive their favorite traditions. Join us for our 2023 Alumni Reunion Weekend as we honor the classes of 1953, 1958, 1963, 1968, 1973, 1978, 1983, 1988, 1993, 1998, 2003, 2008, 2013, and 2018.

---
See All Events