St. Bonaventure University
Student

Voices

"I am blessed by the sea of opportunity that surrounds me at St. Bonaventure."

Cassidey Kavathas, Class of 2024

Enjoy Cassidey's Bona story
Strategic communication major Grace Foley honored as School of Communication's Woman of Promise
Mar 16, 2023, 14:54 PM by Beth Eberth
St. Bonaventure University senior strategic communication major Grace Foley was recognized Tuesday, March 14, as the Jandoli School of Communication's 2023Woman of Promise.
St. Bonaventure University senior strategic communication major Grace Foley was recognized Tuesday, March 14, as the Jandoli School of Communication's 2023 Woman of Promise.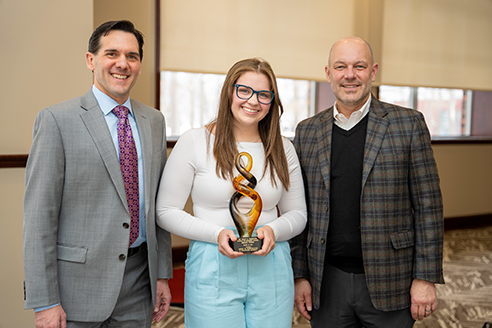 The Dr. Mary A. Hamilton Woman of Promise Award is presented to a female senior who possesses all the skills necessary to not only succeed but also thrive in her post-graduate career. The award's namesake, Dr. Mary Hamilton, is a 1959 alumna and professor emerita of journalism and mass communication at St. Bonaventure.
Foley is a strong leader who has impressed the Jandoli School faculty with her resolve and skill.
"I have had the great pleasure to get to know Grace the past few years," said Aaron Chimbel, dean of the Jandoli School. "She is a remarkable young woman, who perfectly represents what the Dr. Mary A. Hamilton Woman of Promise Award is all about. I know in her career and life that Grace will do work that benefits others because she's spent the past four years doing just that here and is determined to do so in the future."
Foley, who is from Somerset, Massachusetts, has spent her college career working toward a job in human resources, specifically in Title IX advocacy.
"The main takeaway from my experience at Bonaventure is to keep pushing and fighting," said Foley. "While we're taking steps to create equal opportunities for everyone, we are not quite there yet. No matter what professional field you're in, I have learned to keep pushing for greatness until you reach your dream."
To experience a business environment, Foley has spent hours in the Koop Lab working as the sports director of SBU-TV and more recently as a global talent acquisition operations and university relations intern at International Gaming and Technology (IGT).
"Grace Foley is the future. Grace embodies the brilliance, confidence, and emotional quotient required of the modern-day female trailblazer," said Anna Bulszewicz, a lecturer in the Jandoli School and director of the SBU-TV program. "In many ways she's ahead of her time. But most important of all, she's resilient and doesn't let anything get in her way. Now that's power."
During her time at Bonaventure, Foley has also been active with the SBU Dance Team and Management Club and has worked as a peer tutor.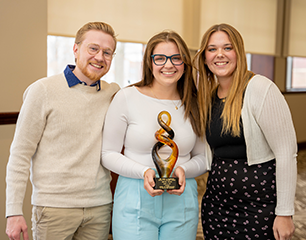 She is grateful for the faculty and students in the Jandoli School, who have become important mentors and role models, encouraging her in her field of study and empowering her to go beyond her comfort zone.
Chimbel recalls the first day he met Foley – Aug. 3, 2018. Why does he remember the exact date? It was Chimbel's third day on the job as dean and he was excited to meet with Foley and her dad, who were visiting SBU on a college tour.
"I guess it went OK because not only did Grace come to Bonaventure and the Jandoli School the next fall, a couple years later her sister, Ellie, came too – and also to the Jandoli School. On top of that, Grace was in my SBU 101 class her first semester and I have so enjoyed watching her grow, overcome challenges and, ultimately, thrive the past few years," said Chimbel.
Elizabeth Ortega, a 2002 alumna and the first Woman of Promise honoree, was this year's keynote speaker.
Ortega, of ECO Strategic Communications in Miami, Florida, counsels professional service firms and thought leaders worldwide. As an expert in business development strategies and litigation public relations, she advises professional firms and their clients in high-profile international legal matters. She is currently pursuing a master's degree in marriage and family therapy/counseling with a concentration in solution-focused coaching. She also co-founded The International Academy of Financial Crime Litigators.
______________
About the University: The nation's first Franciscan university, St. Bonaventure University is a community committed to transforming the lives of our students inside and outside the classroom, inspiring in them a lifelong commitment to service and citizenship. St. Bonaventure was named the #5 regional university value in the North in U.S. News and World Report's 2022 college rankings edition.
See All News
Attend our in-person MS in Sport Administration info session

---

Attend a Master of Public Health info session. First session, in-person:

Learn more about our Master of Public Health program by attending a live or virtual information session.

In-person session: 12:30 p.m. Wednesday, March 29, Room 102 of Francis Hall; lunch provided. REGISTER NOW
Virtual session: 5 p.m. Wednesday, April 19; Zoom instructions will be sent to registrants. REGISTER NOW

---

The campaign for A Bolder Bonaventure Tour Stop: Scottsdale, AZ

Join us as we celebrate the beginning of Dr. Gingerich's tenure as president and launch the Campaign for A Bolder Bonaventure, the largest fundraising campaign in the university's history. The reception for Scottsdale-area alumni and friends will be held at the Troon Country Club.

---
See All Events