St. Bonaventure University
Student

Voices

"I am blessed by the sea of opportunity that surrounds me at St. Bonaventure."

Cassidey Kavathas, Class of 2024

Enjoy Cassidey's Bona story
SBU Theater hosts workshop for teachers, students on acting, directing and theater design
Nov 21, 2022, 15:47 PM by Thomas Missel
SBU Theater hosted a professional development workshop for Cattaraugus County teachers on Nov. 16.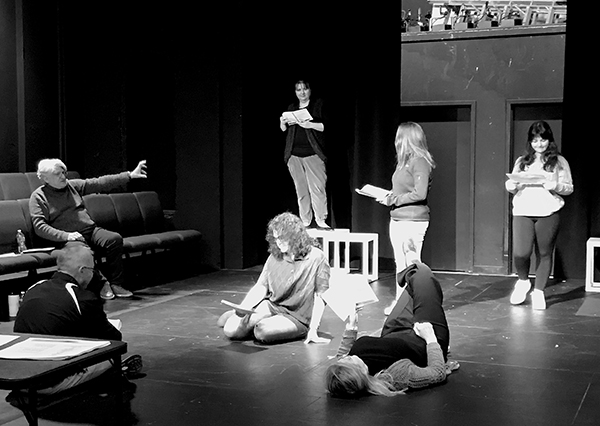 SBU Theater hosted a professional development workshop for Cattaraugus County teachers on Nov. 16.
The all-day workshop, titled "The Theatrical Classroom," featured morning hands-on sessions in acting and directing and an afternoon session in theater design.
Thirteen teachers and students training to be teachers attended the workshop, which was held in the SBU Theater program's Garret Theater and the theater technical/design shops in Butler Hall.

The teachers participated in a roundtable discussion of topics such as "The Altruistic Actor" and did scene work and designing and fabricating set models for theater production.
The participants in the workshop came from Andover, Ellicotville, Hinsdale and Wellsville schools, as well as Archbishop Walsh and Cattaraugus-Allegany BOCES.
"We were thrilled to host this workshop," said Dr. Ed. Simone, professor and head of the theater program at St. Bonaventure University. "The levels of enthusiasm and creativity among these teachers were inspiring."
"This time we were able to involve our SBU Theater tech director and designer, Janell Clingenpeel," said Simone. "Her workshop in conceptual design was a big hit with the teachers."
In May, Simone participated in the first Drama Day workshop for teachers and students in the Palmer Opera House in Cuba, New York. It was then that Mykal Karl, director of the Cattaraugus-Allegany Teachers Center, proposed another workshop with him.
"This training has reminded us all that not only are the majority of our students tactile learners, so are we as teachers," said Karl.
And one of the teachers attending said: "One of my greatest takeaways is that the process is as important as the end product. We can forget that in education."
The acting workshop promoted academic theater as a builder of empathy among students, a way of releasing creative needs, and creating a strong sense of ensemble. Theater design builds fine perception and channels abstract ideas into color, light and materials.
______________
About the University: The nation's first Franciscan university, St. Bonaventure University is a community committed to transforming the lives of our students inside and outside the classroom, inspiring in them a lifelong commitment to service and citizenship. St. Bonaventure was named the #5 regional university value in the North in U.S. News and World Report's 2022 college rankings edition.
See All News
Attend our Dec. 6 Occupational Therapy info session

---

Attend our Dec. 8 Educational Leadership virtual info session (New Date!)

Learn about our MSED in Educational Leadership, as well as our School Building Leader and School District Leader certificate programs, in this virtual info session. (This event was initially scheduled for Dec. 7)

REGISTER NOW (Zoom instructions to be sent to registrants)

---

Bonnies Pre-Game Party: Iona

Join us in Brooklyn to cheer your St. Bonaventure Bonnies on to victory! Don't miss out on this EXCLUSIVE Bonnies Pre-Game Party prior to the St. Bonaventure vs. Iona men's basketball game at Fulton Hall. Space is limited, so register today.

---
See All Events