St. Bonaventure University
More than 100 attend funeral service for former Bonnies basketball star George Carter
Jun 5, 2021, 15:28 PM by Thomas Missel
On a pristine summer day, George Carter came home, thanks to the generosity of a foundation and the big hearts of St. Bonaventure alumni.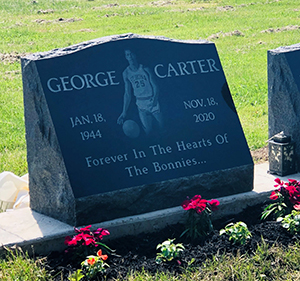 On a pristine summer day, George Carter came home, thanks to the generosity of a foundation and the big hearts of St. Bonaventure alumni.
Carter, Class of 1967 and a member of the Bonnies 100th anniversary all-time basketball team, was laid to rest at St. Bonaventure Cemetery Saturday morning at a ceremony attended by more than 100 people, including former teammates, coaches and classmates and most of the current Bonnies.
Carter's passing in November 2020 drew national attention.
The Dropping Dimes Foundation, whose mission is to give back to former ABA players and personnel experiencing financial or medical difficulties, learned of the hard times Carter had fallen on at the end of his life. The foundation began to pay for his medical bills, found him a senior living community, made his down payment and helped with rent.
When Carter died from cancer on Nov. 18, Dimes co-founder Scott Tarter posted online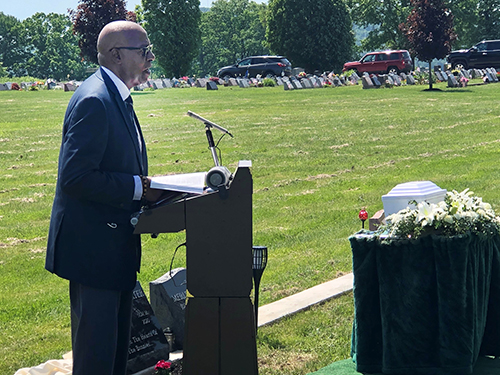 and expressed frustration that no one was claiming Carter's body, which the foundation had taken responsibility for to avoid Carter being buried in a pauper's cemetery. Jennifer Stauffer, believed to be Carter's only friend for the last 20 years, didn't have the means to provide a proper burial. (Stauffer attended Saturday's service.)
Bonnies legend Jim Baron, '77, learned of Carter's passing and contacted Tarter, setting the wheels in motion to bring Carter back to Bonaventure for a proper funeral service. Eric Handler and alumni Dale Tepas, '71, and Steve Morello, '68, were instrumental in planning the service with the help of Tarter and Dropping Dimes.
"George Carter wasn't just a great basketball player, he was a good man," Tarter, who got to know Carter the last year of his life, said Saturday.
"We are here today because we had a love for George. He inspired me in so many ways," said Bill Butler, '68, a teammate of Carter's and now a communal pastor in Orlando, Florida. Butler and Fr. Bob Werth, '67, a classmate of Carter's and a parochial vicar in Rochester, co-officiated the service.
Carter's coach, Larry Weise, recalled how thrilled Carter was when he told him the offense was going to revolve around him.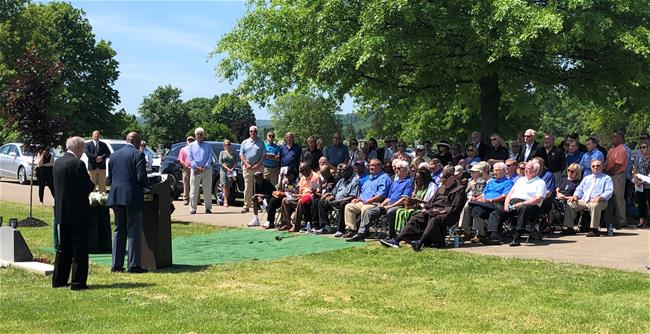 "I still remember how big George's smile was when I told him," said Weise, who expressed deep frustration that Carter's senior season was ravaged by team-wide injuries that spoiled what Weise believed should have been an NCAA-caliber season. "He should have been a top 20 or 25 pick in the NBA draft (instead of 81st) if we would have had a better season."
Teammate Fran Satalin, '67, called Carter a "true ambassador of St. Bonaventure," and said the service "made him so proud to be part of the Bonaventure community."
More than a dozen family members attended, including his niece, Olivia Brown.
"My heart is so full," she said. "I'm so grateful for what everyone has done."
Mark Schmidt, coach of today's Bonnies, was among the speakers who offered reflections.
"I didn't know George Carter at all, or much about him until a few weeks ago, but that's not the point. This is what Bonaventure is all about and why I love coaching here," Schmidt said. "This isn't some shallow gesture. This is reality, to see what everyone has done to make this happen. This is a special day."
______________
About the University: The nation's first Franciscan university, St. Bonaventure University is a community committed to transforming the lives of our students inside and outside the classroom, inspiring in them a lifelong commitment to service and citizenship. In 2020, St. Bonaventure was named the #2 regional university value in New York and #3 in the North by U.S. News and World Report.
See All News
Albany Chapter Volunteer Day

The Albany Alumni Chapter is seeking volunteers for a service day at the Regional Food Bank of Northeastern New York. This is a socially distant event. We are limited to 15 volunteers on our shift. Register quickly, no later than June 11.

---

Occupational Therapy Info Session

Join us on Zoom to learn how SBU can prepare you for an exciting and gratifying career as an occupational therapist. Applicants for fall 2021 are now being accepted.

---

Little Three Golf Tournament

Don't miss the 70th Annual Little Three Scholarship Golf Tournament in Grand Island, New York; the oldest continuous intercollegiate alumni golf tournament in the nation. This friendly competition between Niagara, Canisius and St. Bonaventure is open to alumni and friends for golf, dinner or both!

---
See All Events