St. Bonaventure University
Dick Kearns, '72, featured on first broadcast of 'Live from The Burton' May 5 at 6 p.m.
May 4, 2021, 09:24 AM by Thomas Donahue
Dick Kearns, '72, will be the featured guest on the inaugural "Live from The Burton" from 6-7:30 p.m. Wednesday, May 5.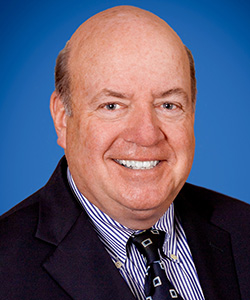 Dick Kearns, '72, will be the featured guest on the inaugural "Live from The Burton" from 6-7:30 p.m. Wednesday, May 5.
The 90-minute show will be broadcast live from The Burton in Allegany on the SBU Innovation Center's Facebook page and via Zoom. To watch on Facebook,
click here
. To register to watch on Zoom,
click here
.
Tom Cullen, director of SBU's Innovation Center, will emcee the show and take questions for Kearns and some student entrepreneurs. The show is the first in a series about innovation to be broadcast live once a semester from The Burton.
Kearns will be featured in a "fireside chat" with Cullen from 6:40 to 7:30 p.m. Questions can be submitted via Zoom or Facebook. Kearns will talk about his experiences with innovation and leadership in large organizations.
Kearns, who received an honorary doctorate from SBU in 2019, is a veteran executive of the insurance industry and served as chief administrative officer of Zurich Insurance Group in Switzerland.
A longtime benefactor of the university, Kearns is a former member of the St. Bonaventure Board of Trustees and a recipient of the university's Gaudete Medal and Alumnus of the Year Award. Kearns and his wife, Maureen, have for years sponsored the annual Kearns Global Business Lecture Series in connection with the School of Business.
Cullen will open the show with an interview of The Burton's new owners, a group of alumni from SBU. That will be followed at 6:15 p.m. by several students pitching their business startups. They are:
LinkSquad – Nick Ralph, Claire Hensley, Ryan Acosta
Revitalize Coffee Co. – Noah Minton, Morgan Wahl
Dorm Deck – Pat Smith
______________
About the University: The nation's first Franciscan university, St. Bonaventure University is a community committed to transforming the lives of our students inside and outside the classroom, inspiring in them a lifelong commitment to service and citizenship. In 2020, St. Bonaventure was named the #2 regional university value in New York and #3 in the North by U.S. News and World Report.
See All News
University Ministries Prayer Service

University Ministries will conduct a prayer service in the University Chapel. The event is for invited students only, but may be watched on Zoom.

---

25th Annual Candlelight Ceremony

Ceremony officially welcomes graduates into the SBU alumni family. For graduating students only, but event is being livestreamed.

---

Baccalaureate Mass

St. Bonaventure University's annual Baccalaureate Mass. Admission granted to registered students only, but is being livestreamed.

---
See All Events