St. Bonaventure University
Doyle Hall
---
Doyle is next door to Falconio Hall and a short walk from the Richter fitness center. Doyle also houses the University Chapel, the Center for Student Wellness, and the university's Cybersecurity Center.
Doyle houses approximately 160 students on its upper three floors, with freshmen on one floor and sophomores, juniors and seniors on the other two. The hall is coed with single-gender floors. Rooms in Doyle are slightly bigger than rooms in other halls on campus.
There is a lounge area on each floor with a TV and microwave oven.
The four-story residency wing connects to the University Chapel and to meeting and dining rooms for the university's Board of Trustees via two long one-story corridors, separated by an enclosed outdoor courtyard.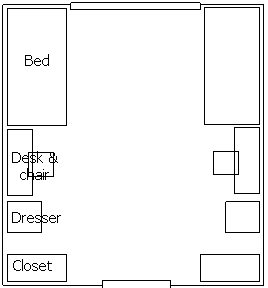 Doyle Fast Facts
Rooms measure approximately 17'6"-by-15'8"
Three resident assistants (RAs) provide supervision and guidance
A professional staff member lives in neighboring Falconio Hall
Two bathrooms on each floor
Accommodations
Free laundry facilities
Wireless internet
Access to full kitchen in neighboring Falconio Hall