Tips from St. Bonaventure's Office of Financial Aid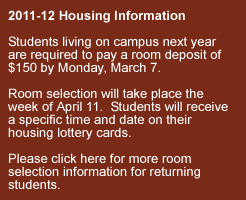 Many families need assistance to pay for a college education. The first thing to do is file the FAFSA as soon as possible. Sound familiar? You are probably flashing back to your previous experience with the FAFSA. That experience will pay off when you complete it this year. Remember, you need to file the FAFSA every year.
File the FAFSA
To get started, find both the parents' and student's PIN. If you forgot your PIN, you can get it again at www.pin.ed.gov. File the FAFSA electronically at www.fafsa.ed.gov. Make sure to include St. Bonaventure's school code: 002817. If applying for aid for the fall 2011, use 2011-12 as the academic year for the FAFSA and submit 2010 income information on the FAFSA. The deadline for St. Bonaventure University returning students to file the FAFSA is April 1, 2011.
After you successfully file the FAFSA, watch for a Student Aid Report (SAR). Review the SAR and make corrections if necessary. If you are selected for verification, the SBU Office of Financial Aid will notify you regarding specific documentation you must submit (usually income verification, tax returns, W2s, verification of family size). Reply to this verification request as quickly as possible. The student's financial aid is considered tentative pending the completion of verification. New York state residents attending a New York State school will be directed to the New York State Higher Ed Web site to complete the application for the New York State TAP Grant through TAP-on-the-web using a PIN. If you want to file the FAFSA by paper you can download one at www.federalstudentaid.ed.gov or call 1-800-433-3243 to have one mailed to you.
Investigate other sources of financial aid
Private scholarships can be a source of additional funding for some families. Many families find they need to borrow to supplement the student's financial aid package. If you decide to borrow, we recommend you exhaust all federal loan options (Federal Direct, Perkins and PLUS loans) before seeking private or alternative loans in the student's name. Federal loans have the best terms and rates available.
The SBU Business Office also offers plans which enable you to pay your balance in monthly installments. You will receive specific information about payment plans in a separate mailing from the Business Office. Questions can be directed to the Business Office at (716) 375-2100.
Financial aid from SBU
Your student should watch for a financial aid package by late June. Academic awards are renewed at the same amount each year provided the student maintains the minimum cumulative GPA required for the award. Need-based aid will stay relatively the same as in prior years provided the family financial situation is relatively the same and federal funding levels remain constant. In all cases, the student must demonstrate satisfactory academic progress toward his/her degree in order to renew financial aid. Returning students receive notification of the financial aid award via their SBU e-mail account. They should review the financial aid award on our secure intranet at my.sbu.edu, where they must accept or decline their awards. Please remind your student to watch his/her SBU e-mail account for financial aid and other SBU notices over the summer.
For further information about financial aid at St. Bonaventure, please see our Web site at www.sbu.edu.
Application Tips:
1. File the FAFSA as early as possible. Estimate information if necessary. Watch for the Student Aid Report.
2. NYS residents attending a NYS school , complete the TAP-on-the web as early as possible.
3. Keep copies of all application materials.
4. Follow up to make sure everything is received.
5. Pay attention to application and billing deadlines.
6. Respond as soon as possible to requests for additional information.
7. Seek out additional "free" sources of aid through private, state, and federal organizations.
8. If you need to borrow, exhaust federal loan sources first.

--------------------------------------------------------
FYE student leadership opportunities
Seven short months ago, your student entered Bona's, wondering how she would ever adjust. Now, midway through the second semester, it's time for your student to consider letting her leadership qualities shine in one of the opportunities open for her next year. She can step into any of these positions to help members of the incoming class of 2015 make the transition from high school to college.

One opportunity for your student is the peer coaching program. Peer Coaches are sophomore, junior and senior St. Bonaventure University students who assist freshmen in their transition to college life. Peer Coaches become the "go to" people for the freshmen. Each Peer Coach works with eight new freshmen. The Peer Coaches contact their freshmen during the summer and meet in person at Welcome Days. Peer Coaches are also asked to stay in contact with their freshmen for the entire academic year. Freshmen will have the opportunity to learn about college success from students who have already been successful at SBU. Although this is not a paid position, Peer Coaches gain leadership experience and this opportunity serves as a great résumé builder. Applications to become a Peer Coach are due on March 11.

If your student is looking for a fun summer job, applying to be a part of the 2011 Orientation Team might be a great fit! The Orientation Team is the first group of students to welcome the Class of 2015. The Orientation Team goes through an intense week of training to prepare to welcome the Class of 2015. Orientation leaders facilitate sessions during both Orientation and Welcome Days and work hard to make the new class feel at home at SBU. Students must be available July 3 through July 24 as well as August 21 through August 28. Students earn a $1,000 stipend for their duties, but most orientation leaders say this experience is not about the money. The Orientation Team members gain significant leadership ability, skills in effective communication, and have the opportunity to develop professional relationships with faculty, staff and fellow peers. Applications to become an Orientation Leader are due March 9.

If your student is interested in learning more about either position, please have him or her contact Abby Cohen directly at acohen@sbu.edu.

--------------------------------------------------------