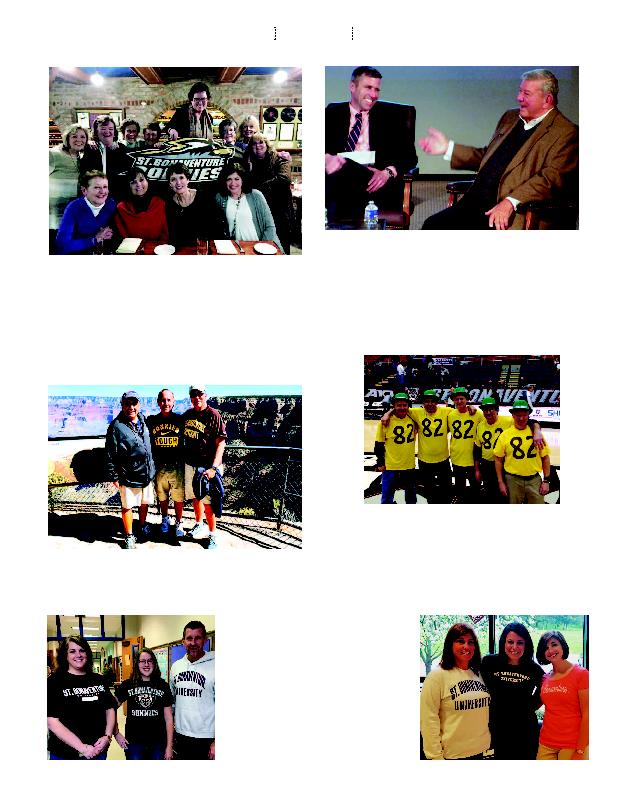 FAST FRIENDS FROM FIRST FAL
Friends from First Fal from the classes of 1975, 1976 and 1977
got together in New York City to reconnect and reminisce. Pic-
tured are (front row) Jeanne (Sena) Rice, '75; Nancy (Johnson)
Church, '75; Mary (Dixon) Rogan, '77; Mary Ann (James) Ker-
win, '75; and back row, Jane (Cucinell) Solnick, '77; Ginger
(Broderick) Stawicki, '75; Mary (Bell) Farrell ,'77; Lynn
(Ivankovich) Caffrey, '76; MB (Shea) Wells, '76; Sue (Conners)
Engel, '75; Mary Beth (Bergan) Boyle, '76; and Rose Fleming,
'75.
`THE TRUTH IS NOT DEAD'
Lee Coppola, '64 (right), an award-winning journalist and for-
mer dean of the university's journalism school, took on the
anti-media mentality during a program April 25 at the Robert
H. Jackson Center in Jamestown. "The truth is not dead," said
Coppola. "It's just being massaged and maneuvered by people
in power. Solid, good journalism will always find the truth."
The program was moderated by Chautauqua Institution Presi-
dent Michael E. Hill, '96, (left) and Jackson Center co-founder
Greg Peterson.
TEACHERS SHOW THEIR BONA PRIDE
The Penn Yan Central School District cele-
brated National College Signing Day on May
1. St. Bonaventure alumni in the district wore
their Bona gear to celebrate and share their
Bona pride with students. Pictured at left are
Penn Yan Middle School staff Elizabeth Reed
Brown, '00, '01, Heather Creary, '12, and Sean
Dallos, '96. Pictured at right are Penn Yan Ele-
mentary School staff Kelly Sackett Dallos, '95,
'97, Rebecca Mitchell-Morse, '06, and Kara
Schroeder Gallagher, '10, '11.
BONNIES TOUR ARIZONA
1972 graduates Fred Blum (from left), Mike Ewanow and
Glenn Keidel and their wives vacationed together in Novem-
ber 2016 in Phoenix, Sedona and the Grand Canyon.
ROOMMATES CHEER ON THE BONNIES
Garden East G roommates from 1981-82 re-
united for the Feb. 4 men's basketball game
vs. Virginia Commonwealth University in the
Reilly Center. Pictured from left are Fran
Machina, Mario Russo, Chuck Buell, Gerry
Golden and Tim McMorrow.
P
h
o
t
o

b
y

D
a
v
i
d

K
a
s
s
n
o
f
f