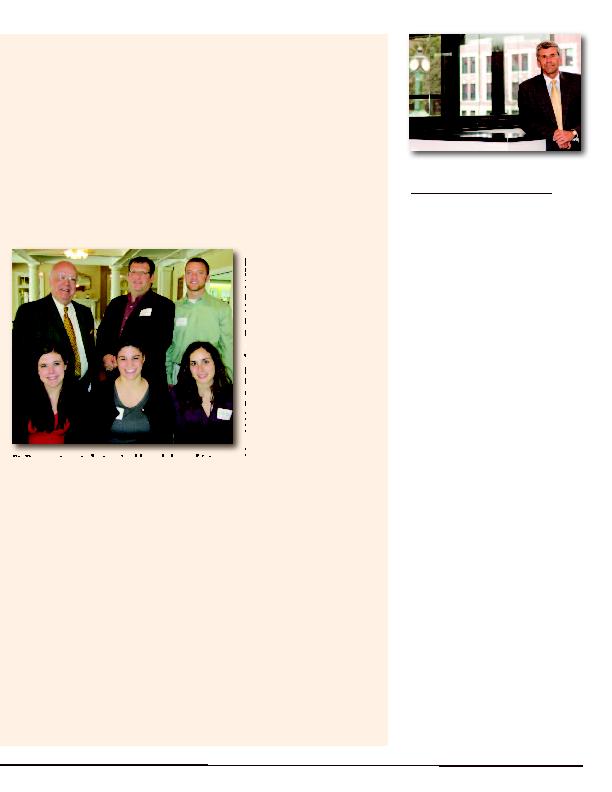 eal-world experience matters in
the work place, which is why the
School of Business Internship
Program is a key component of our stu-
dents' future success.
For more than 40 years, the program
has provided students access to progres-
sive, hands-on learning in real business
settings -- from small organizations just
around the corner to international cor-
porations located around the globe.
Through mentored intern hours, stu-
dents gain vital insight into the day-to-
day operations of a business. They hone
both hard and soft skills, learn the im-
portance of networking and improve
their post-graduation job prospects.
"Internships are a very good source of
potential for full-time jobs," said faculty
member Michael Kasperski, director of
the program. "Approximately 65 per-
cent of our students end up with a full-
time position."
Requirements for the program include
completion of internship hours, pre- and
post-internship sessions through the Ca-
reer and Professional Readiness Center,
a written reflection and various em-
ployer evaluations. Experiential learning
is the key goal for all internships, which
first begin with a job description filed by
the prospective employer.
"We want the students involved in
doing substantive work in their fields of
study," said Kasperski. "The employers
are very in tune with what we want to ac-
Worldwide and national com-
panies that actively recruit at
St. Bonaventure include IBM,
Xerox, Lockheed Martin, Mar-
riott, Corning Glass, CUTCO,
Dresser-Rand, Zippo, and all of
the "Big Four" accounting
firms (Deloitte & Touche, Ernst
& Young, KPMG, and Price-
waterhouseCoopers). Major re-
gional and local businesses
recruit on campus as well, in-
cluding Olean Area Federal
Credit Union, Upper Allegheny
Health System and Community
Bank NA.
"Alumni reach out through
Facebook and LinkedIn with
potential postings," said
Kasperski. "It's amazing how
many people through our
alumni base are willing to
help."
The Office of Alumni Services
also helps students make con-
nections, geographically and in areas of
interest, he said.
Kasperski, who holds an MBA, CPA
and CGMA, took over the program from
retired accounting professor Patrick
Premo in 2007. "Pat is really the founda-
tion of our existing program," said
Kasperski, who noted Premo's decades of
hard work.
The continued success of the program
speaks volumes about the dedication of all
faculty and staff in the School of Business.
"Bona's is on the short list for many
firms," Kasperski pointed out, "which il-
lustrates the quality of students the
school is putting out there."
St. Bonaventure students gained knowledge and intern-
ship hours when they attended a seminar hosted by the
Community Foundation. Pictured are (front row, from
left) Kristin Burke, Melissa DiLaura and Ashley Ross
and (back row, from left) faculty members Don Swanz
and Mike Kasperski and student Don Eichenauer.
y to professional careers
C
A M P A I G N
U
P D A T E
SBU is Bullish
on Business!
ur shared dream of a new
state-of-the-art facility to
house our School of Business
Thanks to your tremendous generos-
ity, we will officially open the doors of
The William E. and Ann L. Swan Busi-
ness Center this fall -- just in time to
welcome the Class of 2017.
Your gifts to the School of Business
Campaign have enabled us to:
· Design and build a dynamic and
· Begin construction six months
· Secure the largest amount of
program endowment the
university has ever seen for a
specific school
· Raise $14.8 million toward the
campaign's $15 million goal
If you have been considering a gift to
the School of Business Campaign, you
are not too late, here is your opportu-
nity.
Our campaign will officially end June
30, 2013. Major gift opportunities and
brick campaign opportunities still
exist.
www.sbu.edu/bullishonbusiness
You could be the one who puts us
over our goal -- please join us in being
"Bullish on Business." Thank you once
again for your loyalty and passion to-
ward St. Bonaventure University!
A message from
Robert J. Daugherty, '77
Chair, School of Business Campaign
Retired Partner, PwC LLP