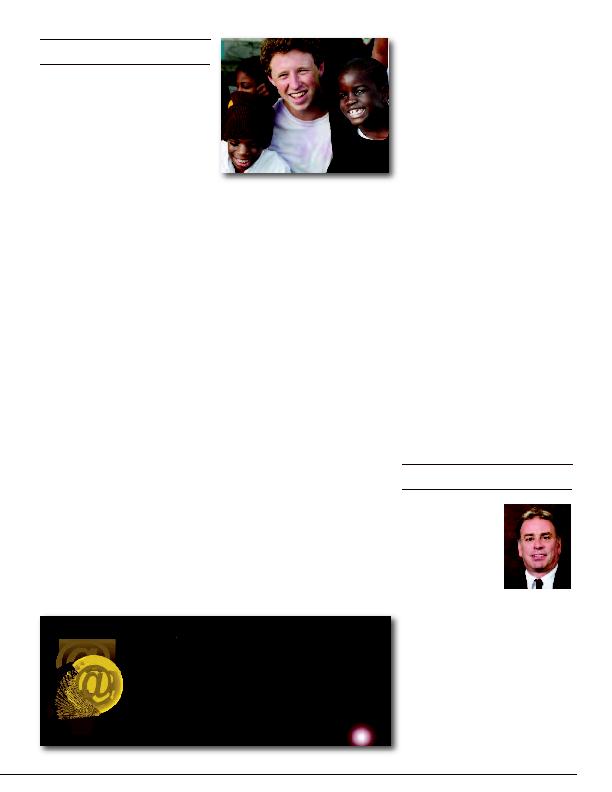 S
BU alumni and friends shared
their expertise and insight with
St. Bonaventure business students
Marketing Management:
Tom Calabrese, '96,
nance and Administration at Buffalo
Games
Jack Connors
dent at Business First of Buffalo
Lisa Lindquist
count Service for Travers Collins
Gloria Zemer, '07
CEO of Black Dog Strategy
Charlie Riley, '01
Laurie Hulton, '05
Sally Vincent
Ronald McDonald House of Western
New York
Event and Sponsorship Marketing:
Lori Freer
Kevin Cleary, '02
ager of Sponsorships and Promotions
at Nestle Waters, NA
Contemporary Marketing Theory:
Timothy J. Finan
of Upper Allegheny Health System
Brian McFadden
of the Ellicottville Chamber of Com-
merce
Steve Pokrzyk
Marketing Research:
Barbara Russell
research and planning at Jamestown
Community College
Gubbio Leadership program welcomed
the following SBU Board of Trustees
members:
Kathleen A. Colucci, '77
dent of Global Opportunity & Sales
Transformation at IBM Corporation
Robert J. Daugherty, CPA, '77
Bernard "Buzzy" Stoecklein Jr.
president and CEO of CMS Mid-At-
lantic, Inc.
Entrepreneurship:
John F. Stitt, '98,
CMO of KA-BAR Knives, Inc.
Sarah Bray, '11,
Barry Broughton, NMD, Ph.D.
owner of AKT Combatives Academy
in Olean
Shane Hvizdzak, '06, '11 (MBA),
owner of www.helpified.com
Management & Organizational
Behavior:
Harry Popiel, '65
dent of human resources for North
America Operations for Brown Print-
ing, Inc.
Business Policy
Juan Gordillo
Dr. Richard Ruh, '11 (MBA)
ior vice president of Service Lines at
Catholic Health
James M. Stitt, '12 (MS)
David Koebelin, '97, '12 (MS)
rector of human resources at
CUTCO
Carl Paladino, '68
MBA Organizational Behavior:
Kevin McNamara, '02 (MS)
Millington Lockwood Inc. and School
of Business Advisory Board member
Laurie Branch, '04 (MA)
trustee and president of Iroquois
Group
Lt. Col. Michael Bianco
venture professor of military science
MBA Family Business:
Blake Tarana, '11
Dr. Stephanie Vogel
sor of psychology at St. Bonaventure
Dr. Craig Zuckerman, '80
professor of counseling at St. Bona-
venture
SBU freshman Mike Pingelski is pictured with
two Bahamian children during SIFE's most re-
cent trip. Trustees Robert Daugherty and
Bernard Stoecklein traveled with members of
Students in Free Enterprise to the Bahamas
during the winter break as an extension of the
Gubbio Leadership program. View a video at
http://youtu.be/h9-Pbfm70fg
.
Share your story, blog style
The School of Business Alumni Bloginvites your participation!
The goal of the blog is to pique the interest of prospective high school
students and illustrate the many advantages of a St. Bonaventure
School of Business education.
SBU-BusinessAlumniBlog@bonaventure.edu.
Please include your major, graduation year, information about your ca-
reer, how your experiences at St. Bonaventure helped to prepare you
for the future, your favorite Bona's memory, and a professional photo.
Plus, be sure to visit the blog and share the link with family and friends.
sbubusinessalumniblog.wordpress.com/
the wishes of a major
donor to the Cam-
paign for the School
of Business, the
boardroom in the
William E. and Ann
L. Swan Business
Center has been des-
ignated as The Dr. Jeffrey H. Peterson
Boardroom in honor of his tremendous
leadership and service. Dr. Peterson,
chair of the Department of Finance at
the university and a longtime faculty
member, died Feb. 11 following a
courageous battle with cancer. Dona-
tions may be directed to St. Bonaven-
ture University designated for the Dr.
Jeffrey H. Peterson Scholarship for Fi-
nance Majors, P.O. Box 2500, St.
Bonaventure, NY 14778.