Blazing fire safety demonstration on campus

The fire ravaged the room in just two minutes and 45 seconds; all contents melted into a mass of charred remains and melted twisted plastic.
But the fire was a controlled burn, designed to bring a message to St. Bonaventure students.
"Fire safety is a primary concern," said Ralph Aloia, fire and life safety officer. "It just takes one minute for a fire to get out of control."
To promote fire safety on St. Bonaventure University's campus, the Allegany Fire Department set fire to a mock dorm room on the front lawn of Devereux Hall Sept. 15.
The 8-by-8-foot room, constructed of plywood and plaster, was furnished with a bed, microwave, desk, extension cords and other legal and illegal accessories typically found in a residence hall room.
Littered with props including beer cans, stuffed animals, clothing, posters and an ominous candle, the room was a realistic demonstration of a college residence gone wrong, and a reminder of what can happen if everyone does not remain constantly vigilant.
"I report at least one fire safety hazard a day," Aloia said. "Typically, it is an exit light out, doors propped open. Unfortunately, this campus' No. 1 problem is the tampering of fire safety devices such as fire extinguishers. That is a life safety device and tampering with them can get people arrested for it."
The Allegany Fire Department, joined by the university's Medical Emergency Response Team and Safety and Security Office, volunteered personnel and materials to assist during the blaze.
The mock dorm fire cost less than $300, which came from the Fire and Safety budget, Vito Czyz, director of safety and security, said. It is the first of such a type of demonstration to occur in Western New York.
"We are all really proud to be able to provide such an educational visual for our students," Czyz, said. "Every one of the major core buildings (at Bonaventure) has burned. It has been over 40 years since the last one and I would like to keep the streak going."
Czyz took time before the demonstration to explain to students the importance of fire safety. He said the loss of a life due to a fire breaking out is grave yet preventable with smart choices and education.
Along with the visual of the burning mock dorm room, Safety and Security personnel gave out pamphlets on fire safety awareness.
Many students are unaware of what will produce these flames. Alcohol, cooking, smoking and the use of extension cords are all sources of residence hall room fires.
Czyz said he hopes this demonstration educates students and they make fire safety a part of their daily lives.
Matt Schweiger, a freshman psychology major, now believes he has the right perspective about fire safety.
"I was really surprised about just how fast it all went up," Schweiger said. "It just took a minute for the smoke and flames to cover everything. This definitely put fire safety in perspective and I hope they do this next year."
Approximately 200 people watched the mock residence room fire, said Czyz.
"There are over 3,000 residence hall fires a year, averaging 40 deaths across the United States on college campuses alone," Czyz said. "Many of them (are) alcohol related."
"We hope this really drives home to students how important fire safety is," Czyz said.
-Jess Kumor
Class of 2011
--------------------------------------------------------
University president addresses class of 2014
St. Bonaventure University President Sr. Margaret Carney, O.S.F., S.T.D., met on Wed., Sept. 17 with members of the class of 2014 to welcome them to the university and discuss the importance of diversity both on and off campus. The discussion, which was mandatory for all freshman students, was part of the university's First-Year Experience Program, and has been a tradition for several years.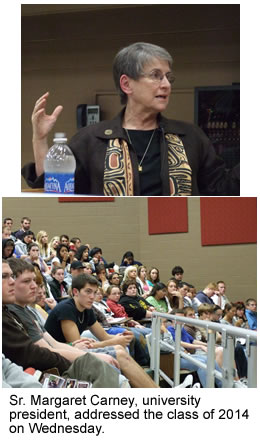 Sr. Margaret used the discussion to inform students of the university's policies on discrimination. Her main goal was ensuring that all students are aware of their options should they find themselves in a situation where they feel they are the victim of bias. She shared with students "several avenues" which they can use to approach situations of intolerance.

Any student who feels that he or she has been the victim of any type of discrimination is encouraged to contact any of the following people:
• The student's resident assistant or residence director, who will give advice on how to handle the situation
• Advocacy officers, who are various St. Bonaventure University staff members who have been given specialized training to handle such issues
• Dr. Gary Ostrower, St. Bonaventure University's ombuds officer, who will facilitate communication to resolve all types of conflicts.

Sr. Margaret also used the discussion as an opportunity to relate the All Bonaventure Reads book, "The Immortal Life of Henrietta Lacks," to students' lives. Since one main theme of the book is racial despair and prejudice, Sr. Margaret hopes that the university community can use this knowledge to build better relationships with one another during "the journey to become better citizens." Sr. Margaret closed the discussion by saying, "here at Bona's we want to understand, educate, and eliminate all forms of discrimination."
-Danielle Hibler
Class of 2012
---------------------------------------------------------