Devereux E-Newsletter | mobile view


A Note from the President



Recently, 170 admitted students and their families visited campus for our annual Spring Into Bonaventure event. They spoke to admissions counselors, toured facilities, and took part in condensed classroom activities specific to their collegial interest.
They were also introduced to our new Career and Professional Readiness co-curricular program, which is an investment by the University to offer accelerated professional development opportunities for all students beginning in their first year. The ultimate purpose of this new model is to enhance the marketability of our graduates. As active partners with our students, the University believes each St. Bonaventure graduate will not only sustain and succeed in their professional career, but will also become involved in their community.
Sustainable efforts can also be seen in day-to-day campus life. Sr. Suzanne Kush, C.S.S.F., chair of the Sustainability Coordinating Committee and director of the Franciscan Center for Social Concern, has been working with students to incorporate sustainable choices on campus. This year, students in half of Townhouse 23 have decided to "Go Green." The four eco-friendly apartments house sixteen students who have voluntarily agreed to make multiple sustainable choices. These choices include walking or biking to class instead of driving, recycling, and turning off utilities when not in use. They also compost and take their compost weekly to Canticle Farm, a non-profit Community Supported Agriculture (CSA) farm located in Allegany.
I look forward to seeing many of you during Reunion Weekend 2011 (June 10, 11 and 12). I am pleased to share that the McCarthys of Buffalo — alumni Bob, '76, and Ann, '74 — will be our guest speakers for the Devereux/Seraphim Breakfast. Bob, Ann and their son, Dan, '10, served as editors for "The Good Journey: 150 Years of History at St. Bonaventure University." Based on the research of longtime St. Bonaventure history Professor Edward Eckert, Ph.D., the 160-page coffee table book highlights the first 150 years of the University. The McCarthys will be on hand for a book signing immediately following the breakfast. Advance orders for the book are now being taken (see below).

As you read the articles on Robert, '58, and Carole Jones, and Sarah Van Remmen, '14, you will get a sense of the sustainable fundraising efforts of which I am so deeply thankful for each and every day. It is you, as one of our loyal Devereux donors, who allow the University to sustain its daily priorities. I hope you enjoy this Devereux E-Newsletter issue. If you have not yet made your annual Devereux gift, you can do so before May 31 at www.sbu.edu/donate.

Pax et Bonum---Peace and Good to all!

Sr. Margaret Carney, O.S.F., S.T.D.
President of the University
Sharing Our Story
focuses on the people, programs and places of St. Bonaventure University.


For Robert R. Jones, St. Bonaventure is a "guiding light"
Whether he proposed changes to school administrators as a member of student government or saw the housing industry through tough economic times as a leading home builder, Robert R. Jones, '58, always made sure to take care of the people around him.

"I felt a responsibility," Jones said. "And I've really always felt that way with St. Bonaventure and all the people there. It's a place in my heart."
---
Advance orders now being taken for 150-year journey through St. Bonaventure history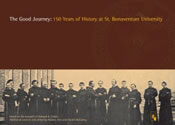 A story that took more than 150 years to unfold and more than a decade to research and write is almost ready to read.

Learn more >>

YOU SAW IT HERE FIRST
As a valued member of the Devereux Giving Society, you have the first look at our new SBU screensavers.

Choose one -- or more -- for your PC or mobile device. At home or on the go, our screensavers keep campus views close at hand.

View screensaver choices
---
A ST. BONAVENTURE EDUCATION CAN MAKE LIFE EXTRAORDINARY

Meet Sarah Van Remmen, Class of 2014


"When I was searching for a university, I knew I wanted a school that not only allowed me to pursue medicine, but also allwed me to experience a personalized education.

St. Bonaventure topped my list."
Read more >>
---
---
Welcome to Our Newest Devereux Members (as of March 29, 2011)
Anonymous (2)
Dr. and Mrs. Joseph A. Battaglia '43
Mr. Michael J. Britt '02
Mr. Philip R. Carbone '76
Mr. Edward F. Carpezzi '88
Mr. Greg Chiapuso
Mrs. Ruth Cielewich
Mr. and Mrs. Matthew Cullinane '06
Mr. and Mrs. Timothy R. Flaherty '82
Mr. and Mrs. Daniel G. Francati '71
Ms. Danielle M. Frownfelter '08
Mr. Francis X. Greywitt III '00
Mr. and Mrs. Bernard E. Gustina '61
Ms. Carrie K. Howland '10
Mr. and Mrs. Alan Jutca
Dr. and Mrs. Daniel B. Keating '81
Dr. Bharat Kohli and Mrs. Nivedita Kohli
Mrs. Josephine L. Lowe
Mr. and Mrs. Daniel P. Lundy '84
Mr. Kevin P. Maguire '89
Mr. and Mrs. Joseph E. Mansour '58
Mr. and Mrs. Gary A. Marchiori
Mr. and Mrs. Samuel T. McClure '61
Mrs. Katherine H. McDermott '82
and Mr. Brian D. McDermott
Mr. George E. Morris '94
and Mrs. Elizabeth A. Morris '94
Mr. and Mrs. David M. Newman
Ms. Frances P. Pardee
Dr. and Mrs. Gurpal Phaguda
Mr. Donald E. Roberts '95
Mr. Robert S. Ross '82
and Mrs. Martha A. Ross '82
Mr. and Mrs. Charles J. Schneider
Mr. William M. Schneider '71
and Dr. Ellen M. Schneider '71
Mrs. Breda E. Sgarro '81
and Mr. Douglas Sgarro
Mr. and Mrs. Jerome M. Shea '61
Hon. Mark D. Stevens '92
and Mrs. Jennifer J. Stevens '91
Mr. and Mrs. Timothy Sweeney
LTC Richard C. Trietley '86
and Mrs. Michele Y. Trietley '88
Mr. and Mrs. John L. Tylock '73
Mr. and Mrs. Bill Urban
Mrs. Kara E. Wattenbarger '02
Mr. and Mrs. Kevin Weslaski
---
Share your thoughts
View SBU's Social Media Page
Visit Bona's Online