A Note from the President

In a week in which the St. Bonaventure community bid farewell to a beloved friar and also announced plans for a new building, I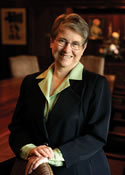 was again reminded of the grace of giving and of the good that comes from such grace.

The gifts Fr. Dan Hurley, O.F.M., shared with our community were many. His time on campus equaled more than a third of our University's existence. Perhaps the most precious gift he gave was to be fully present in the moment with whomever needed him.

As we remember Fr. Dan and the many gifts he shared, we also remember the many graduates and friends who daily express confidence in the University's ability to educate, shape and transform the students in our midst.You are a member of a unique community -- our Devereux donors, who embrace the spirit of giving. It is through your grace and commitment that so much good comes to St. Bonaventure and our students.

We began this e-newsletter one year ago as a means to increase communication with our Devereux members. We value your input. What would you like to see in this newsletter? Please feel free to share your thoughts via e-mail to devereux@sbu.edu.
Pax et Bonum - Peace and Good,
Sr. Margaret Carney, O.S.F., S.T.D.
President of the University
_________________________________________
You Saw it Here First!
We have completed our assessment of the successful 150th Anniversary Campaign and are proud to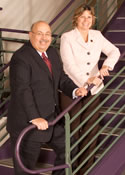 share a few statistics (listed below). While the Advancement staff is fully immersed in new initiatives that need our resources and attention, we wanted to take a moment and reflect on the good-news data generated by the campaign.

The people the campaign brought together -- and the collective power of your generosity -- have made a positive and lasting difference for the University. In fact, the greatest lesson we learned from this assessment is that the bonds of Bonaventure run deep.

Mary C. Driscoll, '79
Matthew J. Tornambe, CFRE
Associate Vice Presidents for Advancement

• Nearly 12,000 graduates of the University supported the campaign, representing nearly 50% of our alumni base.

• Dollars raised by the University increased 150% between fiscal years 1992-2000 and the campaign fiscal years of 2001-2009.

• New donors during the campaign totaled 2,589.

• Seraphim Society membership increased 50% to 455 members.
• New York, Pennsylvania, New Jersey, Florida and Connecticut continue to represent the states with our largest number of donors.

• Ohio, Virginia, Illinois, North Carolina and Maryland posted significant growth in the number of donors during the campaign. Average participation in these states increased from 19.27% to 20.33%.

_________________________________________

Sharing Our Story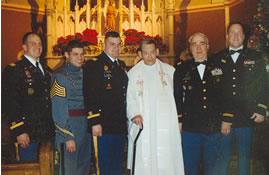 A member of "The Greatest Generation," Rev. Msgr. Francis Braun shares a look back at his time at St. Bonaventure University and Christ the King Seminary.
Read more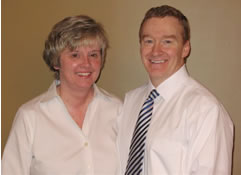 Mark and Lorraine Perry of the Perry Law Firm, both members of the Class of 1983, credit their success to St. Bonaventure.
Read more

_________________________________________
Did You Know?
The commitment of SBU's faculty and staff to our students is remarkable. The 2010 Faculty and Staff Campaign is in full motion. Read more

_________________________________________

View the Photos from Bona Pride Day 2010
The St. Bonaventure community showed off their Bona Pride by wearing their favorite Bona gear (or brown and white) as we kicked off Homecoming Weekend on Februrary 12, 2010.

View alumni photos at www.facebook.com/bonaventure (see "fan photos")

View faculty and staff photos: Campus photos
_________________________________________
April 8
Fr. Joe Butler Series
Washington, DC

April 23
Barbara Carr McKee
Scholarship Luncheon
Campus
April 29
Gaudete Awards
Rochester

May 16
2010 Commencement
Campus
June 12
The Devereux/Seraphim Breakfast
Reunion 2010
Campus
Get details and register for these events now!

Please Note:
As a member of The Devereux Giving Society, you can request reserved seating at graduation.

Plus, you are invited to the annual Devereux/Seraphim Breakfast, held each year as part of the Reunion festivities.

Questions? Please contact Kathleen Ryan


__________
Watch Your Mailbox for Your New Devereux Membership Card

Members of the Devereux Giving Society recently began receiving the new Devereux Society Membership card.

The card offers access to members-only discounts at the University Bookstore, Regina A. Quick Center for the Arts gift shop, Hickey Dinning Hall, Cafe La Verna, the Club House, and four major hotels in the Olean area.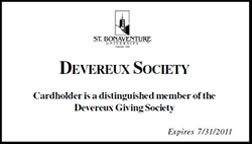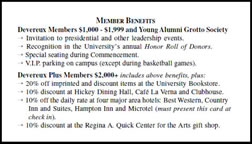 __________
Welcome to Our Newest Devereux Members

Anonymous (3)
Kevin D. Bowers Jr. '05
Dr. and Mrs. Edward M. Boyczuk
Mr. and Mrs. William T. Bradley '85
Mr. Daniel R. Brooks
Col. (Ret.) George W. Burkley '60
Mrs. Edward J. Butler
Cattaraugus Region Community Foundation
Mr. Matthew P. Dabrowski '04
Mrs. Karen L. Eisemann '74 and Mr. Richard E. Eisemann
Empire Resource Recycling, Inc.
International Council for Canadian Studies
Mr. Andrew D. Ireland '87 and Mrs. Danielle L. Ireland '87
Mrs. Helena M. Kessler '75 and Mr. Terry P. Kessler
Mr. Edward F. Kline '50
Mr. Allen L. Knowles III
Mr. and Mrs. Stephen M. Louro '85
Mr. and Mrs. John C. Lundberg '52
Edward J. Maloney, CPA '67
Mr. and Mrs. Charles F. Martiny '71
Mr. Kevin P. McGann '80 and Mrs. Coreen A. McGann '80
Mr. Brian P. McLaughlin '03
Mr. and Mrs. Louis Michel
Mr. John H. Moore '97 and Mrs. Susan M. Moore '99
Mr. and Mrs. James P. Nolan '70
Order Minor Coventuals
Ms. Marilou Perie
Mr. Paul S. Pesesky '76 and Mrs. Amy M. Pesesky '77
Province of St. Joseph
Mrs. Allan D. Ramming
Mr. Paul F. Ribardo '65
Mr. and Mrs. Daniel Schaaf
Mr. Thomas E. Sparrow '55
Mr. Joseph M. Stetar '67 and Mrs. Marilyn B. Stetar '66
Dr. Carl R. Szot '85 and Mrs. Ann F. Szot '86
Mr. Kevin R. Van Norstrand '84 and Mrs. Hilary I. Van Norstrand '84
Mrs. Connie Monteleone Whitton '73