Conor Grennan, author of Little Princes, visits St. Bonaventure University
Conor Grennan, author of Little Princes: One Man's Journey to Find the Lost Children of Nepal, visited St. Bonaventure's campus Monday to deliver a speech to the class of 2015 and others.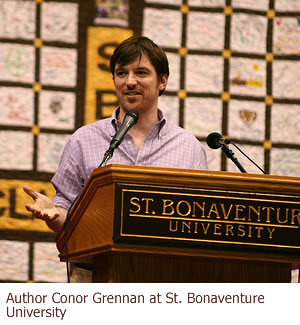 Little Princes tells the story of Grennan's first experience with the children at the Little Princes orphanage in Nepal. Before long, he makes a horrifying discovery: These children are not orphans. Child traffickers fooled families into turning over their children, who were then sold.
That discovery leads Grennan to another realization: He has a responsibility to these children. He embarks on a journey to return the lost children to their parents. He endures civil war, Maoist leaders, limited food and the treacherous mountains of Nepal to bring them home.
He and his organization, Next Generation Nepal, have, to date, returned 250 trafficked, abused and malnourished children to their homes.
But he won't brag about it.
"My favorite thing about Conor's story was that it was so down-to-earth and honest," said Abby Cohen, assistant director of the First-Year Experience program. "He doesn't see himself as a hero, just someone who discovered his passion and chased it."
Koty Mann, freshman theology major from Buffalo, N.Y., agreed with Cohen.
Mann said he loved that Grennan felt a calling that inspired him to act.
"Grennan's attitude was, 'They needed help. I want to help them,'" he said.
Mann felt especially connected to Grennan's story.
"I volunteered in Nicaragua twice with my youth group," he said. "It was sort of eerie how similar our experiences with children were." Mann volunteered at a child care center called Mustard Seed Community as recently as this past August.
Mann said he, like Grennan, learned a lot in his faith journey while volunteering.
"I couldn't understand how anyone could be so happy while being so poor," he said. "But these people knew their faith and their family, and they loved without hesitation."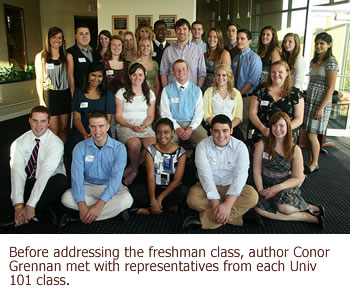 Mann was one of the 13 winning essayists from the summer reading assignment. Another winner, Patricia Rosetti, a freshman undeclared arts major from Dryden, N.Y., said reading the stories of malnourished and neglected children hit home. Rosetti said she remembered the day her little sister came home.
According to Rosetti, her parents adopted Katie Ella from Russia when Katie was nine months old. Rosetti, age three at the time, felt instant sorrow and love for her baby sister who had before been uncared for and hungry.
"Just like Conor with the children in the hospital, if my parents hadn't adopted her, she probably wouldn't have survived," she said.
Katie is now a healthy and happy 16-year-old who tells people she's special because she was adopted, Rosetti said.
She also connected with Grennan on an academic level.
"I liked how he said you don't have to know what you're doing with your life just yet," she said. "He had a hard time in college, but he stumbled upon his calling and encouraged us to do the same."
Other students also felt Grennan's speech was honest, lighthearted, and funny but moving. He told his own amazing story, while making the students laugh and feel comfortable around him. So how did all of this come about? The All Bonaventure Reads committee, made up of students, faculty and staff, chose Little Princes this spring.
"We were looking for a topic that would hit home and something college freshmen could relate to," said Cohen.
Cohen explained the book fell into their laps.
"Nancy Casey (FYE director) received a copy in the mail and decided to bring it in for the committee's consideration," she said. Cohen said the committee members liked the cover of the book, and once they started reading it, could not put it down. Prior to the selection of the book, Casey and Cohen attended a national first-year experience conference in Atlanta, Ga. There, they heard Grennan speak, and knew his style would appeal to freshmen.
"I think the best way to reach the students is to be honest and transparent," Grennan said, followed by a short explanation that the reason he decided to volunteer in the first place was to impress women at bars.
Grennan admitted that he has regrets about his time in school, but said he ended up discovering his passion along the way.
"Every choice I made, I wanted to be able to look back and be proud of," he said.
Little Princes is now translated into 11 different languages. A portion of the proceeds go directly to Next Generation Nepal.
Grennan and his wife, Liz, have a 2-year-old son named Finn and a 5-month-old daughter named Lucy. Grennan said he thinks about his own children often when helping to rescue children in Nepal.
"I want people to take the message to heart," Grennan said. "They aren't just faces—they're real kids."
Grennan said he knows saving every child in the world isn't something he is capable of doing. His mission is to save one child at a time.
"And to one family, that child is the whole world," he said.
-Amanda Koneski
Class of 2013
Find out who all the essay winners are and read their essays!