Spring course registration
It's hard to believe, but in less than two weeks your student will register for classes for the Spring 2011 semester. You may hear some of the concern about how to register and what to take in a phone call – and you can reassure your student that the process is easier than he thinks.

Two weeks ago your student received a registration time through his my.sbu.edu student account. Course registration at St. Bonaventure University is done online, but don't worry -- your freshman should know how to register for classes when registration day arrives.

Julie Rodriguez, associate registrar, said University 101 professors should go over the registration process in class. She said a student's academic adviser will also help with the registration process.

All freshmen will register for Spring 2011 classes on Nov. 15 and 16. This semester, students whose last names start with L-Z will register Nov. 15, and students whose last name starts with A-K will register on Nov. 16. (That order shifts each semester.) Registration times start at 4 p.m. Rodriguez said.

Craig Sinesiou, lecturer in the School of Education, said there are several things your student should do before she meets with her academic adviser to talk about registering for classes.

"First, students should check their degree audits online to make sure they select courses that fulfill their major requirements. I encourage students to check out courses by reading their descriptions in the catalog and talking with other students who have taken the course," he said.

He said before a student meets with an adviser, she should put together a tentative plan of courses she wants to take. That plan should include a couple of alternative courses in case one of her first choices is not available.

Samantha Shaver, a sophomore accounting major, said her peer coach was also a good resource when she needed help registering for classes her freshman year.

"I felt very comfortable registering for classes the first time because my peer coach walked me through it ahead of time. She was very thorough, which made registering for classes stress free," Shaver said.

If your student still feels uncomfortable after talking with his adviser, peer coach and University 101 professor about registering for classes, the registrar's office will host a session called "Navigating Registration." This session is at 7 p.m. on Nov. 2.

Sinesiou said parents should help students who are registering for classes by asking them questions about how the classes they choose will impact their career or how many of their choices are "core classes," which are classes that all students take regardless of their major.

He also said parents should encourage students to take ownership of the registration process with guidance of their advisers. They should be encouraged to talk with upperclassmen, their resident assistant (RA) and University 101 professor, who all have been through the registration process.

"Parents should support what students want to major in, not what parents want students to major in," Sinesiou said.
-Robbie Chulick
Class of 2013
--------------------------------------------------------
Residence hall living
As your freshman entered St. Bonaventure University this year, she was given the opportunity to live in a Living and Learning Community in her residence hall.

Incoming students could choose from the following themed communities: academic major, go green, substance free, fitness, academic focus, service learning, leadership and honors program.

The themes were created by Chris Brown, coordinator for residential education and housing.

"A lot of researching other schools and reviewing publications of higher education went into planning this new living arrangement for the freshmen," said Brown.

Last year, some students were grouped by major in "mini clusters," said Brown. "According to national data, students do better if clustered by major, and we drew the same conclusion with our data, so this year we decided to change the housing process completely and put all of those not in a themed community into a major 'mini cluster.'"

Themed living communities have been offered before. Previously, freshmen classes were offered the academic focus and fitness themes. They were also offered their choice of residence halls.

This year, Brown said, "we changed the way we asked freshmen (about their housing preferences). Instead of asking them what building they wanted, we asked what environment they would like to live in."

Themed groups were placed on certain floors depending on how many students chose to live in them. Each theme has two sections, one for males and one for females. The mini-clusters by major have multiple sections.

The themed-communities participate in a variety of activities, Brown said.

For example, "service learning communities participated in BonaResponds food packing on 9/11 this year, and then followed with a reflection," he said. "The fitness floor did a program on protein shakes and smoothies, while enjoying some."

Brown said resident assistants (RAs) think of activities, but also work to "identify other people, like a guest star, to come in and give a presentation. This is a great opportunity to get to know faculty and staff outside the classroom and in a social setting." During the process of hiring RAs, applicants were asked what type of community they wished to live in. RAs for freshman floors were informed where they would live over the summer. Brown said the training process for RAs helped us to learn their interests and abilities, which made it easier to place them with a specific themed community.

"We are looking forward to continuing themed living communities. Successful ones will be continued, less successful ones will be switched out." said Brown.

"There are no new ideas for themes just yet, but we are planning on clustering students around their University 101 courses," he added.
-Claire Rose Mangine
Class of 2013
--------------------------------------------------------
Social networking
"The Social Network," a movie about the origin of Facebook, was released in theaters throughout the United States on Oct. 1. The success of the two-hour-long film provides an interesting biography for the website and reaffirms its status of "top social-networking site."

Ninety percent of college students have a Facebook account. Facebook, Google and each student's university website rank as the top three websites visited by college students, according to the "Collegiate Success Guide" on Facebook Awareness.

"The site was created by students…and began as a network strictly for Harvard University in 2004," according to the guide. "It (Facebook) allows people to create individual profiles and connects them with both friends and others whom they may have never met."

In September 2006, Facebook opened its doors to everyone, no longer requiring school e-mail addresses for members.

Facebook can encourage students at St. Bonaventure University to get involved in many ways. St. Bonaventure University athletics, student organizations and media are all on Facebook. WSBU-FM and the Campus Activities Board use their Facebook accounts to inform and "invite" students to different activities on campus.

Lauren Morris sometimes attends events she's invited to on Facebook. "If it's something I've heard about around campus and then I'm reminded by Facebook , I usually go," said Morris, a political science and international studies double major.

Other St. Bonaventure-related groups on Facebook include Bona's Goes Green, Bona Carpool Network and Study Abroad. Private groups exist for each "accepted" group of incoming freshmen (e.g.: Accepted: Official St. Bonaventure University Class of 2014 group). These groups are a great way for students with similar interests to connect with each other.

With more than 500 million active users world-wide, a variety of people use Facebook. Strangers, parents and grandparents, younger siblings, professors, university officials and even potential employers are on Facebook. Students and job-seeking individuals, especially, should be aware of the last-mentioned group of people - potential employers.

According to a study conducted by Harris Interactive for Careerbuilder.com, "Facebook is the most popular destination for employers to do their online sleuthing, followed by LinkedIn and MySpace. In addition, 7 percent followed job candidates on Twitter." Fifty-six percent of the 2,667 managers and human resource workers listed provocative photos as the biggest reason for not hiring someone. Drinking and drug use references determined the decision for the other 44 percent.

Sam Shaver considers each of her pictures before she posts it on Facebook. "I think to myself 'is this a picture I really want everyone to see,'" said Shaver, a sophomore accounting major.

Junior Mike Leet would even consider deleting his Facebook entirely. "It's pointless," said Leet, a business information systems major. "Plus it could affect me getting a job in the future and stuff like that."

Like Facebook, Twitter, a social media site, is beginning to grow in popularity since its 2006 origin.
"Twitter is a rich source of instantly updated information," according to the website, www.twitter.com.

According to the technology blog "ReadWriteWeb," Kevin Thau, a Twitter executive said: "Twitter is for news. Twitter is for content. Twitter is for information." With Twitter, anyone can make an account and follow news from his favorite sports teams, bands, authors and other public figures and places.

Like Facebook, many St. Bonaventure University groups and organizations are on Twitter. They share links with information, including postings about upcoming events and recent publications. Bona's students can follow the university (@stbonaventure), the radio station (@wsbu), The Bona Venture (@The_BV), The Laurel (@laurelatbonas) and other student groups and organizations through "tweets." And parents, like students, can follow the University or various groups through Facebook and Twitter.
-Meaghan O'Rourke
Class of 2013
--------------------------------------------------------
My View: Mt Irenaeus

Between homework, studying and the transition to residence hall life, there is no shortage of things to be stressed about in the life of a first-year college student. Having a place to get away from it all, even if just for a short time, is priceless.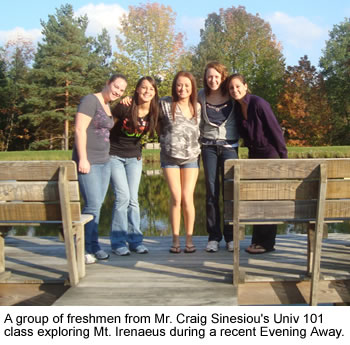 For students at St. Bonaventure, that sanctuary is Mt. Irenaeus, a Franciscan retreat geared toward providing Bona students with a getaway they can use to learn more about themselves and each other. The Mountain, as it's known, welcomes people of all faith traditions.

The fast-paced hustle of living on any college campus is enough to make a student overlook his or her faith in a higher power, whatever that might be. It can leave the feeling that the student is living each day like a television rerun.

But at Mt. Irenaeus, there is no place you can't see God. On the Mountain, your student looks over miles of patchwork forests painted with all the colors of fall, and sees a beautiful man-made pond and several rustic gardens with farm-fresh fruit that will undoubtedly be served at the meal during that day's retreat. It is very difficult to visit the Mountain and fail to notice the beauty divinely instilled in the natural world.

But the most effective and encouraged way to find God at Mt. Irenaeus is through the people there. Whether they're friars, visitors or Mountain Community Leaders, they may initially appear to be strangers in the eyes of a first-time visitor. By the end of the day, however, they will have become three-dimensional and beautiful people.

My first Mountain experience as a freshman found me plopped among a group of young men I barely knew. I had already built preconceived notions about all of them, as any teenager might. But the prayer service offered in the ornately carved wooden chapel that night peeled back the layers I had thought were the people I was with. All around me, with the guidance of Fr. Dan Riley, O.F.M., and Br. Kevin Kriso, O.F.M., the participants in the men's overnight retreat were confessing their fears, their hopes and dreams, and the passions in life that kept the flame burning inside of them. The lackluster attitude of teenagers being forced to go to Mass by persistent parents was nowhere to be found. This was a real and practical embrace of what we were, an embrace of God in the way we saw fit and a clear rite of self-acceptance. The people around me were not static characters with only names and faces, but real people with a true need for faith in their lives.

Fr. Dan encourages visitors not to walk in an organized procession up to the chapel for Mass or service, but to find their own unique way to their destination, as we all must do in life. In much the same way, we must all find our own way to the Mountain, or into our own thoughts and faith if we wish to be in touch with ourselves. It's up to the individual student to get back in touch with himself, but there will be nothing to regret once contact has been made.

Learn more about Mt. Irenaeus at www.mounti.com.
-Kevin Cooley
Class of 2014
WHAT'S GOING ON . . .
Upcoming events on campus include:



Ongoing - Math Lab available for drop-in assistance in mathematics
Friday-Saturday, 10/29-30 - Overnight at Mt. Irenaeus
Saturday, 10/30 - Men's Soccer vs. George Washington
Saturday, 10/30 - Rafting Trip
Saturday, 10/30 - Halloween Dance Party
Sunday, 10/31 - SBU Band and Choir Concert
Sunday, 10/31 - Men's Soccer vs. Richmond
Monday, 11/1 - Library Workshop: Databases (students will learn advanced searching tips and techniques to save time and help them find the best resources)
Tuesday, 11/2 - Library Workshop: Citing Resources (students will learn about the library's citation manager, Noodletools)
Tuesday, 11/2 - Special Olympics Soccer Coaching Clinic
Wednesday, 11/3 - Bonnies Basketball Tipoff Luncheon
Wednesday, 11/3 - Tent of the Nations - Daoud Nassar
Wednesday, 11/3 - CAB Travel - Buffalo Sabres vs. Boston Bruins
Thursday, 11/4 - Special Olympics Coaching General Session
Thursday, 11/4 - Live music from Jason Olcese in Cafe La Verna
Thursday, 11/4 - Library Workshop: Wildcard (database or citation topics will be discussed, depending upon the preference of workshop attendees)
Friday, 11/5 - Women's Basketball v.s Edinboro
Saturday, 11/6 - Men's Soccer vs. Duquesne
Saturday, 11/6 - The Mountain Auction benefit in support of Mt. Irenaeus
Monday, 11/8 - Talent Show at the QCA
Thursday, 11/11 - Health, Safety and Wellness Fair
Thursday, 11/11 - A Soul's Journey to God - Minhhang K. Huynh
Thursday, 11/11 - Comedian Hasan Minhaj in the Skeller
Saturday, 11/13 - Men's and Women's Swimming and Diving vs. Cleveland State
Sunday, 11/14 - Buffalo Bills vs. Detroit Lions
Sunday, 11/14 - SBU Chamber Music Concert
Thursday, 11/18 - SBU Jazz Band Concert