Demystifying registration
By now, you're used to your student calling to ask for advice on how to handle something he hasn't done before.

But what if that something is something you don't know much about either? Something like registering for his college courses on his own for the first time?

We have some tips that will help you calm that jittery freshman and put him on the path to successfully registering for his second semester.

First, some good basic Mom and Dad advice: Tell your student to take a deep breath and be calm. Remind him that he's already handled a lot of first times and that this one, his first time registering for college courses, is also manageable.


Then refer him to two resources readily available for him at Bona's. The first is my.sbu.edu, the University's in-house website that provides links to a variety of resources. One of those, under "general links," is "search for classes." There, he can find information on all the courses being offered in the spring 2012 semester. The link is also available in the "student links" section, under "register for classes." In that same area is a link to "registration information," which provides the date and time your student can register and information on who his adviser is and where she can be contacted.

If he clicks the link on a particular course, it will open a window that provides additional information, including any prerequisites for the class and where information on the required textbook can be found. On the main schedule of classes, he will see a column marked available/capacity. The first figure will tell him how many seats remain in the class. The second is the limit for the number of students in that class.

Also under the student links section is a link to "degree audit." That document tells your student what courses he will need to graduate and what courses, if any, he has already received credit for. Any course listed as "IP" is a course he is taking right now. Courses listed as "TE" are ones for which he has received transfer credit, possibly from AP courses in high school.

The second important resource is his adviser. She can help him understand what he's seeing on the degree audit and suggest which courses would be best for his next semester. She can also discuss with him questions ranging from changing a major to deciding on a minor to working on classes in which he is struggling. Many advisers have posted sign-in sheets on their door for students to set appointments to talk about registration. If your student's adviser has not done so, he may want to contact her to ask when he can sign up.

When your student signs up, he should be certain to put the date and time in his planner, so he does not miss the appointment. If his adviser does not have a time on the sign-up sheet that will work, encourage him to contact her and ask what other times might be available.

Under the current University registration system, students enter their own courses online. They may place courses into a "wish list" on my.sbu.edu, but they cannot actually register until they reach the pre-selected time and date. Even then, the student will not be allowed to register if he has not met with his adviser or if he has a hold placed on his account by the business office, the registrar's office or health services. Those restrictions will be visible via the "registration information" link; a student who sees any of them should act to deal with the restriction as far before his registration date as possible.

Because your student is a freshman, it is very possible that he may be closed out of some classes he hoped to take. His adviser can tell him which classes are offered every semester or every other semester, and what would make good options if his first choices are closed. Remind him that he may not be able to find exactly the class times he would prefer, but keeping in mind the times he is most and least alert may help him succeed, especially in a class in his major or in an area he finds difficult.

Those two resources — my.sbu.edu and your student's adviser — plus a healthy dose of his own common sense will allow him to register without unmanageable problems. And by this time next semester, the whole process will look considerably easier.
Campus Wellness Fair
St. Bonaventure University put the Glee back into college life through a campus-wide Wellness Fair, held Oct. 13. The SBU disability committee, with other organizations, dedicated the day to providing tips to members of the St. Bonaventure community for holistic wellness—mental health, exercise, healthy eating and sleeping and safety.

The program started with a poster display by the Disability Committee, Disability Support Services, the Wellness Center, Campus Safety, the Psychology Club, the National Alliance on Mental Illness (NAMI) and the Mental Health Association of Cattaraugus-Allegany County. The posters offered information on healthy living, de-stressors and awareness of different mental health issues.

Among those with a poster presentation was a group of students representing the non-profit organization, To Write Love on Her Arms. This organization is dedicated to presenting hope and finding help for people struggling with depression, addiction, self-injury and suicide. TWLOHA exists to encourage, inform, inspire and also to invest directly into treatment and recovery. Students hope to start a TWLOHA chapter on campus.

The Psychology Club offered a display on "Food for Thought," providing facts about 15 foods that studies have found can improve mental health. Most of these foods were chosen for their ability to either help with cognitive function or serve as a natural antidepressant. Some of the foods included salmon, avocado, green tea, coffee and eggs.

The Disability Committee, Disability Support Services and the Wellness Center provided information on how to use the disability services on campus. NAMI and the Mental Health Association of Cattaraugus-Allegany County provided information on what resources exist off campus.

As part of the event, the Wellness Fair held a slogan contest for the residence halls on campus. The challenge was to come up with a positive mental health slogan. The winning floor won a smoothie party and their slogan on the T-shirts that would be given away.

After the poster display, a low-intensity "Boot Camp," organized by the St. Bonaventure ROTC, was held in the Richter Center. Following that chance for exercise was a "Relaxation Center," where participants received tips on stress and stress management. Free massages and information on meditation were also provided.

Songs from the television show "Glee" were performed by the University's Bonacoustics musical group in the early evening. Free snacks and door prizes were offered.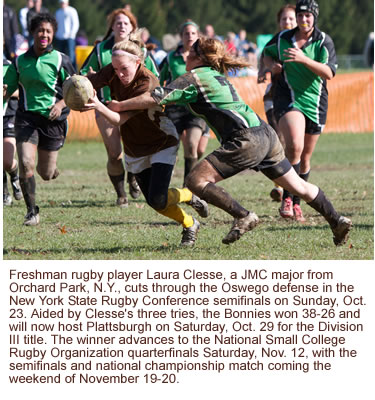 Following the music, Dr. Charles Walker, professor of psychology, gave a presentation called "Psychological Well-Being on a Campus: Is Emotional Health as Contagious as Sickness?" Backing his points with his own research, Walker explained happiness is contagious. He then told his audience how they could be "an agent of well-being."
The event concluded with showings of "Girl, Interrupted" and "Finding Nemo." The movies were chosen to show different types of mental health issues and how others have overcome.
-Chelsey Fera
Class of 2012
CPRC and Social Media
A common opinion these days is that students spend too much time on social media sites and not enough time hitting the books. That might be true in some cases, but social media does have its advantages, said Angie Wolfe, assistant director of the Career and Professional Readiness Center (CPRC).

"I would be remiss if I told students 'don't use social media,'" Wolfe said. For many careers now, social media knowledge is a must.

When using social media, Wolfe said it is important to think about how, why and what is motivating you to be on those sites.

Throughout the entire month of October, the CPRC hosted LinkedIn Mania month to help students learn how to use the social networking site LinkedIn to network and start developing their professional brands.

Wolfe said LinkedIn allows students to contact people on a more professional basis. "Facebook still seems very social, so reaching out that way may seem inappropriate," she said.

However, the CPRC did not stop there. Through Social Media Savvy, an activity that can fill a passport requirement, Wolfe continues to help students become aware of all common social media sites and their advantages and disadvantages.

Twitter, for instance, has a lot of power behind it as we've seen in entertainment and politics, she said. But social media, if not used properly, may speak louder than all the great qualities that people have, she said.

"Social media makes forgetting harder," Wolfe said. "It's always there in one way or another once it's put up."

Wolfe points out that social media can even affect the process of finding a job.

"Now people can make first impressions through social media sites," she said. "Employers will search and try to see what's on your media sites."

The CPRC staff focuses on a lot more than just social media. The Center still helps with résumés, networking and internships, but has added the new role of preparing students for the different work environments they may experience throughout their time at St. Bonaventure University or after graduation.

Wolfe stresses that students need to be prepared to do both the face-to-face interview and have electronic communication savvy when looking for a job or an internship.

The CPRC staff is available for students to ask questions. Students are encouraged to come to any of the workshops the Center offers.

One of those workshops, on internships, will be held Nov. 3 from 4 to 6:30 p.m. at the Regina Quick Center for the Arts. During the two-and-a-half hours, students may come and go to hear panels of professionals, administrators and students, to network or to see the "what-to-wear" fashion show that will feature appropriate clothing for most business situations.
In the spring semester, the CPRC will be hosting several events, including a networking opportunity, sessions on the value of personal branding, Careerfest and LinkedIn Mania.
The highlight of the spring semester, though, will be the launching of an online interview stream that students can do from anywhere on campus; it will simulate an actual interview and offer tips on how to answer certain questions.

Next fall, the Center also hopes to start its own LinkedIn group that will connect students to professionals so that they can practice networking online.

Wolfe said that parents can help to make students aware of the power of social media and to help them remember that there is a downside by reminding them that what they put up on the Internet doesn't go away and it can affect them down the road.

"We have the tendency to say 'get off' because we see all the bad things on the news (about social media sites)," Wolfe said. "But if we can be mindful about it, then it can be an important mechanism."
-Megan O'Donnell
Class of 2013

Undecided students explore options through MAP
Your student is halfway through her first semester at college, and she's still not sure what major she wants to choose.

Dr. Guy Imhoff, chair of the Department of Modern Languages, can offer a MAP to help your student find the way to a satisfying major. MAP, the Major Adventures Program, works with students who are undecided about their majors to help them first find their passion, then consider how that major could lead to a career.

"Most students will change majors two or three times during their college career," Imhoff said. "There's no shame in being undecided."

Imhoff said MAP differs from programs at other schools because it assigns each student to a professor who advises them within the School of Arts and Sciences. The University also has a program for undeclared students in the School of Business. This gives the student a more guided first-year experience.

Throughout their first year, MAP students may attend workshops and discussions that show them opportunities for a career within the majors. After meetings with their academic advisers, students attend a second meeting at the Career and Professional Readiness Center.

Declaring a major may seem equal to declaring the rest of your life, but Imhoff said the MAP's emphasis on major first is better for the student.

"A major doesn't always equal a career," he said, stressing the importance of a student finding her passion.

From the start, students are encouraged to work with their advisers to analyze their classroom experiences. Those meetings start after the first week of classes and continue throughout the year. As students discuss their class experiences, they may begin to focus on a possible major.

Major Adventures Program students also have the opportunity to live in a learning community which groups students together in at least two courses. This eases the college transition and helps students focus on academics. Once a student has chosen a major, he simply needs to fill out some paperwork to officially declare that major.

MAP takes the Bonaventure idea of "becoming extraordinary" to provide a supervised, enriching discovery process for students choosing a major. Along the way, MAP students may find they have company in their classmates who were sure they knew their majors, but decided to change as they began their coursework.

MAP helps a student discover her passion, Imhoff said.

"And isn't that what college is for?"
-Marissa Bruno
Class of 2014
WHAT'S GOING ON . . .
Upcoming events on campus include:

Ongoing - Math Lab for students needing assistance in math
Friday, October 28 – Men's Soccer vs. St. Joe's
Friday, October 28 – Women's soccer vs. St. Joe's
Saturday, October 29 – Men's Rugby vs. SUNY Buffalo
Saturday-Sunday, October 29-30 – Writing Overnight at Mt. Irenaeus
Sunday, October 30 - SBU Band and Choir Concert
Monday, October 31 – Diversity Action Committee meeting
Monday, October 31 – Wing Night in the Skeller
Monday, October 31 – Billiards Tournament in the Skeller
Wednesdays, November 2-30 - The basics of Buddhist meditative practices
Wednesday, November 2 – DC Internship Information Meeting
Wednesday, November 2 – Flu Shot Clinic
Wednesday, November 2 – Study Abroad Information for Freshmen
Wednesday, November 2 – "Drug Use and Mental Illness" by Dr. Paul D. Young
Thursday, November 3 – Last day to withdraw from an undergraduate class with a W grade
Thursday, November 3 – Internship Summit
Friday-Saturday, November 4-5 – Open Overnight Away at Mt. Irenaeus
Friday-Saturday, November 4-5 & Thursday-Saturday, November 10-12 – SBU Theater presents "Don't Dress for Dinner"
Saturday, November 5 – The Bona Race
Saturday, November 5 – The Mountain Auction to benefit Mt. Irenaeus
Sunday, November 6 – CAB Bus Trip – Bills vs. Jets
Monday-Tuesday, November 7-8 – Community Blood Drive
Monday, November 7 – The Value of the Experience, sponsored by the CPRC
Monday, November 7 – Writing your College Resume
Tuesday, November 8 – Finding your Ideal Internship
Wednesday, November 9 - Eighth Annual Ignatius Brady, O.F.M., Memorial Endowment Lecture
Thursday, November 10 - Musician Ernie Halter at Cafe LaVerna
Friday, November 11 – Veteran's Day Ceremony
Friday, November 11 – Men's Basketball vs. Cornell
Friday, November 11 – Gift Card Bingo