Course registration

Your student's first year is nearing an end: By April 14, she will have registered for her first semester as a sophomore.
Freshmen with last names starting with A to K may register on April 13. Those with last names starting with L to Z may register on April 14. Honors and academic excellence students may register earlier. All registration is done online at my.sbu.edu, said Julie Rodriguez, associate registrar.
The first thing your student needs to do is schedule a time to meet with her adviser. Some advisers have sign-up sheets on their doors. If your student doesn't see one there, she should send her adviser an e-mail to set up an appointment.
Every student needs to meet with her adviser to be able to register. This is also your student's chance to ask questions about classes for next year and her academic program. It is each student's responsibility to track her progress toward her degree.
Your student needs to do two things before meeting with his adviser. First, he should check the undergraduate catalog and his degree audit. Both are found online at my.sbu.edu: click "student" and then "degree audit" under the "Records Office Services" tab. The degree audit, coupled with course descriptions from the catalog, should help give your student some direction as to which courses to choose for the fall. He should also create a proposed schedule.
When your student meets with his adviser, the adviser will look at the proposed schedule to see if it meets program needs.
Because upper class students register first, some classes may already be filled, so it is a good idea to have some backup classes in mind.
Usually, classes that are designated for the major have the appropriate number of seats available, but Clare College courses tend to get filled fast since they are required for all students.
Students with registrar or bursar holds on their registration should seek help from the appropriate office to clear those up before attempting to register.
As long as your student prepares a tentative schedule with a few backup classes in mind and meets with his or her adviser, he or she should be all set to register on the appropriate day.
-Megan O'Donnell
Class of 2013

--------------------------------------------------------
Housing decisions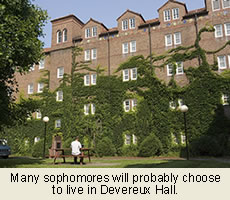 For your freshman, choosing where to live next year can seem like a scary thing — but it really isn't. Students have housing options ranging from the suites in Shay Hall to Devereux's traditional room arrangement to the Garden apartments.
The process of picking new housing starts on April 6 when a student receives his lottery number. The lottery number is derived from the student's class rank and GPA, but can be modified by involvement in extracurricular activities.
"I highly recommend filling out the extracurricular slip," said Dominica Luzzi, a junior journalism/mass communication major. "It's definitely helped lower my lottery number."
Sophomore education major Maria Redman liked the variety of choices.
"I lived in Shay this year and really liked the suite set up that it offered," said Redman.
Students may choose from single or double-style rooms. The Townhouses on the University's east end are reserved for students at junior and senior level. Soon-to-be-sophomores can choose between Shay, Devereaux, Doyle, and Francis Halls. More information on these options can be found on the housing web site.
The housing process is completed when the students meet in an evening session in the Reilly Center arena for room selection. The sessions are scheduled for April 12 and 14. Students unable to attend that session must designate a housing proxy and e-mail the name of that proxy to Chris Brown, coordinator for residential education and housing, at cbrown@sbu.edu.
-Felisha Woolley
Class of 2012
--------------------------------------------------------
Sophomore class officers
Cody Clifford, Abby Harrington, Mike Robinson and Angeline Pham will remain the officers for the Class of 2014. The quartet currently leads the class as freshmen. Clifford, an international studies major; Harrington, an early childhood education major; Robinson and Pham, both biology majors, look forward to leading their class during their sophomore year.
The officers say they developed an appreciation for leadership in high school and enjoy his or her positions. This sentence contains editorial comments, but I think I have heightened editorial-statement sensitivity this semester.

Clifford and Harrington are childhood friends and encouraged each other to become involved with the Student Government Association (SGA) at St. Bonaventure University. Robinson and Pham both see SGA as a way to contribute to the Bonaventure community.
"I wanted to be more involved in the community and I thought SGA was the main organization to make change happen," Pham said.
Robinson agreed, noting, "I wanted to make a difference in a positive way."
Robbie Chulick, a sophomore journalism/mass communication major and the secretary of the Class of 2013, offered the officers advice for next year: "I would encourage them to try to get involved with the entire student body as much as possible. Try to organize fun but safe events for students to do on campus that have a positive meaning to them."
The officers said their class has already started following Chulick's suggestions.

"To end out this year, we will host a kickball tournament to kick off Spring Weekend," Clifford said. "It's open to everyone."
Clifford said the officers are still planning the tournament. Entry fee for teams, which can include six to eight people, will be $20, but it will be free for the first three teams to sign up. The tournament will take place in the Richter Center during the evening of April 27.
Last semester, the officers organized a gift drive to provide holiday gifts to guests at the Warming House, the university's student-run soup kitchen.
"About 40-50 people got at least two gifts," said Clifford. "This was made possible through donations."
Clifford said he enjoyed this project and hopes the class can continue this service to the Warming House next year. Next year's plans also include working with the First-Year Experience program to help improve retention rates.
Chulick and the Class of 2014 officers all emphasized how much the Student Government Association impacts the campus.
"This year we were able to bring several new clubs to campus and fund them," Chulick said. "SGA is responsible for overseeing the 50-plus clubs on campus, funding them and ensuring that each club makes student involvement their No. 1 priority."
The officers encouraged their class to pay attention to the St. Bonaventure Class of 2014 Facebook group as it is often used to communicate events the class sponsors and organizes.
-Meaghan O'Rourke
Class of 2013
--------------------------------------------------------