University 101 classes show their stuff
Nobody knows Conor Grennan's novel "Little Princes" better than SBU's Class of 2015. On Nov. 15, Freshman University101 classes had the chance to show what they knew at the All Bonaventure Reads Poster Conference.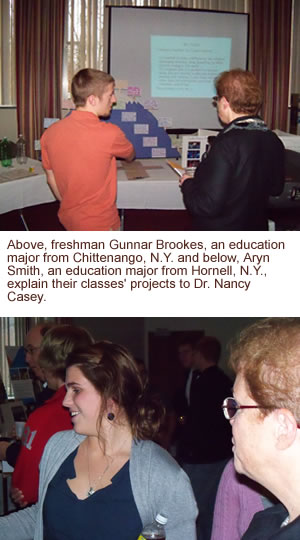 In Doyle Hall's Dining and Trustees Rooms, tables lined the walls. Each class had its own table to display whatever aspect of "Little Princes" the students had chosen to further explore.
Some classes opted for the traditional poster board, showcasing a topic derived from "Little Princes." Creative ideas and concepts covered the poster boards and tri-folds, expressing ideas in a concise way.
Professor Ann Tenglund's class of Biology majors explored how the United States and Nepal are different through their medicinal techniques, or lack thereof in Nepal's case. Professor Jean Ehman's students did something similar; comparing how the United States reacts when children go missing with how the Nepalese handled it. The group illustrated just how different it was, using video and posters to prove their point.
Professor John Stevens' students created a "Jeopardy" game for visitors to play. Categories for their game consisted of topics like economics, war facts, Nepal today, culture, socialization and etiquette and miscellaneous.
The students in Professor Larry Sorokes' class knew how to win the crowd over. Their table featured some of the finest Nepalese dishes, ready to be enjoyed by any visitor at their table.
"We started making the food at around 12," said Parker Bure, an environmental science major and a student in Sorokes' class. His class had an advantage with Sorokes as their professor because The Warming House was available for them to use to cook the food. Dal Bhat was among the cuisine, as was peanut salsa and spiced tea.
"People really liked the peanut salsa," Bure said.
It was a night for the Class of 2015 freshmen to discuss and bond over something each of them had in common.
"It was neat to observe how different sections interpreted 'Little Princes'– often based upon the major of a section's students,'" said Ehman. "Great thought and creativity were applied to many of the renditions, and – from my observations – students, faculty, administrators and staff in attendance enjoyed the presentation variety plus the fellowship of the Class of 2015."
-Emily Steves
Class of 2015