Vacationing with BonaResponds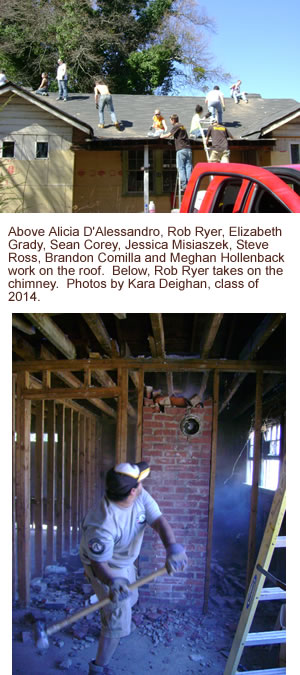 Rob Ryer's muscles were on fire as he swung his sledgehammer into an old chimney. Pieces of brick and soot spewed violently throughout the room, leaving the whole team filthy. Still, the BonaResponds student volunteers sported wide smiles that, like the dirt, just couldn't be wiped off.
Spending their spring break in Greenville, S.C., 20 St. Bonaventure University students and leaders painted houses, spread grass seed, cleared a field, tutored kids, repaired a church, built stairs and improved the outlook of the community.
"I learned a lot of new skills that I wouldn't have if I was on a normal spring break, such as operating an excavator," said freshman biology major Frankie Matuszak.
Kara Deighan, a freshman undeclared arts major, agreed.
"I learned how to use a chainsaw, a Bobcat and a circular saw," said Deighan.
Deighan enjoyed the chance to meet new friends and take charge of new tasks, including rebuilding a staircase with part of the team.

"I loved the spontaneity. There was always something new and different to do. The work never got boring," she said.
"When you work side-by-side with the same people, you depend on one another, and at the end of the day, the job is done," said Sean Corey, a freshman finance major.
Corey especially enjoyed meeting new people and interacting with the kids at the school where he worked.
"The work was super fun. There wasn't one bad part about the trip," he said.
"On a 1 to 10 scale, I would rate the BonaResponds trip to Greenville a 17," said Ryer, a senior physical education major and co-president of BonaResponds.
Ryer has been on more than seven other Bona Responds ventures, including trips to Texas, Gowanda and Haiti. The Greenville trip was his last as a St. Bonaventure student.
"We had a great group, great weather, the sweet tea tasted great and the barbeque was out of this world. It was an amazing last trip," he said.
For Deighan, it was her first trip. She looks forward to going on more trips in the future.
"The only thing I would change about the Greenville trip would be to make it longer," she added. "It was so much fun; I didn't want it to end."
"I would definitely be interested in a leadership position in the future," said Matuszak. "I've volunteered during the local, weekend BonaResponds trips before, but I want to get more involved."
The trip was not only a lot of fun, but also eye opening, the students said.
Ryer reached out to a homeless man, hoping to make even a small difference.
"I jumped out of the van, ran across four lanes of traffic and gave him a hug," he said. He gave the man a bag of food, and the man started to cry. "I told him, 'Just believe, man,' and he hugged me again. It was one of the best experiences of my life."
"It helps to know that your good deed will continue affecting people even after you're gone," said Ryer.
"I've already recommended the trip," said Deighan. "I tell every person I talk to, 'You should go,'"
"I would absolutely do this again," said Corey. "The trip was one of the most rewarding experiences of my life."
-Amanda Koneski
Class of 2013
--------------------------------------------------------
Making a "major" decision
Picking a major may be one of the more simple-sounding yet more difficult-in-practice choices your student has had to do since arriving at St. Bonaventure University. It is possible your student continues at Bona's as "undeclared."
Dr. Lauren Matz, the director of the Major Adventures Program, said there is absolutely nothing wrong with a student coming into college with an "undeclared" major.
Matz said she stresses to undeclared students the classes they take now are not "wasted."
"Every course undeclared students take expands their horizons. These courses give the students ideas of what they want to do and not do with their careers," she said.
Your student might be a part of the Major Adventures Program. More than 60 freshmen undeclared arts and sciences students were involved in the Major Adventures Program.
Matz said there are many advantages for students.
Each student in the program was paired with an academic adviser specifically chosen to work with undeclared students. The students were also put in the same University 101 classes and another common class. That way, Matz said, the students got to know each other faster. Matz said many of these students also live in the same residence hall living communities.
The Major Adventures Program is about more than having a student declare a major. The St. Bonaventure Career Center works in conjunction with the Major Adventures Program to encourage students to look into what career opportunities are available for majors they might declare.
The program is in its first year. To date, more than 20 of the 60 students involved have "graduated" from the program by declaring a major.
The remaining students still have time to choose a major. St. Bonaventure University does not require students to declare a major until the second semester of their sophomore year.
Parents can sometimes be discouraged if their student is struggling to find what he/she "wants to do with his/her life" but Matz has a simple piece of advice.
"You know your student more than anyone else on this campus. Parents need to encourage their Bonaventure students to follow their strengths and be open and available to their students for what they want to do with their lives."
-Robbie Chulick
Class of 2013
--------------------------------------------------------
Warming House moves
The Warming House's move not only brought a new space but new opportunities this semester.
The Warming House moved from its former location to its new home on North Union Street in downtown Olean. The new, restaurant-style space is twice the size of the previous site with a dry basement and a much more professional look, said Nick Goodell, the program manager for St. Bonaventure's Center for Community Engagement (CCE).
"It's definitely a good move," said Goodell. "It's more professional and much more organized."
With the new move came new products. Goodell said they brought along the refrigerator, freezer and stove from the previous location. New silverware was donated by Cutco and Olean High School donated new pots, pans and dishes.
Goodell said that the new space will provide an opportunity for the guests to be more involved with the community.
"It's more about giving the guests a hand-up instead of just a hand-out," said Goodell. "Along with the kitchen and dining area, there is now a classroom with four computers where we teach basic life skills."
Goodell explained that classes on topics such as quitting smoking or how to get a GED are planned.
Students who help out at The Warming House also agree that the move is good for both the guests and the community.
"The move is a serious re-evaluation of The Warming House and what it does for the guests," said Michael Gargano, a graduate student studying community mental health. "We're going beyond just providing a meal for the guests. It's sort of like counseling. We're helping them figure out their needs and wants and getting them to want to improve their lives."
Kara Deighan, a freshman undeclared arts major who helps coordinate the trips and meals for The Warming House on Thursday afternoons, agreed that the move is beneficial.
"It's a lot nicer. Preparing the meal runs much more smoothly now," said Deighan. "We're not just providing a meal for the guests anymore; we're helping them become independent."
Both Deighan and Gargano said they feel only good things can come out of the move. Goodell agreed.
"I think the new place will provide the Warming House with the ability to foster additional community involvement on the part of our guests," said Goodell. "I think more students will be willing to come and help out during the week."
Overall, everyone involved seems happy with the move.
"I'm definitely happy with the changes," said Goodell. "It was needed for the guests and the school. It's a good place to start anew."
Students who are interested in volunteering at the new Warming House location should contact Goodell at (716) 375-7813.
-Maddie Gionet
Class of 2013
--------------------------------------------------------
Places to hit the books
St. Bonaventure has many nooks and crannies for students to tuck away, get down to business and study. It has just a many resources for students in need of academic assistance.
Knowing these resources and how to utilize them are key.
The Teaching and Learning Center, located in the basement of Doyle Hall, offers a variety of resources for students to obtain academic assistance.
Students can attend writing labs that offer assistance with writing across the curriculum. They may also attend regular tutoring sessions and go for studying advice, said Jean Ehman, director of the center.
"They are welcome to come down here or call and make an appointment, and one of us would be willing to sit down and talk with him or her individually about how to study," Ehman said. "It's a different process for everyone. Some of us need to write things down while others learn better by just listening."
Students should call the center at (716) 375-2066 to schedule an appointment for assistance at the writing lab or tutoring.
Ehman encourages students struggling in a subject to speak to their professor in addition to getting extra help from tutoring.
"Professors are the premier resource for any student," said Ehman. "Sometimes it's just a matter of hearing the professor using a different set of words for it to become clear. The student should always be encouraged to see a professor during his/her office hours because he/she is the best resource."
The math department in De La Roche Hall offers weekly math labs for students. Students can drop in during the lab hours. The labs are in room 303 in De La Roche Hall this semester and held three days a week: Monday from 9-11:30 a.m. and 4:30-7 p.m.; Wednesday from 9 a.m.-12 p.m. and 1:30-4:30 p.m.; and Thursday from 4-7 p.m. There is also a lab in the Teaching in Learning Center from 1:30-3:30 p.m. on Thursday.
The University offers many quiet places for students to tuck away to study.
On Reading Day, the day before finals begin, St. Bonaventure freshmen will have an additional option when choosing a place to study. The First-Year Experience program will host a study room in Plassmann Hall exclusive to freshmen from 12-9 p.m., said Abby Cohen, assistant director of the First-Year Experience. Reading Day falls on Thursday, May 5.
"The room is specifically for freshmen," Cohen said. "We will be handing out stress balls, snacks, sticky notes and index cards. Students are welcome to just stop by and get supplies then leave. Peer coaches will be there so students can ask them for advice, too."
The program offered the study room to freshmen for the first time last semester. Cohen said they initially anticipated having it open just for five hours but students wanted to stay later.
Locations to study throughout the year include the library, Merton Center, study lounges, Café La Verna and the Hickey, said Cohen.
"La Verna and the Hickey are louder but the best place to study is dependent on the student's need," Cohen said.
Molly Inglut prefers La Verna for its comfortable chairs and atmosphere.
"The library is so quiet and rigid," said the sophomore journalism and mass communication major. "I'm more comfortable in La Verna because of its laid-back environment and it's nice that I can sit down at a table and spread all my books out."
Paige Winston, a freshman journalism and mass communication major, prefers the Thomas Merton Center for study and classwork.
"It's the most like home," Winston said. "It looks like a living room with the coffee maker and couches."
Ian Rogers, a freshman modern languages major, prefers the library.
"When I go there alone and listen to my music, I know I can focus," said Rogers.
For Katie Reusch, the privacy of a club office is the best spot to study.
"I like to study in the Model UN office," said the junior political science major. "Since I like studying with music, I can put my music up and spread my stuff out without worrying about anyone interrupting me."
Students should seek out an unused nook or forgotten cranny to find a place that works best. On a campus filled with them, they could be surprised.
-Meaghan O'Rourke
Class of 2013
--------------------------------------------------------