BonaResponds cleans up with new freshmen
In late August, Hurricane Irene pounded the Northeast. Almost immediately, BonaResponds volunteers were making plans to help affected communities with their recoveries.

BonaResponds is a volunteer organization whose primary mission is to help people after a disaster. Professor James Mahar founded the volunteer program in 2005 after Hurricane Katrina. The program has grown tremendously in the past couple of years. BonaResponds helps with everything from disasters caused by ice storms to fires, both locally and nationally.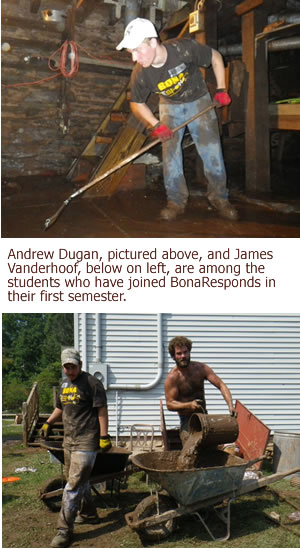 When Mahar heard there was a need for help with Hurricane Irene in Margaretville, N.Y., he started planning. "It is what we do," commented Mahar.

Alexandra Perl, a freshman international studies and political science major from Penn Yan, N.Y., was involved with the Hurricane Irene cleanup. She said she joined BonaResponds because, "when I was looking for clubs to join I had two basic criteria: the club must offer volunteerism and have a sense of community. BonaResponds fit those criteria and felt like home."

During the cleanup, the St. Bonaventure University volunteers cleaned homes, helped prevent further flooding and removed destroyed personal possessions and appliances.

As part of another project, they also packed five pallets of pharmaceuticals for Ethiopia. Some 30 jobs have been completed by the program. Even though much work remains, Mahar says they got off to a good start.

James Vanderhoof, a freshman undeclared science major from Erie, Pa., was more than happy to be a part of the cleanup. "During the cleanup my main thought was, 'How is cleaning up mud out of basements this much fun?,'" he said.

While in Margaretville, group members were stopped by many people on the street, applauding the volunteers for their help and good nature.

"I feel as though we really made a difference in our little bit of time in Margaretville," said Andrew Dugan, a freshman undeclared business major from Erie, Pa. "The volunteering was awesome and I plan on staying involved with BonaResponds."

BonaResponds is open to all, from students to staff to alumni and community members. All anybody has to do is come to any work day, sign up online for a trip or contact James Mahar.

"BonaResponds aims to help make things better. We may not make it perfect but we can make it better! Whether the help is 'just' being there immediately after a disaster to listen to survivors, or if it means hauling trees, gutting houses, and picking up debris. Or maybe helping means painting, landscaping, or even roofing. The goal is to make the world a little better," said Mahar
-Chelsey Fera
Class of 2012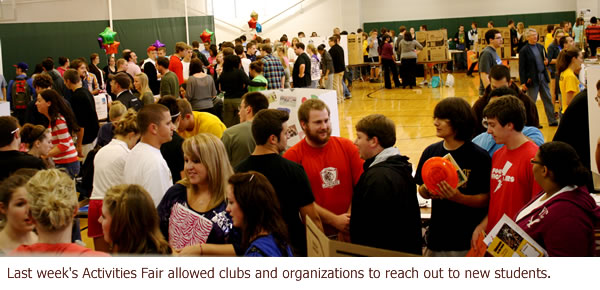 Want to see more? Check out some video of the Activities Fair
and the Paintball event from September 2.
Commentary: Sr. Margaret Carney addresses the Class of 2015

It is hard for anyone not to feel slightly intimidated whenever he/she is in the presence of Sr. Margaret Carney, St. Bonaventure University's twentieth president. But as she addressed us, the Class of 2015, it was as if some of that intimidation melted away.

After an introduction from Dr. Nancy Casey (and the "turn off your cell phone" spiel), Sr. Margaret spoke to us, not at us. She broke the ice right off the bat by sharing her love for the Pittsburgh Steelers.

"I understand that makes me a rather dangerous and difficult person to like for some of you," she said.

She went on to delve into the history of the Steelers and their time spent on St. Bonaventure's campus for their training from 1950-1954. Our attention was captured.

If it was not clear to us before why our first assignment as a class was to read "Little Princes: One Man's Promise to Bring Home the Lost Children of Nepal" by Conor Grennan, Sr. Margaret certainly cleared it up. There, accompanied by the president of the university herself, we as a class were given the chance to discuss the book we had all read.

In "Little Princes," Conor Grennan travels to Nepal to volunteer in an orphanage called Little Princes. He has mixed feelings about his decision to do so. He never expected to develop a deep love for the children of Nepal, but he did. After learning that many of the "orphans" are actually children who were placed in the orphanage by a child trafficker, Grennan made it his mission to find the families of each of the children.

Grennan will speak to the Bonaventure community about his experiences on Monday, Sept. 26.

"Now, there are an awful lot of you and there's just one of him," Sr. Margaret said. "So when he does come to visit, the question for me is 'How do we maximize his interaction with this class?'"

With that, Sr. Margaret traveled around the Dresser Auditorium, listening to suggestions and building a Letterman-esque Top Ten List of reasons why the Class of 2015 wants to meet Conor Grennan. Some of the nominations were humorous ("I just felt he'd be honored to meet me," said one member of the Class of 2015, much to his classmates' approval) while others really hit home for St. Bonaventure students.

"We thought he represented a modern example of the Franciscan values on which this university was built," came a suggestion from Jessica Ceglia, a psychology major from Scio, N.Y.

While the other suggestions were just as important, Sr. Margaret ran with the one about Franciscan values.

"Somebody said he seems to have some of the same Franciscan values that you've been hearing about since you were welcomed to Bona's at Orientation and even in these first weeks of your freshman year," said Sr. Margaret. "I would say, 'Amen to that idea.'"

She discussed Grennan and his use of the word "resilient." They had been through so much, and yet were so resilient that they could bounce right back and still act like little children.

"My question to you, the Class of 2015, is: 'How are you going to show us your resilience in your years here at St. Bonaventure?'"

Sr. Margaret wants the Class of 2015 to make a mark at St. Bonaventure and for us to do something that the classes before us have not done before. We may be a diverse class full of different majors and interests, but we can work together to make a difference here at St. Bonaventure.

"If you walk around this campus, you're going to see little brass plaques with names. You're going to see buildings -- Plassmann, Reilly, Walsh, De La Roche – who were those people? Why is their mark so important? What is your mark going to be?"

St. Bonaventure University has high expectations for us as a class, and we have very big shoes to fill. Maybe someday one of our names will adorn the front of a building here on campus. If Sr. Margaret's hopes come true, our names will be famous at St. Bonaventure University.

Sr. Margaret ended with one simple sentence: "I hope you have a great adventure."

We had the first of many great adventures together as a class just moments later. We were unaware that a storm had broken out during Sr. Margaret's address.

We screamed and ran together from the Murphy Professional Building back to our respective residences in the pouring rain.
-Emily Steves
Class of 2015
________________________________________
Family Weekend

A few short weeks ago, you dropped your student off at school. Now, it's time to come back for a visit. Family Weekend, Sept. 23 to 25, offers the chance to catch up with your student and enjoy a variety of entertainment and activities.

The weekend will begin on Friday, Sept. 23, when the women's soccer team takes on Colgate University. The weekend will finish on Sunday, Sept. 25, with a Mass in the University Chapel.

Christel Mendez, a junior, said, "My parents have been coming to Family Weekend since my freshman year. It's a long drive up from New York City, but they don't mind."

Entertainment will include the New York Voices, a jazz ensemble, and the popular Casino Night. If you're feeling athletic, you can take part in a golf tourney and the Bonafit 5K walk and run. Family members will also be offered the chance to have coffee with Sr. Margaret Carney, University president.

One of the most buzzed-about events is the show with hypnotist Keith Karkut. Cristal Mota, a senior, said, "the hypnotist has been my favorite family weekend event since my freshman year. Murphy Auditorium is always packed and you are guaranteed to laugh the entire night."
Another much-anticipated event during Family Weekend is Bonagany, which involves university students plus Allegany residents and officials. Bonagany brings food, shopping, music, activities and clubs together on Main Street on Saturday.

Senior Paul Leonardo , member of the Latino American Student Organization, said, "every year at Bonagany many of the clubs have a table set up with either games, or in our case, we prepare authentic Spanish dishes for anyone in the festival to try. People get a little taste of our culture."

Other activities will include inflatable amusements, wagon rides, classic cars and local music acts.

Stephen Kuchera, assistant director of Activities, Recreation and Leadership, at Bonaventure said, "the time on each activity has been extended to give everyone a chance to participate, and some new events have been added to the schedule so that everyone has more time to do their favorite activity."

Family is an important part of the Bona lifestyle, Kuchera said. "It's important for parents to attend activities so they can see what type of school their child is attending."
The full schedule of events can be found on www.sbu.edu/familyweekend.
-Cristabell Ramdial
Class of 2013
Still looking for a place to stay for Family Weekend?
Try searching hotels in nearby Cuba or Ellicottville, N.Y. or Bradford, Pa. There are also a few places on www.vrbo.com. Families looking for a little more adventure should also check out Allegany State Park, which has cabins for rent.
All Bonaventure Reads
Over the summer, while your son or daughter prepared to go off to college, your child also began to prepare for the schoolwork that was bound to come once she became a student at St. Bonaventure University.
Her first assignment? To read "Little Princes: One Man's Promise to Bring Home the Lost Children of Nepal" by Conor Grennan and write a reflection essay. The book and the assignment were among the first things your student received at summer orientation.
"Little Princes," which was picked unanimously by the All Bonaventure Reads (ABR) Committee last spring, takes students on a journey to war-torn Nepal, giving them a glimpse of humanity that seems to be a world away in another life and time from the sheltered world many students have grown to know.
"The book is really about how making the smallest of decisions can put us on the right path," said Jean Ehman, chair of the ABR Committee.
Freshman journalism and mass communication major Melissa Scott agreed.
"This book really showed me that one person can make a difference in the world, and I would love to do something as inspiring as Conor Grennan," she said. "I want to make a difference and I feel like now I can."
"I believe the freshman class has gained a new perspective on life in general, and I believe they aspire to do something great like Conor Grennan did," Scott said. "I think it made our class more personable with each other because we have this common experience."
For the past five years, the authors of the selected books have come to St. Bonaventure University to talk with the freshmen classes about his or her book and to hear how the book impacted the students. This year will be no different.
On Sept. 26, the Monday after Family Weekend, Grennan will come to St. Bonaventure University. He will speak to students, faculty, staff and community members at the Reilly Center. Before his talk, he will dine with 39 freshmen and various members of the St. Bonaventure community. Thirteen of these 39 freshmen are the essay contest winners. They were selected by a committee of faculty and staff members from the university who evaluated their essay reflections from the summer assignment. One student from each of the 26 sections of University 101 will also be chosen to go to the dinner. The selection process for these 26 students is left up to each University 101 class.
Since Grennan's speech is the day after Family Weekend, Ehman said parents and family members are welcome to stay an extra day to attend the event.
"We hope students will talk to their parents about the book," said Ehman, also the director of the Teaching and Learning Center.
However, before Grennan comes to St. Bonaventure University, your student will have several opportunities to view movies related to the themes of the book.
Students had the chance to view "Returned: Child Soldiers of Napal's Maoist Army" and "Everest – Beyond the Limit." One additional video, "Call + Response," is scheduled for Wednesday, Sept. 21. These activities are considered "passport" events and can be used to fulfill part of the activities required of freshmen. On Nov. 15, the entire freshmen class will attend the First-Year Experience Conference where each University 101 class will present a poster, a presentation or even a video relating to one or more of the themes presented in "Little Princes."
A First-Year Experience committee member will soon be talking with the class officers, once elections are complete, to discuss holding a fundraiser for the Next Generation Nepal charity, which was inspired by the book and is now in partnership with "Little Princes."
As University 101 wraps up, your student will finish analyzing the book and talking about it in class. But Ehman hopes the book will continue to impact each student's life and that the discussion will move from the classroom to the outside world.
"It's a thinking matter," she said. "We want the students to think about the book and talk about it. Start a conversation about it."
"After reading 'Little Princes,' I realized that the world is a very imperfect place and that there are a lot of good people in the world," Scott said.
-Megan O'Donnell
Class of 2013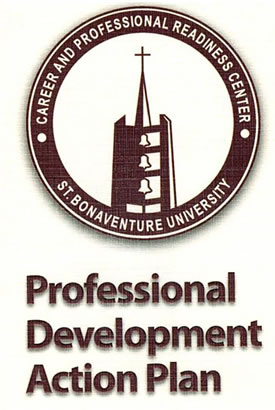 "Get the Scoop on the new
Career and Professional Readiness Center"
Wednesday, September 21
RC 216
11:00 a.m. and 4:00 p.m.
WHAT'S GOING ON . . .
Upcoming events on campus include:

Ongoing - Math Lab for students needing assistance in math
Friday, September 16 - Karaoke Night in the Skeller
Friday, September 16 - Men's Soccer vs. Canisius
Friday, September 16 - Saturday, September 17 - Women's Overnight at Mt. Irenaeus
Saturday, September 17 - Yankees vs. Blue Jays Bus Trip in Toronto
Saturday, September 17 - School of Business first-year service day in Buffalo
Saturday, September 17 - Sunday, September 18 - Men's Overnight at Mt. Irenaeus
Sunday, September 18 - Encounter Francis Through Art
Sunday, September 18 - WSBU Meeting
Monday, September 19 - Last day to sign up for Pass/Fail option
Monday, September 19 - Mass in Bob's Woods at Sunset
Monday, September 19 - Ping Pong Tournament in the Skeller
Tuesday, September 20 - Wednesday, September 21 - Distracted Driving Simulator
Tuesday, September 20 - Social Media Savvy
Tuesday, September 20 - Ireland/English Speaking Study Abroad Info Session
Wednesday, September 21 - All Bonaventure Views - "Call + Response"
Wednesday, September 21 - Get the Scoop on the new Career and Professional Readiness Center
Wednesday, September 21 - Diversity Action Committee Meeting
Friday, September 23 - Sunday, September 25 - Family Weekend
Monday, September 26 - Campus visit by "Little Princes" author Conor Grennan
Monday, September 26 - Men's Soccer game vs. Cornell
Monday, September 26 - Saturday, October 1 - Francis Week
Wednesday, September 29 - Open Mic Night in the Skeller