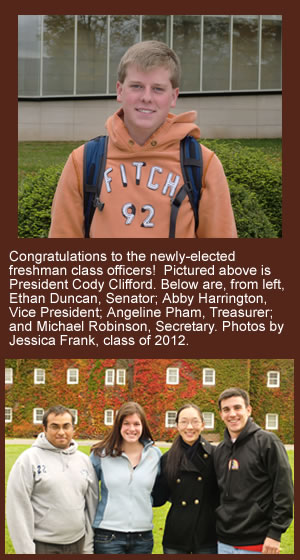 GPA 911
Midterms have passed. Your student may be shining in some classes and need some polishing in others. But she still has half a semester left to get all of her grades polished.

Freshmen with Ds and Fs will attend a mandatory GPA 911 session with Dr. Nancy Casey, director of the First-Year Experience program. The sessions are open to all students looking for tips on how to bring up grades.

GPA 911 is a one-hour, fast-paced discussion about what midterm grades should be telling students and what they can do to turn around bad midterm marks, said Casey.

"More often than not, students have problems with common sense stuff – not using their planners, missing deadlines, not getting enough sleep and skipping breakfast," said Casey, an associate professor of education. "I try to teach them about the importance of using their planner, setting a schedule and finding a good place to study - all very easy things to do that will really help improve their grades."

What Casey will also try to get across is that an F is forever.

"It never goes away; it will be on their transcripts for the rest of their life lives and will definitely have an impact on their professional career," said Casey. "Even if they take the class over and get an A, that F will always be listed on the transcript."

Casey also wants students to realize that poor grades at midterm can be turned around, but students have to intentionally change their behavior and ways of studying.

"I want to be in their faces to get the point across that they need to make a change, but I don't want to scare them at the same time," said Casey. "Most freshmen don't have a view of the world; they're just living for Friday. They don't understand that the choices they make now will affect them for the rest of their life lives."

During the GPA 911 session, Casey will go over tips on how to change habits and will make every student create a personal list of ways they he can raise his GPA.

"I hand out a sheet with GPA booster tips on it," said Casey. "I also hand out a worksheet that the students will work on during the session. A big thing I always tell them to do is to get into the habit of is making to-do lists."

The biggest thing to remind your student is that there is time to bring his grades up if he is dedicated to changing a few things. Two GPA 911 sessions will be held -- Monday, Oct. 18, at 5 p.m., and Tuesday, Oct. 19, at 6 p.m. Do we know the location?

If your student still thinks she needs help with classes after the GPA 911 session, she can contact the Teaching and Learning Center (TLC).

"You don't have to go to the GPA 911 session to get help from the TLC," said Jean Ehman, director for of the Teaching and Learning Center. "We offer peer tutoring, the writing lab and we co-sponsor math lab with the math department."

Ehman also stresses that students and parents have to remember that there is half a semester left for students to bring up their grades.

"Midterm grades are a red flag, not a terminal diagnosis; there is still time to turn grades around," Ehman said.

Ehman also said that it's good that parents want to get involved with their student's grades but they need to not instigate.

"Parents have to know when to back off," said Ehman. "It's good that they want their children to do well, but they need to know when to stop. The best advice is to point their children in the right direction and let them go from there."

A simple way to get off on the right foot, Ehman said, is to have perfect attendance.

So if your student is struggling and needs to bring up his grades, remind him of GPA 911 and the TLC. Most importantly, make sure to cheer him on and make sure to let him know that you're proud of how hard he is working to turn things around.

-Maddie Gionet
Class of 2013
--------------------------------------------------------
Decoding FERPA
FERPA? What's FERPA?

FERPA stands for Family Educational Rights and Privacy Act. FERPA was originally developed and signed into law in 1974 as a way to protect student information from being released to others without the student's knowledge or permission.

The law has many parts, but one major section focuses on who can and cannot have access to a student's education records.

A student's grades, midterm and final, are included in the definition of education records. In college, unlike high school, a student, regardless of his age, owns his records and only he can release them.

If your student filled out a FERPA waiver, you will receive a copy of his midterm and final grades by mail a few days after all grades have been posted. If not, he will be able to see his grades online on my.sbu.edu, but the grades will not be sent home.

"There was not one specific incident that led to the law," Julie Rodriguez, assistant registrar, said. "Rather, it appears to have been in response to growing concerns about the release of student information to third parties, particularly in primary and secondary schools. Prior to the law, parents and students did not consistently have access to the student's records."
How do I know if my student filled out a FERPA waiver?
Some of you may remember your student filling out a FERPA waiver during orientation. If you're not certain, the answer will become clear by Halloween. If your student did fill out the waiver and did not rescind it after you left, you should have a report of her grades in the mail by then. Students may call the records office at 716- 375-2020 to see if have they have signed a FERPA form.
How can I receive my student's grades?
If you and your student both would like grades to be sent home, have your student go to the registrar's office to sign a FERPA waiver form. This cannot be done over the phone, by mail or by fax because the registrar's office needs to ensure that it is the student and not anyone else who is signing the form.

Students should be aware there are benefits to signing a FERPA waiver.

"Students should also keep in mind that if they don't waive their rights, parents can't call on their behalf," Rodriguez said. Once students sign the form, the university is then able to discuss academic situations/grades with the parents, who may opt to intervene if there is a problem.

A signed FERPA waiver may be beneficial for parents as it allows them to stay informed as to how their student is doing academically. It also provides access to the student's advisor who is then free to talk with the parents about the student. By receiving midterm and final grades, parents can see how well their student has progressed in a class. If a student is doing poorly, the parent can help steer her in the right direction by reminding her to talk with her professors, visit the Teaching and Learning Center, get a tutor or even develop a better plan for studying more efficiently. Some students will shy away from telling their parents they are doing poorly in a class, so having FERPA waivers signed can be a way for students to let their parents know they aren't doing well without actually having to tell them.

If your student earned college credits from work done while attending high school, a signed FERPA waiver allows both of you to inspect the college academic records to see if all the credits have transferred appropriately.

Without a FERPA waiver, Rodriguez notes, "no access." So if you want access, you need to ask your student to sign the waiver. Students also have the right to withdraw their FERPA waiver at any time for any reason.
-Megan O'Donnell
Class of 2013
--------------------------------------------------------
Celebrating Halloween at Bona's
The evolution of Halloween to present day is interesting. Eight hundred years before the birth of Christ, it was the Celts' celebration of the New Year, according to "The Evolution of Halloween Traditions" on www.hubpages.com. The celebration's supernatural concepts, through which people can turn into black cats or owls, evolved from those beliefs.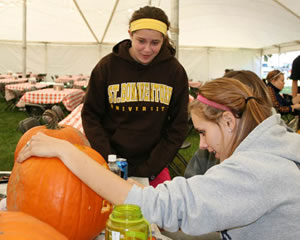 Students at St. Bonaventure University don't literally turn into black cats or owls. But they can get into the spirit of the holiday with a variety of events on or near campus.

In nearby Ellicottville, students can ride on the Nightmare Hayride, "the scariest hayride in Western New York," according to its Web site. It's a 25-minute, tractor-drawn hayride that leads down a creepy, haunted path inhabited by live, scary creatures. Once the tractor ride is complete, the riders enter into a haunted maze that twists and turns across one acre of land. They complete their experience in the haunted barn, which features a vortex tunnel.

"If you have successfully made it through all these haunts, it should end up taking a total of 40 minutes," according to the Web site.

Sean O'Shea, a senior music and theater major who said that Halloween is his favorite holiday, has ridden this nightmare hayride.

"There are scenes … and other scary gags along the way, including chainsaw wielding maniacs, witches, masked killers and ghouls," O'Shea said. "It's a great time and everyone should go."

No reservations are required for this Halloween experience, which costs $15 per person or $14 per person for a group of 25 or more.

A movie marathon, filled with new and classic horror flicks, is another way to celebrate this holiday.

That's what sophomore elementary education major Ryan Harney is planning to do with her friends.

Harney's favorite horror flick is "The Step Father." Other popular films include "Paranormal Activity," "A Nightmare on Elm Street," "Fright Night" and "I Know What You Did Last Summer." For those with a Netflix account, all of these movies and more than 75 others are available on Netflix Instant Play. For those without an account, Friedsam Memorial Library has a large selection of movies that students can sign out just as they would a book. If your student isn't finding the right movie in either of those places, he can also check Family Video (716-375-5660) on West State Street in Olean.

For those who cannot imagine Halloween without pumpkins, decorated or just plain, there is Pumpkinville in Great Valley. But Pumpkinville is more than just pumpkins. It offers lots of fun, fall activities including a corn maze and tractor rides, and delicacies including homemade cider and fudge. The simple task of finding a Halloween pumpkin could turn into an afternoon of fun.

For the artistic, there are many ways to decorate a pumpkin. The pumpkins could always be decorated with permanent markers and even glitter. Small carving kits may also be found at Wal-Mart or the dollar stores for the more adventurous artist.

And finally, what would Halloween be without unnecessarily large quantities of chocolate, candy corn and other candies? These goodies can be found at nearby retailers. A surprise package from home filled with Halloween treats could be a delightful addition to these Halloween festivities.
-Meaghan O'Rourke
Class of 2013
--------------------------------------------------------
Campus Activities Board
Your student has just returned to campus from midterm break.
One thing your student might have expressed while home is a desire to get off campus for a weekend or take a day trip somewhere.
You might have suggested some ideas for your student to do with her friends, but another source to turn to is the St. Bonaventure Campus Activities Board (CAB), which sponsors a variety of trips and activities each semester.
Many of these activities include bus trips to various attractions throughout the area, but CAB also offers a variety of things to do on campus and in Olean.

One popular trip your student may have gone on earlier this semester was to Cedar Point in Sandusky, Ohio. A number of other trips are planned throughout the remainder of the semester.
Steve Kuchera, assistant director for the Center for Activities, Recreation and Leadership (C.A.R.L.), said these chaperoned trips are great opportunities for students to see something that they might not have seen before.

The trips are also brought to students at an affordable rate. Kuchera said students can often go on the trips for less than half the price they would pay normally.

CAB is allotted money annually from the Student Government Association (SGA), Kuchera said, and CAB sets aside a portion of its budget for the student trips.
Upcoming CAB day trips:
Saturday, October 23, 2010: Day trip to the Grove City, Pa., outlet mall. The cost is $5. The bus departs at 8 a.m. and students return to campus at 9 p.m.
Sunday, October 31, 2010: "A Day in Ellicottville, N.Y." This trip includes a nightmare hayride, haunted corn maze and barn, and students can eat dinner in Ellicottville. The cost is $10 and it includes admission to the attraction and bus transportation.
Wednesday, November 3, 2010: Evening trip to a Buffalo Sabres game against the Boston Bruins. The cost is $20, which includes the game ticket and bus transportation.
Sunday, November 14, 2010: Day trip to the Buffalo Bills vs. Detroit Lions game. The cost is $40 and includes a ticket to the game and transportation.
Students can sign up in the C.A.R.L. office, which is located in Room 208 in the Reilly Center.
There are also plenty of alternatives for students to take advantage of that are closer to home. The Rathskeller, which is located in the Magnano Centre on campus, is open every night and a variety of events are held in Rathskeller each week, Kuchera said.
According to Kuchera, each night has a theme. For example, Monday is wing night with Monday Night Football. Wednesday is open mic night. And, on the weekends, one can find dance parties, comedians, and poetry slam tournaments.
CAB also offers discounted movie tickets to Carmike Cinemas in Olean. The tickets are $5 and are good for any new release movie (except 3-D) at the theater.
If your student does not have transportation to get to the theater, don't worry. The evening Bona Bus makes a loop that drops students off outside the theater.
A complete list of upcoming CAB events can be found outside the C.A.R.L office and on the St. Bonaventure CAB Facebook page.
-Robbie Chulick
Class of 2013