Midterm grades
Halfway through the semester, students receive a grade that reflects their academic progress. If these midterm grades bring bad news, your student has ways to improve them.
Midterm grades are intended to provide a realistic view of how well a student is doing. They do well in predicting a student's final grade, said Dr. Nancy Casey, associate professor of education.
"If your midterm grades are good, there is about a 95 percent chance that your end-of-semester grades will also be good. The flip side of that is if your midterm grades are below a C, there is a 50 percent chance that your end-of-semester grades will be less than a C," said Casey.
Michael Gargano, teaching assistant in University 101, Skills for the Good Journey, believes the primary reason students do poorly on their midterm grades is because students do not ask their professors the necessary questions in class. That means students do not have the knowledge to succeed in the class, he added.
"I think many students run the risk of not asking and doing poorly, when they could have asked that professor how they can do better or what they're not understanding in class," said Gargano.
Students who are struggling should not be afraid to seek help. They can find that help from their professors, the writing lab, the math lab or the Teaching and Learning Center.
First, students should seek help from their professors, said Lauren Loftin, a sophomore majoring in political science.
"Talk to your professor about your grades and see if you can get extra credit or see what you're doing wrong in order to improve on your tests or homework," said Loftin.
If your student has spoken to her professor and is still having trouble, she can apply for a peer-tutor at the Teaching and Learning Center.
"We're a multi-tasking entity. We offer a lot of academic services in a variety of formats. We have peer-tutoring in most 100 and 200 level subject areas," said Jean Trevaton Ehman, director of the Teaching and Learning Center.
To get started, students should come to the Teaching and Learning Center, in the basement of Doyle Hall, fill out a peer-tutor evaluation sheet, and wait about a week for the Center to match a peer-tutor for that particular course.
Peer-tutors are students who have excelled in that particular course and are willing to help. Peer-tutors help students understand the material and tutor in a problem area of the course.
Bad midterm grades do not automatically mean bad final grades. But students have to take steps to improve their understanding of the material in the class. Gargano said he suggests to his students a "key-and-lock" method.
"With my students I use the method of the key-and-the-lock. The student is the key and the professor is the lock and if you just go to the lock and not do anything, you really don't get anywhere, but if you twist the key into the lock, then the professor is more than willing to help you," said Gargano.
-Ariana Harvin-Mahiques
Class of 2014

my.sbu.edu
You and your student have a wealth of Bonaventure-related material as close as your computer.
Links on the University's intranet site, my.sbu.edu, provide students with course-related material, including their class schedules, degree audits showing their progress toward graduation, the area where they register for classes and a variety of forms.
Student employment information includes online pay stubs and the place to enter time worked in a job on campus.
Information on financial aid, parking, the Student Government Association and the Bona bus, plus a calculator for GPA and the links to Moodle courseware are also available.
To access the site, students should go to my.sbu.edu, then click the link for "student."
Midterm and final grades are available to students on my.sbu.edu.

New commuter lounge open
For resident students, time between classes may be spent back in their residence halls. But where do commuter students go when they have that time to study or relax or do homework?
This fall, St. Bonaventure provided a new option. A new commuter lounge opened on the second floor of the Reilly Center near the Career and Professional Readiness Center. Here, commuter and resident students are welcome to spend their downtime doing homework, relaxing or even watching television.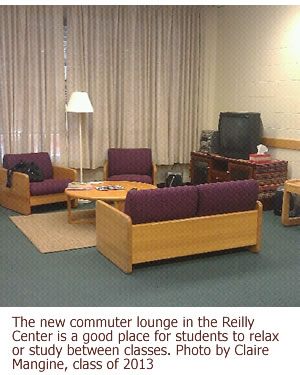 "The lounge feels like a home away from home," says Kylie Lamont, a freshman commuter student from Eldred, Pa.
With amenities like a microwave and refrigerator, that is how the lounge is designed to feel.
"Commuter students have a lower retention rate than students who live on campus. The goal of this lounge is to help build important bonds among commuter students, as residential students do in residence halls," said Rick Trietley, vice provost for student life.
Seven freshmen this year are commuter students. So are more than 300 upperclassmen, who live off campus at home or with other students. The lounge is open to everyone, including resident students.
The lounge offers a large-screen television, DVD player, lockers, a round table for homework, chairs and couches and a computer.
Trietley estimates the lounge's cost at $3,000, which was spent on amenities, new paint, carpet and furniture.
"It will become a tremendous benefit for (students), all the while helping commuter students to meet more people," said Trietley.
Lamont likes the location of the lounge because it is very close to where she has classes. She said she doesn't know where she'd spend her time if it were not there.
Also new this year on the second floor of the Reilly Center is the Student Veteran Lounge. This lounge is a bit smaller, but still has a television and offers a relaxing spot to take a break. Trietley said this lounge's purpose is to provide a meeting spot for Bonaventure students who have served in the military so they can support one another.
Trietley said improvements will continue to be made to both lounges. He said student life staff will speak to students to make sure the new spaces are meeting their needs.
"I like that St. Bonaventure recognizes commuter students. I use the lounge every day because it is the one place that makes me feel the most comfortable," said Lamont.
-Claire Mangine
Class of 2013


Do you have another Bonnie in your house?
Join us for an Admissions Open House
Sunday, October 16 or Sunday, October 23
Register here
WHAT'S GOING ON . . .
Upcoming events on campus include:

Ongoing - Math Lab for students needing assistance in math
Friday, October 14 - LinkedIn Advanced
Friday, October 14 - Women's soccer vs. Charlotte
Friday, October 14 - Gift Card Bingo at Café LaVerna
Saturday, October 15 - Family Day at the Mountain
Saturday, October 15 - Bonnie BBQ Reilly Center Lawn
Saturday, October 15 - Brown and white night in the Reilly Center
Saturday, October 15 - Lion King Bus trip Off Campus
Sunday, October 16 - Women's soccer vs. St. Louis
Sunday, October 16 - WSBU Meeting Reilly
Monday, October 17 - Midterm Grades Due in the Registrar's Office
Monday, October 17 - Wing night Skeller
Monday, October 17 - Billiards Tournament in the Skeller
Monday, October 17 - SGA meeting Board of Trustees Room
Tuesday, October 18 - Weight Watchers meeting
Tuesday, October 18 - Write your college resume
Tuesday, October 18 - "Human Trafficking Today" talk in the William F. Walsh Center Amphitheater
Tuesday, October 18 - NSLS Speaker
Wednesday, October 19 - Open Evening Away at Mt. Irenaeus
Wednesday, October 19 - Nuclear Crisis Lecture
Wednesday, October 19 - Open Mic night in the Skeller
Thursday, October 20 - Write your college resume
Thursday, October 20 - SBU LIFE: Victory over Violence
Friday, October 21 - Open Overnight Away at Mt. Irenaeus
Friday, October 21 - Communications Day Dresser Auditorium Murphy
Friday, October 21 - Taikoza- Japanese drums performance
Friday, October 21 - Pre law Center dedication and open house
Friday, October 21 - Karaoke Night in the Skeller
Friday, October 21 - SBU Hockey game
Saturday, October 22 - Family Day at Mt. Irenaeus
Saturday, October 22 - Grove City shopping outlets bus trip
Saturday, October 22 - Men and Women's Swimming and Diving meet vs. PITT
Sunday, October 23 - Admissions Overnight Visit
Monday, October 24 - Billiards Tournament in the Skeller
Tuesday, October 25 - Hip-hop Performance
Wednesday, October 26 - Successful Interviewing Strategies
Wednesday, October 26 - Open Evening Away at Mt. Irenaeus
Wednesday, October 26 - Hip-hop Performance
Wednesday, October 26 - Open Mic Night in the Skeller
Thursday, October 27 - Student Scholarship Thank-you Writing
Thursday, October 27 - Thinkfast Game show in the Skeller
Friday, October 28 - Men's Soccer Game vs. St. Joe's
Saturday, October 29 - Men & Women's Cross Country A-10 Championships
Saturday, October 29 - Men's Rugby game
Sunday, October 30 - Men's Soccer Game vs. Temple
Sunday, October 30 - SBU Band and Choir Concert
Sunday, October 30 - WSBU Meeting
Tuesday, November 1 - Wing Night in the Skeller
Tuesday, November 1 - Billiards Tournament in the Skeller