Dear Parents and Families,
As hard as it may be to believe, your SBU student's first semester is drawing rapidly to a close. Every year we, too, are all amazed at how the fall semester flies by! It seems like just yesterday that you were standing behind them at the Candlelight Ceremony as we officially welcomed our newest Bonnies to our family.
You may remember the jitters, the anxiety and that first wave of homesickness. Most of our first-year students have settled in and all that is behind them, now replaced by an ability to deal with the unexpected and the willingness to face and manage change. I've seen both our resident and commuter students emerge as active and involved Bonnies. The Class of 2104 has become just that – a class – with an emerging identity on our campus.
We are delighted to have your student as part of the SBU family and look forward to spending the next three-and-one-half years with them.
We trust that your son or daughter has had a good "first-half of the first year" experience. We know that they are looking forward to coming home (don't be surprised at how much they sleep when they get there) and having some serious down-time. They deserve it. We are happy to send them home, hopefully with a sense of accomplishment, but we will be even happier to have them back again in January to begin the second half of their first-year journey.
From our family to yours we send our very best wishes for a wonderful holiday season and a happy, healthy 2011.
Nancy Casey
Director, First-Year Experience
--------------------------------------------------------
Home for the holidays
This week, your student will return home from St. Bonaventure for a month-long vacation.
Exciting? Mostly.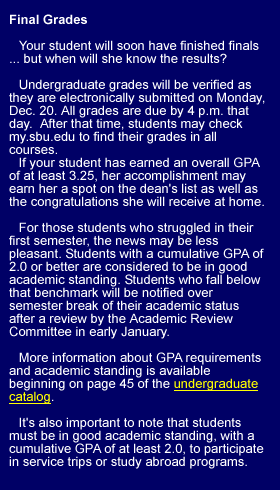 But for the last four months, your student has been setting her own schedule and making her own decisions. For most students, this is vastly different than life before college.
While you've been at home, your child has been growing, developing and maturing, said Chris Brown, coordinator for residential education and housing.
Your schedule has likely not changed much since August. Your student, however, has completely rearranged his life and sleeping schedule to meet the demands of classes and the homework that comes with it. When he gets home, his sleep cycle may be a little different than what you remembered.
And for the past four months, your student has been able to do whatever he wants when he wants to do it. For parents, that may lead to a difficult adjustment.
These changes and others can easily lead to frustration and tension between students and parents. Brown suggests a way to ease that frustration before it happens: Talk to your child.
"Sit down and have that conversation about your (the parents') expectations right away, right from the get-go," Brown said. "Maybe even on the ride home so that the expectations aren't a surprise. Even if they're the exact same expectations that the parent had during high school, the student doesn't necessarily assume that they're the same. So if the parent wanted him to check in when he goes to a friend's house and that's still an expectation, the parent needs to say that out loud to him.

"They're (students) out of the habit of doing those things … or they may not think of it," he added. Talking about the rules early can save both you and your student a lot of headaches.
Once your student has settled back into the routines of home, Brown said it would be a good idea to talk about grades, good or bad.
Remember, he noted, time at home for winter break also means time for your student to reconnect with friends from high school. That means you will have to share your student's at-home time with her friends.
Even before you get your student home, you will face a big question: What to bring home for the break? Some students barely take anything, while others take so much it looks like they've moved out of the residence hall.

Brown suggests some ideas to find the happy medium:
1. Bring valuables: computer, iPod, stereo – anything that you would not trust being in an unoccupied room for four weeks.
2. Only bring enough clothes to get your student through a month.
3. If your student brought too much when she first came to school in August, now's the time to lug it back and get some room back in that residence hall room!
After two or three weeks, you may hear your student talking about missing "home." You may be thinking, "she is already home," but she now has two places that feel like "home."
Don't worry – this is a good thing. That means that the place you sent her off to four months ago was a good choice. Bona's doesn't replace the home you've made for her; it just is another place she loves enough to call home.
The four weeks you have with your student should be filled with fun and great memories, but it is a test for what is to come this summer, Brown said. During the summer, your student will be home for about three months. You can work out the adjustment problems now, leaving your student's return home at the end of freshman year to go much more smoothly.
-Megan O'Donnell
Class of 2013
--------------------------------------------------------
It's not too late to get involved
Your son or daughter has almost completed the first semester at St. Bonaventure University. He or she probably talked to you about getting involved with one or several of the more than 80 clubs and organizations on the SBU campus. If not, or if your student hasn't gotten involved on campus, holiday break would be a perfect time to talk to him or her about joining one or more organizations.
University officials recommend getting involved on a college. Joining a club or organization helps to make new friends. It also helps students develop leadership skills and adds to their résumés.
SBU offers an organization fair at the beginning of each academic year. But if your student missed that, or is looking for new ways to get involved, most clubs and organizations will offer interest meetings at the beginning of each semester. Students can also contact the organization's president or other club officers to become involved.
Here are a few places where your student could get involved:
WSBU-FM, or "The Buzz," Bonaventure's student-run radio station, broadcasts 24 hours a day, 365 days a year. The radio station has been on the air since 1947.
Who can join? Any undergraduate student can join. Students may be able to have their own radio shows, write music reviews for the music department or work for the radio station's publication, "The Buzzworthy." The radio station also has news, sports and marketing departments.
WSBU, with more than 300 active members, is one of the largest clubs on campus. It is governed by a 16-member board of directors.
For more information about WSBU-FM, your student can contact Zach Witzel, station manager, at witzelzj@bonaventure.edu.
SIFE, Students in Free Enterprise, is a student service organization that develops local and international projects that add value to the community. Locally, SIFE members teach entrepreneurship to children in the Olean community. They also help in the Bahamas with Operation Bootup (installing computers in elementary schools throughout the island), and teach entrepreneurship and global economics to school children.
Who can join? Any student can join SIFE. Freshmen and new members work with "Tier One" projects, helping with such events as the annual Polar Plunge and blood drives on campus. Once a student is an active member, she is given additional tasks and is a member of the "leadership team."
SIFE has 150 active members. More information is available from the SIFE president, Abhi Aggarwal, at aggarwa@bonaventure.edu.
MERT, the Medical Emergency Response Team, provides aid at the EMT-B level for anyone on campus. MERT'S primary goal is to provide help during a medical emergency, but the team also provides training to the EMT level for its members. They also teach CPR and defibrillation techniques to anyone who is interested.
Who can join? Any student, including graduate students, can join MERT. MERT has 60 active members. More information is available from President Divya Kurian at kuriandm@bonaventure.edu.
The Laurel, the creative writing magazine on campus, is the oldest student-run magazine of any kind on any college campus, dating back 112 years. The Laurel features original works from members of the Bonaventure community, including poetry, prose, short stories, original artwork and photography. A new issue of the magazine is published every semester.
New members work on promoting the magazine to get students to submit work. Members seek and review submissions from the Bonaventure community and promote the magazine on campus. Staffers lay out the magazine, help design the front and back covers and distribute the magazine across campus when it's published.
Who can join? Any student can join the Laurel. The club currently has about 15 active members. More information is available from co-president Chris Radey at radeycj@bonaventure.edu.
BEA, the Bonaventure Education Association, is a club for students who want to further their experiences as potential teachers. Members are offered a variety of education-related volunteer opportunities.

BEA has about 25 active members. More information is available from Emily Call, co-president of BEA, at callee@bonaventure.edu.
The Psychology Club works to offer interested students opportunities to enhance their academic performance by hosting different programs throughout the year. The programs include off-campus trips to psychiatric facilities, career panels, graduate information sessions and guest speakers.
Two new programs the club is sponsoring are Brain Awareness Week, scheduled for March 14-20, and Out of Darkness, a suicide prevention walk, scheduled for April 9.
The Psychology Club has about 20 members. More information is available from president Jessie Briggs at briggsjc09@bonaventure.edu.
That is just a sampling of the clubs and organizations on the SBU campus. Hopefully this list provided you with ideas for conversations with your student about getting involved on campus.
Since SBU is a relatively small campus, it is also easy to become a board member or even a president of an organization. For a complete list of organizations on campus, visit http://sbu.edu/campus-life.aspx?id=6020.
-Robbie Chulick
Class of 2013