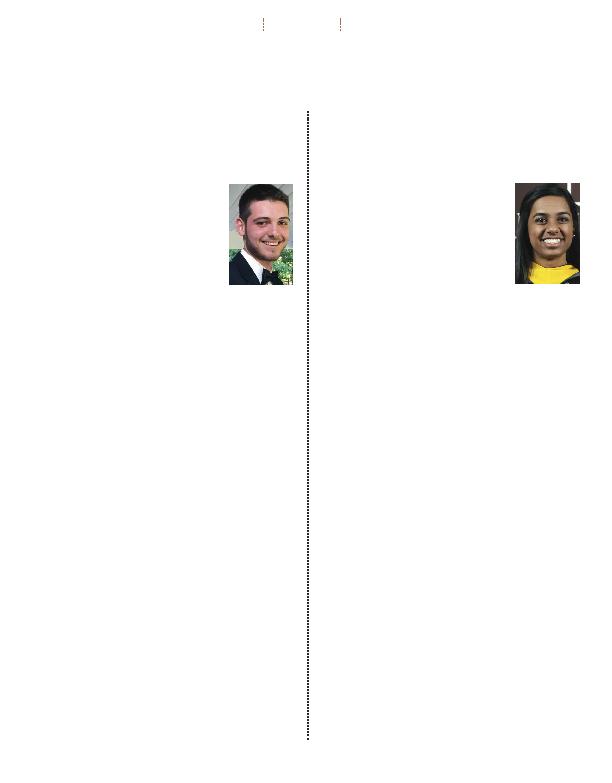 F
or many high school students, choosing a college can be
one of the most arduous decisions they have to make in
their 18 or so years. That wasn't at all the case for me.
When I attended my first college fair in October of my junior
year at Syosset High School on Long Island, I
organized a list of 10 schools in which I was
interested. St. Bonaventure was not at all on
my radar.
I had known from the start that I wanted to
major in something related to the field of
radio or sports broadcasting. With that in
mind, my mother encouraged me to research
the top-ranked college radio stations in the
country. As I reviewed the list, I recognized St.
Bonaventure, whose radio station was then
ranked third. Prior to that, the only time I had heard of SBU was
back in 2012 when I vividly remembered rooting for the #14
seed in the NCAA tournament after Andrew Nicholson had led
the Bonnies to their first Atlantic 10 men's basketball champi-
onship.
Having recognized the school, I added it to the bottom of my
list, still without the intention of so much as applying there.
When I approached the booth for St. Bonaventure at the college
fair, it was the second to last school I had planned on looking
into that day and I was tired to say the least.
One of the first things the admissions counselor, Mike Murray,
inquired about was my intended major. When I mentioned that I
was interested in radio, he lit up. He revealed to me that back in
2009 he was actually the station manager for WSBU. I left the
old Nassau Coliseum that day with a totally different mindset as
to where I wanted to spend my next four years.
Growing up, I've played football, basketball and, most recently,
baseball for my high school. As much as I have always loved
playing sports, when I wasn't participating I found myself con-
stantly talking about them, which is why, after taking an Intro-
duction to Radio elective my freshman year, I decided to join
WKWZ, my school's radio station, at the start of my sophomore
year. I quickly discovered that I had found my niche in talking on
the air.
By my senior year of high school, I had been selected as sports
director at WKWZ, a title which my current admissions coun-
selor, Chris Scheppner, held at WSBU. I've also come to realize at
this point in my life that I hope to have a career in radio.
While its excellent reputation for college radio was a major fac-
tor in selecting St. Bonaventure, it wasn't the only reason I'll be
coming to Olean in August.
The second I stepped foot on campus last November I immedi-
ately sensed that the student body at SBU was not just a class,
but a family. I've always wanted to go to a college where you
were more than a number, where you felt connected to your fel-
low classmates, and where 30 years down the line, you'd have
absolutely no regrets about where you spent arguably the four
most important years of your life. That's why I couldn't be any
more proud to be part of St. Bonaventure's Class of 2020.
By JOE CERAULO | Class of 2020
I
t is hard to believe that I won't be returning to St. Bonaven-
ture this fall. I won't see the beautiful colors of the ivy on
Devereux. I won't be surrounded by my roommates or be
able to go to my favorite professor and talk to her, not just
about my classes, but about life.
Instead I am entering into the real world.
This is a place where if I see a fellow Bonnie,
I know it is not just a casual, "oh, I went to
St. Bonaventure as well," but at least a 15-
minute conversation filled with excitement
over this little university tucked away in the
Enchanted Mountains. Bonaventure touches
every single person who steps foot on campus
with its warm, friendly demeanor, and leaves a
lasting legacy that no one will ever forget.
Our little Bona bubble helped incubate us through our jour-
ney, and through it we have found what we liked and what we
do not like, our strengths and our weaknesses. We learned
more about ourselves than we ever thought possible.
I am proud to say I am not the same woman who entered
Bonaventure four years ago. My biology and psychology classes
nourished my love for learning and left me in awe of the world
we live in. Through the Asian Students In Action Club, I was
able to appreciate my culture and share it with my fellow stu-
dents. Through the tragic loss of one of our classmates, I
learned how my Bonaventure family comes together and sup-
ports one another. Through all these experiences I learned
what it means to be a Bonnie.
Wherever Bonaventure graduates go, we will be fine. At
Bonaventure we treat everyone with kindness. We run to help
someone if they drop something and hold doors for each
other.
At Bonaventure we have created a culture of compassion.
Our students are involved with Bona Buddies, Enactus, BonaRe-
sponds, and so many activities that spread altruism across our
campus and the surrounding area. It is not just our students,
but our professors who stand as outstanding examples for us.
Being from Atlanta, traveling to and from St. Bonaventure
during the winter oftentimes meant flight delays. One time I
had a seven-hour delay, and missed the bus that would take
me to Olean. I thought I might have to spend the night in the
airport and wait for the morning bus. I was wrong. One of my
chemistry professors braved the snow at 9 p.m. to pick up me
and a fellow Bonnie at the airport. This is what it means to be
a part of the Bonaventure community.
We will continue to spread that good ol' Bona's love through
making a difference in the media, or cultivating the culture in a
business, or changing a child's life, or saving a patient's life, or
any other profession we may enter.
We bring a part of that culture of compassion wherever we
scatter across the globe. We create little bubbles across the
world that inspire people to thrive on compassion.
That is our lasting impact on a world that needs a lot of love
and compassion right now. That is what distinguishes Bonnies.
By JAISREE IYER | Class of 2016
F
IRST
P
ERSON
>
Campus Bound / Outward Bound