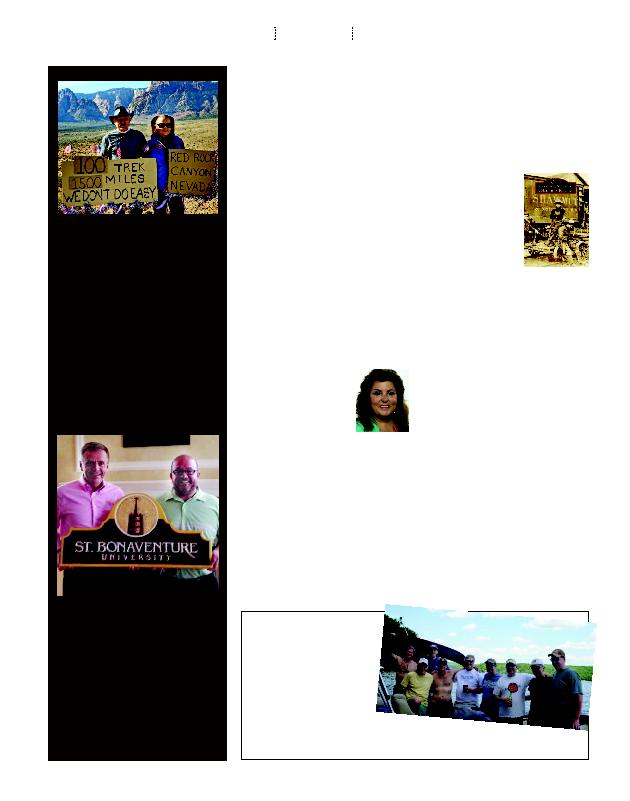 the president of the Executive Board of the
New York Association of Colleges for
Teacher Education, and is on the Global Di-
versity Committee of the American Associ-
ation for Colleges of Teacher Education and
the Teacher Education Advisory Group to the
NYSED Commissioner of Education. In April
2016, she was awarded the College Advo-
cate for Character Development Award in
Character Education in recognition of her
leadership, service and distinction held
among her peers and, in 2015, she was
awarded the William "Buster" Mitchell edu-
cation award. Quigley has written and con-
tributed to numerous articles on education
and is a well-known speaker for the Native
American community as well as within the
education field. She grew up on the Allegany
territory of the Seneca Nation of Indians and
is a member of the Wolf Clan.
1982 -- Angela Gazzara
tificate of case management during her
29th year as a medical case manager. Five
years ago, Gazzara started her own com-
pany, On-Site Case Management, where
she subcontracts from Workers Compensa-
tion insurance companies to
coordinate the medical care
for injured workers to expe-
dite their return to work.
Gazzara holds a master's
degree in rehabilitation
counseling and is certified
to do ergonomic assess-
ments and is also certified in American sign
language. She was nominated as Best Case
Manager in New Mexico by her peers in
2015. She has also followed in the family
footsteps of her cousin actor Ben Gazzara.
She has been working part time on many
movies and television shows as a back-
ground actor, including "Hell or High
Water" with Jeff Bridges, "Sicario" with
Benecio del Toro, and the new Epix Original
Series "Graves" with Nick Nolte. She also
notes she is working in a new movie, "Our
Souls at Night," that will feature Robert
Redford and Jane Fonda. She said that life
in New Mexico, her home of 10 years, has
been very good to her.
1987 -- Ken Clark
book about the former Pittsburg, Shawmut
& Northern Railroad. The book was pub-
lished by Arcadia Publishing as part of its
Image of Rail series. The Pittsburg (no "h"),
Shawmut & Northern Railroad was a peren-
nial underdog of Class I
railroads in the latter 19th
and early 20th centuries.
Described as a railroad
that "started nowhere
and ended no place, with
a lot of nothing in be-
tween," it linked the coal
mines of Elk County, Pa.,
with markets in Cattarau-
gus, Allegany and
Steuben counties in central and western
New York state. Having gone into bank-
ruptcy a mere five years after its corporate
birth, it suffered the indignity of holding the
record for the longest receivership of any
American railroad: 42 years. It was
scrapped -- lock, stock and barrel -- in
1947. Clark, who grew up along the old
Shawmut tracks in Olean, is a local histo-
rian and a lifelong devotee of the Pittsburg,
Shawmut & Northern. He is an avid volun-
teer at the Pittsburg, Shawmut & Northern
Railroad Historical Society in Angelica. He is
also the society's president and a regular
contributor to the society's newsletter, the
Cannonball. Clark has compiled the best
photographs from the society's archive in
this stunning look at the "Pretty Slow and
Noisy."
John McAuliffe
Buffalo area in July 2016 after 18 years in
Boston. He continues to work for the Gen-
eral Services Administration as a realty spe-
cialist. "I'm really happy to be back in my
hometown and hope to make the 30th re-
union in June!"
1988 -- Kelley Williams
lives in Baldwinsville, N.Y. She is thrilled to
share that she located the daughter she
MILESTONE TREK
Victor J. Andrijauskas, '71, and Diane
Aussom hit a milestone in Red Rock,
Nev., by completing their 100th trek
around the Wilderness Canyon. They
trekked the 13-mile scenic loop for the
first time in April 2011, and with the
two-mile hike back to the car, it's a
total of 15 miles for each outing. The
first five miles, Andrijauskas writes, are
uphill to a summit elevation of almost
5,000 feet. During their summer hikes,
the pair carry more than 6 quarts of
fluids each, and during the winter the
snow slows them down a bit. Andri-
jauskas lives in Las Vegas and is a re-
tired major from the United States Air
Force.
HOME SWEET HOME
Kevin Neuser, '94, (right) gave Fran
Machina, '82, (left) and his wife, Ann
Marie (Faiello) Machina, '85, this St.
Bonaventure carving as a memento of
their time working together. Fran and
Ann Marie needed a real estate profes-
sional to help them move from Tampa
to Syracuse in May. Fran picked Kevin
based on a gut feeling -- and they did
not know they were fellow Bonnies
until they were on the trail looking at
houses.
DEV FLOORMATES
GET TOGETHER
Gary Frigo, '81, hosted a
group of former 3rd Dev
West floormates last sum-
mer at Lake
Wallenpaupack. Pictured
from left are Tim Flaherty,
'82, Fran MacAfee, '82,
Chris Hofstedt, '83, Gary Frigo, Pete
LaFauci, '82, Pat McGreal, '82, Joe Desmond, '82, Mark Yawdoszyn,
'80, and Mike Scheib, '82. (Missing from the photo was Mike McDonald, '83).