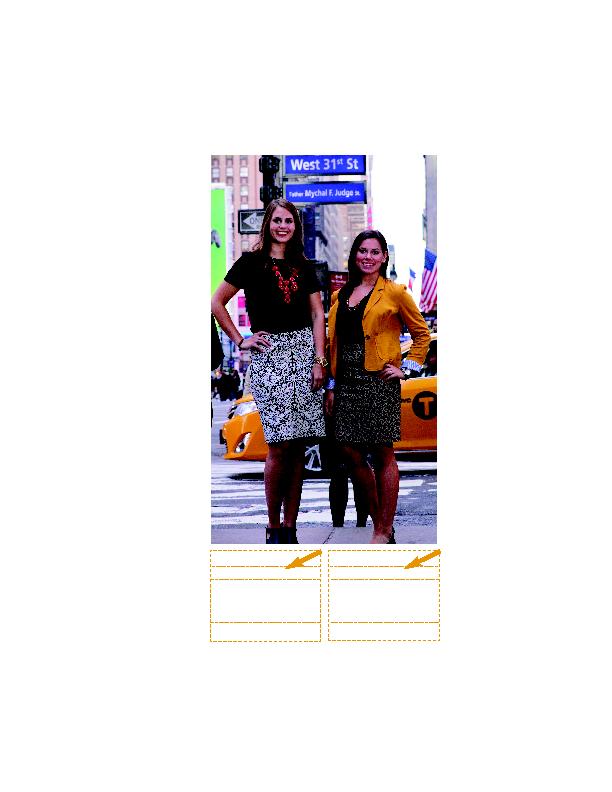 I
N

2
-
2
MICHELLE MCKERNAN
A die-hard Yankees fan, Michelle McKernan felt like she'd won
the World Series when she secured a public relations internship at
YES Network, the regional channel that broadcasts New York Yan-
kees games.
"That summer I was able to work on everything New York Yan-
kees-related. It was amazing. That's when I knew I wanted to move
to New York City and work in market-
ing or some kind of media. My intern-
ship definitely helped me get the job I
have today," she said.
So for three months after graduation,
McKernan diligently worked at securing
interviews and sending follow-up emails
and thank-you cards, buoyed by the
support of faculty on campus and
alumni in Manhattan.
"I started interviewing right away,
right when I got down to the city. It
was a lot of effort and that's some-
thing that no one can prepare you for.
It took me about three months to get
to Godiva. I'm so happy I was able to
push through the three months and
really get the job I wanted instead of
taking a job that might not have
brought as many opportunities," she
said.
McKernan loves "every second" of
her job as assistant marketing man-
ager at Godiva Chocolatier, where
managing social media is a large part
of her workday. Pursuing her master's
degree in Integrated Marketing Com-
munications ignited her interest in so-
cial media as brand marketing.
"At Godiva I was given the opportu-
nity to run, develop and execute con-
tent for their social media platforms,"
she said.
That's a lot of responsibility on the
shoulders of a 23-year-old, and McKer-
nan thanks St. Bonaventure for help-
ing her meet that challenge.
As a member of the Student Govern-
ment Association and active in service
organizations such as BonaResponds,
McKernan polished her leadership
skills.
Bona's emphasis on service in the
Catholic-Franciscan tradition continues
to play a role in McKernan's life.
Through the university's Mychal Judge Center, McKernan trav-
eled to Ireland and Northern Ireland, learning firsthand how the
Irish people overcame decades of violent conflict to live in peace.
"The background of the whole mission of showing forgiveness
and trying to move past (conflict) and work with others is some-
thing that I've since strived for every day," she said.
Through work, McKernan is an active member of GODIVA Gives,
the company's philanthropic program, and she also participates in
a weekly sport league that benefits numerous charity programs.
EMILY SOROKES
Emily Sorokes feels right at home amid the whirl of media
planning, digital production and face-to-face meetings with
clients as she manages advertisements on two beauty products
websites operated by Total Beauty Media.
Following graduation from SBU, Sorokes relocated to New
York City and secured a position as an account manager for To-
talBeauty.com and
BeautyRiot.com, where millions of
visitors a month click through re-
views, videos and articles about
beauty products.
Sorokes said her classes and ex-
tracurricular activities combined
to give her an enviable founda-
tion with which to enter the
workforce. Her classes allowed
her to become "familiar with
what an account planner does,
what a media person does; that
was honestly real-world experi-
ence." In the IMC graduate pro-
gram, she was constantly being
exposed to new technology while
developing her presentation skills.
By networking with alumni,
Sorokes secured a Big Apple in-
ternship working on luxury
brands for an affluence collabora-
tive.
On campus, an internship in the
Event Management Office taught
her how to confidently navigate
an office setting while volunteer
work with BonaResponds instilled
in her a kindness and compassion
that truly stands out in the hectic
world of New York City business.
"I think the two main differ-
ences I see in myself as a
Bonaventure graduate (compared
with others in my field)" are that I
think I'm more motivated and I
think I have a kinder spirit," she
said. "I think the motivation
comes from the fact that
Bonaventure is a small school, so
you have to work a little harder
to get to the big city ... As for the
warm spirit, in the middle of
Manhattan, not a lot of people
are friendly all the time or always
kind, but I still try to smile, say `Hi,' say `Have a good day.'"
Having grown up minutes from St. Bonaventure, Sorokes was
skeptical at first about attending the school. She thought that,
in order to spread her wings and have a true college experience,
she would need to leave her hometown far behind.
"I did the campus visit senior year and realized that I actually
didn't know much about the campus at all," she said. "At the
tour I realized that this is a great school; it has a great journalism
program and other programs."
Communication (undergrad),
Integrated Marketing Com-
Communication (undergrad),
Integrated Marketing Com-